The Pendulum of Domestic Agendas and India's Foreign Policy Interests
India is encircled by a plethora of nations sharing complex and dynamic relations with each other. South Asia currently witnesses distinctive political societies, military conflicts and some of the most unfavourable bordering relations such as India's relations with Pakistan, as well as friendly relations with Bhutan, Bangladesh and Afghanistan. India is the largest country in the region and dictates several norms such as that of trade, economy and security with the neighbouring countries. Prime Minister Narendra Modi ever since taking office has focused on his "Neighbourhood First" policy, realising the importance of having a strong neighbourhood in the process of rising as a principal power in Asia. However, many of PM Modi's domestic policies have gained strong reactions from its bordering nations such as the Ayodhya Verdict, implementation of the National Register of Citizens (NRC) in Assam, abrogation of Article 370 in Kashmir and the very recent Citizenship (Amendment) Act (CAA). Does India stand to lose its neighbours over the recent CAA-NRC crisis? Moreover, will India agree to its neighbours' demand or continue its firm stand on the domestic nature of the policy? 
Prime Minister Narendra Modi's government has witnessed tremendous disruptions in their domestic policies in the past years. India's internal policies have been gaining an unexpected degree of international discord that has affected the country's diplomacy. A scenario has emerged today where the political turmoil in the country is pushing India's relations with its neighbours to the Back Burner. India being the largest power in South Asia is expected to be responsible at a global stage and the recent developments in the policies have put the nation in an international screen which is scrutinising all the decisions that the government under PM Modi is making. India's under PM Modi is known for using "Soft Power" as its major foreign policy tool by projecting multiculturalism, governance, pluralism and inclusivity as the nation's fortitude and the foundation of the vision. Such a global image has been at risk since New Delhi is held accountable of practising the contrary in stances such as building immigration camps for illegal immigrants, internet shutdowns in Kashmir and handling minorities in the nation.
PM Modi's quest to protect the Hindu minorities in South Asia
Bordering nations such as Sri Lanka, Bhutan, Nepal, Bangladesh have witnessed India's involvement in forming their domestic policies in regards to the religious minorities in the past. In 2015, when Nepal was formally adopting the constitution, the nation observed a humanitarian and economic crisis when the demands of the Madhesi community in the nation were in contrast with the other communities. The Madhesi people are mainly those of Indian ancestry residing in the Terai region of Nepal. The reason of discontent was that the Madhesis demand was not rightfully addressed at the time when the constitution was adopted. Nepal's political leaders had failed to engage the Madhesi communities and enlarge the ownership of the new constitution. Although the passing of the constitution after a lot of contention was a momentous decision in the history of Nepal, New Delhi was unhappy with the decision. PM Modi expressed his dissatisfaction with a newly adopted constitution which eventually led to Nepal passing a constitutional amendment ensuring rights for Madhesi people such as proportional representation in state organs, settling the delimitation issue in three months as well as agreed to resolve citizenship demands through discussions. Similarly in Sri Lanka, PM Narendra Modi has frequently emphasised on the importance of implementing the 13th amendment of Sri Lanka's constitution, keeping in mind the welfare of Tamils in the country. The amendment creates provincial councils that assure a power-sharing arrangement that enables all nine provinces in the country including Tamil majority areas to self govern. PM Modi has referred to this amendment during high-level bilateral visits since he believes that it would realise the expectations of the Tamil people for peace, equality and justice.
India has, thus, played an active role in ensuring that minorities in the neighbouring countries are not ill-treated. Such nations have changed their existing laws in accordance with India's directions. Today, when the Citizenship (Amendment) Act has been implemented in India, the global community worries that it would harm the muslim minorities in India. Criticism from the US came when the United States commission on International Religious Freedom (USIRF) described the bill as a "dangerous turn in the wrong direction",The Organisation of Islamic Cooperation (OIC) expressed its concerns over the discriminatory nature of the act against Indian Muslims. The Citizenship (Amendment) Act is yet another of PM Modi's measures to ensure the safety of Hindus in the Indian Subcontinent. While it safeguards the rights of one community, it overlooks the muslim community in the country. India's neighbours are worried that this Act might cause turmoil in their countries through a refugee crisis. However, PM Modi stays decided on the issue and ensures that no such harm would be inflicted upon nay nation. This reveals that New Delhi is not ready for any outside actors to direct its domestic policies.
The Citizenship (Amendment) Act and India's Neighbourhood
The year 2019 saw the BJP government pass the Citizenship (Amendment) Bill in the Parliament as well as implement a nationwide National Register of Citizens. Prime Minister Narendra Modi's government witnessed mass agitations throughout the country as well as protests around the world. Several allegations have been made to the government regarding the idea behind the act stating that it challenges the secular status of India. According to the Citizenship (Amendment) Act or CAA, oppressed religious minorities who have illegally entered the country from three neighbouring Muslim Majority Countries: Afghanistan, Bangladesh and Pakistan will be eligible to apply for Indian Citizenship.
India under PM Modi has witnessed strategic partnerships with Bangladesh and Afghanistan and an equal discouragement in ties with Pakistan. The foundation of India and Bangladesh's relationship was laid when the Indian Army fought the liberation war and also assisted in the post war establishment of Bangladesh. New Delhi and Dhaka have had cordial relations since then but noticed a remarkable qualitative improvement with the return to power of Awami League led by Sheikh Hasina. PM Modi while marking the birth centenary celebrations of Sheikh Mujibur Rahman said "Today, Bangladesh is not only India's biggest trading partner in South Asia but also a development Partner". While on one hand PM Modi addresses Bangladesh as an inclusive society that attends to development and invention, he addresses Pakistan as a supporting house of Terror. With Afghanistan,New Delhi continues to be a steadfast partner in Kabul's reconstruction. Indian Prime Minister Modi dreams of Afghanistan as a "Haven of Peace" and aspires to prosper together with a flow of ideas, commerce, energy and investments in the region.
Indo-Bangladesh Relations post CAA
Prime Minister Modi's decision to introduce the Citizenship (Amendment) Act had upset Bangladesh and created tensions between the two nations. Dhaka responded by cancelling high profile visits such as that of the Speaker of Jatiya Sangsad (Parliament) of Bangladesh who was to lead an eighteen member delegation and that of Foreign Minister AK Abdul Momen and Home Minister Asaduzzaman Khan to India. This was followed by the cancellation of PM Modi's trip to Dhaka in Mid-March which was a celebration to mark the Birth Centenary celebrations of Sheikh Mujibur Rahman. What worried Bangladesh was an exodus of illegal Bangladeshis who have been living in India to return to Bangladesh. Already strained from over a million Rohingya refugees in Cox's Bazar, Dhaka was concerned that this act would worsen the matter. Moreover, the Act held Bangladesh responsible for religious persecution towards its minorities and included it in a bracket with two nations; Pakistan- who has had a long history of religious persecution and Afghanistan- who when was under Taliban has been accused of ill treatment of its minorities. Dhaka asserted that none of such violations have been committed in the nation. A lot of resentment emerged within Bangladeshi citizens who protested against the act with "Boycott India" slogans.This could have a major effect on India's "Neighbourhood First" policy which aims at improving trade and increasing connectivity in the region. Dhaka is an important factor in the success of "Act East" policy and losing Bangladesh as a partner would have serious repercussions.
Even though there were pressures from Bangladesh regarding the act, PM Modi's diplomatic gestures were able to improve relations with Bangladesh. Bangladeshi PM Sheikh Hasina announced that this was India's 'internal' matter and believed in resolving the differences behind closed doors. Indo-Bangladesh relations are based on a long history of cooperation and continue to remain so. Bangladesh is India's largest trading partner in South Asia and India continues to invest in enhancing trade and business activities as well as providing a major push in connectivity initiatives such as Rail and highways, Seaports and inland water transport. China has also served as a major factor in this re-establishment of Indo-Bangladesh relations post CAA. Bangladesh does not want to fall victim to the Chinese "Debt trap" and "Dual deficit" policy, making it a favourable situation for the partnership between PM Modi and Sheikh Hasina to flourish.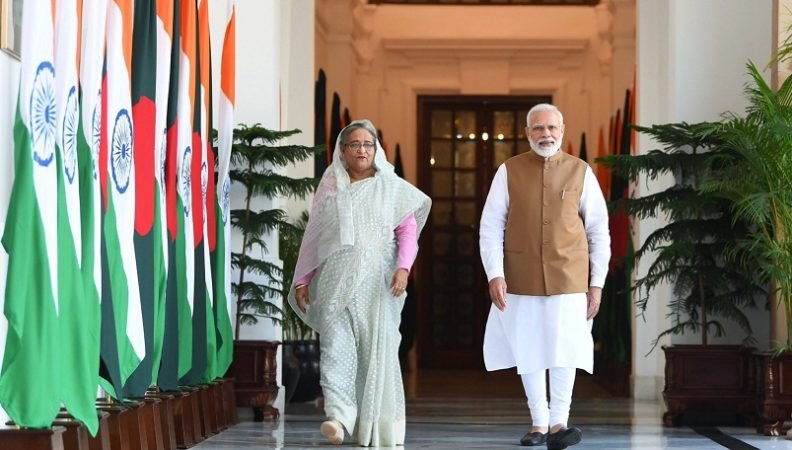 Conclusion
A fallout with neighbours would prove to be a great economic and security threat to India. At a time when New Delhi has to face a giant power like China which has been constantly trying to persuade nations in the Indian subcontinent, it is crucial for India to maintain cordial relations with its adjacent countries. With PM Modi's "Soft image" policy being affected after the recent internal developments in the nation, India will have to ensure to step up on its diplomacy to make sure that it does not lose its neighbours and international support. India will have to make efforts to build upon its argument on CAA that it is a one-time humanitarian gesture and is not Anti-Bangladesh, or Anti-Afghanistan or Anti-Muslim.
REFERENCES:
https://www.wionews.com/opinions/how-caa-and-nrc-are-affecting-india-bangladesh-ties-271710
https://thediplomat.com/2015/11/the-india-nepal-crisis/
https://www.statecraft.co.in/article/the-in-significance-of-international-reactions-to-the-caa
https://www.deccanherald.com/national/delhi-tries-to-allay-bangladeshs-concerns-over-nrc-caa-as-dhaka-calls-off-another-high-profile-visit-to-india-809974.html
https://www.thecitizen.in/index.php/en/NewsDetail/index/6/19244/India-Treads-Thin-Waters-to-Improve-Relations-With-Bangladesh-Sri-Lanka
https://economictimes.indiatimes.com/news/economy/foreign-trade/india-plans-to-enhance-trade-with-bangladesh/articleshow/76881534.cms?from=mdr
https://southasiamonitor.org/spotlight/indias-challenged-foreign-policy-diplomatic-missteps-and-domestic-mismanagement
The views and opinions expressed in this article are those of the author and do not necessarily reflect the views of The Kootneeti Team