The arrival of Rafale aircraft and its implications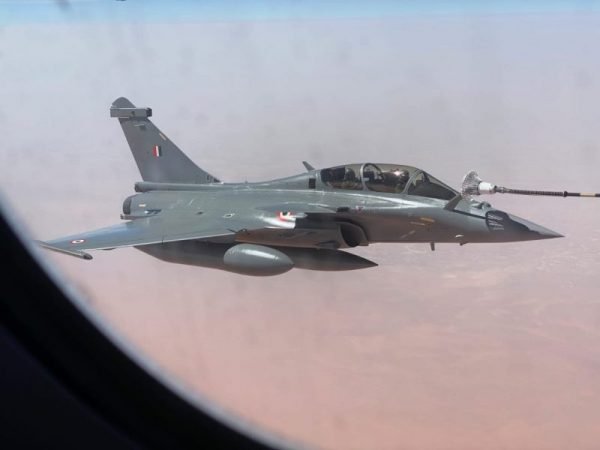 The arrival of 5 Rafael aircraft at Ambala airbase is a morale booster for Indian armed forces at the time of tension border standoff with China. This article will discuss the critical specifications of the Rafael aircraft that make him one of the superior aircraft in the region and how it holds an edge over India and China's aircraft.
The five Rafael, that land in Ambala airbase is going to induct in the No. 17 (golden arrow) squadron of the Indian air force. The No. 17 Squadron is a part of the western air command headquarters in New Delhi. This squadron is specially resurrected for Dassault Rafales on 11 September 2019 after it disbanded in 2016. Although it is just 1/3 of the squadron, the arriving five aircraft hold significance at the time of brutal standoff with china. The Rafale can touch the speed of 1.8 Mach and is astute in multi-role capability, including electronic warfare, air defence, ground support, and in-depth strike. The Rafale has a rage of 3700 km; stationed at Ambala, it can easily engage the target in 1800 km radius. With this capability, it can cover almost the whole of Pakistan and the sensitive boundary near Ladakh with China. Rafael is having an onboard oxygen generating system, which enhanced its operational range to a great extent. It has an M88-4E engine developed by Safran Aircraft Engine, having the capability to start even in negative temperatures. This feature gives its operational capability in high altitude, especially areas near Aksai chin and Siachin. The furious fighting machine fitted with advanced RBE2 radar with AESA (Airborne electronically scanned array), which is capable of engaging 40 different targets simultaneously and attacking eight targets in the meantime. AESA is more advanced and sophisticated, allowing aircraft to radiate powerful signals while remaining stealthy. Another vital feature where Rafale placed itself in the different stages is its X-Guard fibre optics decoy system. X-Guard is a cutting edge towed decoy solution for defeating advance tracking radar. Towed behind the fighter aircraft, X guard is deployable and retractable midflight. X-Guard can deploy either when the aircraft approaches a threatened area or upon detection of an imminent threat. Deployed far from aircraft, the decoy can use multiple times, making it exceptionally cost-effective.
Further, Rafale, fitted with SPECTRA (Self-protection equipment to counter threat for Rafale aircraft), provides long-range detection, identification, and accurate localization of infrared, electromagnetic, and laser threats. The Rafale is 4.5 generation aircraft, which is far superior to Pakistan F-16, JF-17, and China's J-10, J-11, J-8, JH-7. The Rafale can ultimately outperform F-16 in the dog fight. However, the only aircraft that can compete with Rafale is China's J-20 Chengdu, but even this aircraft is not battle-tested. France has deployed the Rafale in Libya, Mali, and Afghanistan, proving its operational capability in high altitude.
Further, the Rafale is carrying Israel made LITENING targeting pod; it significantly increases the combat effectiveness of the aircraft during the day, night, and under the weather condition in the attack of the ground and air target with a variety of standoff weapons. Each aircraft has 14 storage stations for weapons. The jet comes with one of the most advanced Meteor missiles, it is an active guided beyond visual range air-to-air (BVRAAM), developed by European developer MBDA. It offers multi-shot capability against long-range manoeuvring targets, jets, UAVs, and Cruise Missile. The solid-fueled ramjet motor allows the missile to cruise at a speed of over Mach 4 and provide the missile with thrust and mid-way acceleration to target intercept. The F-16 jets, used by Pakistan, carry the AMRAAM missile, which has a BVR of 75 km. It also comes with SCALP, the air-to-ground cruise missile, with a range of over 300 km. The missile intended to strike high valued stationary assets such as airbases, radar installations, communication hubs, and port facilities. The Rafale will carry SPICE (smart, precise impact, cost-effective); it is an Israeli-developed GPS-guided bomb.
Further, meeting the Indian operational requirement's need, the Air force has pressed the last-minute induction of 'Hammer' precision-guided munitions developed by Safran electronics and defence. The Rafale guided by Indian indigenous GPS, i.e., IRNSS (Indian regional navigation satellite system), for which the Rafale has installed with upgraded Sigma 95N. It is a high-performance navigation system designed for most demanding aeronautic applications that require excellent navigation and guidance accuracy.
The arrival of just five aircraft may not be sufficient to meet India's operational capability, but, for the time being, it will be a morale booster for the Indian Air force. Beijing has been slow to complete a complete disengagement of troops as agreed between the two sides in several rounds of military and diplomatic talks. These fighter jets are widely seen as a game-changer for India's strategic capabilities as it will significantly enhance the offensive capability of the Indian air force.
The views and opinions expressed in this article are those of the author and do not necessarily reflect the views of The Kootneeti Team