Trump's visit gave an impetus to the Indo-US ties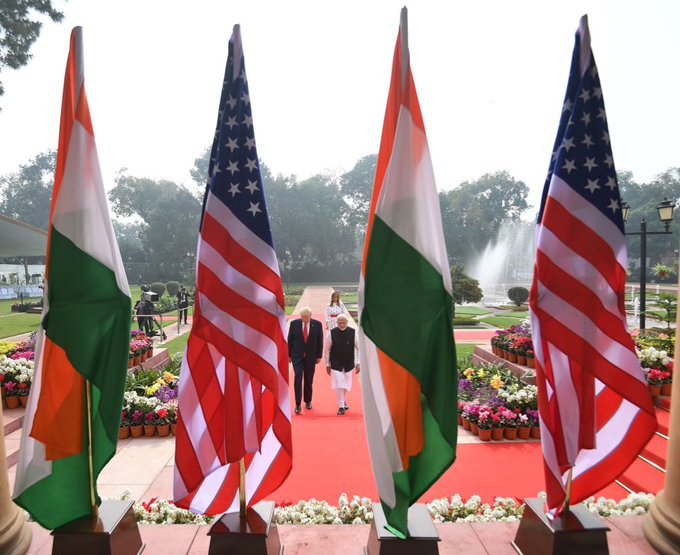 "Athithi Devo Bhav! (Guests are like God)" tweeted Prime Minister Narendra Modi in response to United States President Donald Trump's tweet, hours before Trump's touchdown in India which marked his first official visit to the country. The visit was accompanied by a high-level delegation, as well as his wife First Lady Melania Trump, daughter Ivanka Trump, and son-in-law Jared Kushner. This visit led to the fifth meeting between Trump and Modi in the last eight months.
The maiden two-day visit to India kicked off with U.S. President Donald Trump's arrival at Ahmedabad, the capital city of the state of Gujarat and home state of Prime Minister Narendra Modi where the famous 'Howdy Modi' rally in Houston was reciprocated and named 'Namaste Trump'. The event led to the inauguration of the world's largest cricket stadium in Ahmedabad.
Addressing the stadium filled with a roaring crowd, Trump notedly pressed the right buttons by addressing economic and strategic issues in his speech and announcing that the two nations would sign defence agreements valued at billions of dollars. Trump highlighted the first-ever air, land, and sea military exercises between the Indian armed forces and the U.S. military.
Speaking on the issue of terrorism, Trump said his administration is working with Islamabad to crack down on terror groups operating from that country's borders and uniting with India to fight radical Islamic terrorism and hoped for 'reduced tensions' and 'greater stability' in South Asia.
Making an observational remark on the radical Citizenship Amendment Act in India, Trump said, "India has always been admired around the Earth as the place where millions upon millions of Hindus and Muslims, Sikhs and Jains, Christians and Jews worship side by side in harmony..".
Trump's speech at Motera Stadium had it all. He accurately covered all aspects of an Indian identity from multiculturalism and religion to Bollywood and accurately projecting the advancing U.S.-India relationship. This tactic could certainly be used to gain attention of Indian- American voters who contribute significantly to American politics with Trump set to run for another term in office.
President Trump after the roadshow in Gujarat, flew to Agra to visit the Taj Mahal and called it 'incredible' on arrival however trade deals were not so 'incredible' for India at the diplomatic talks which took place on the second day of the visit.
The two leaders of the world's largest democracies met on the next day and held talks in New Delhi.  India and US signed defence deals worth over $3 Billion, ensuring the sale of 24 "MH-60 Romeo" and six "AH-64E Apache" helicopters to India which are a critical requirement for the Navy which has an acute shortage on its frontline warships. The trade deal, however, remains elusive.
Even after years of negotiation, India and the US have failed to reach an advancing and firm trade deal. The diplomatic rift was witnessed between the two countries when the US ended preferential trade status for India and India imposing retaliatory tariffs on US products. Trump's visit was seen with much optimism, but it's reported that US 'backed off at last minute' and letting India wait for 'bigger deal' coming its way. Donald Trump earlier played down the possibility of a trade deal and said, "India hasn't treated us well. I like PM Modi and the big trade deal is for later" and U.S. Trade Representative recently cancelled a visit to India because nothing was expected from it.
Delaying the trade deal with India and denying GSP benefits will adversely affect the already struggling Indian economy which depends on the US as its major source of trade. The trade deal is still set to be in an advanced stage and as long as the dialogues succeed between the two, optimism on the deal prevails.
On ending his state visit, President Trump offered to mediate between India and Pakistan over Kashmir issue, if asked and has made it clear that their relationship with Pakistan is a 'good one'.
While no trade agreement was a disappointment, the future of the India-US leadership needs to go beyond trade deal and should also focus on strengthening their relationship on issues of security, climate change and geopolitics. India should have a more tactical approach while dealing with the U.S. as Trump on his visit avoided significant questions regarding the new Citizenship Amendment Act, abrogation of Article 370 but there are members in Capitol Hill who are apprehensive of India's policies. It thus because extremely crucial for India to have strong support from the U.S. in order to continue to form even stronger ties.
The views and opinions expressed in this article are those of the author and do not necessarily reflect the views of The Kootneeti Team