How Information Technology assisted India's COVID – 19 fight
The seismic shift caused by the Covid-19 pandemic brought the world to a screeching halt. In a matter of few months, the entire humanity rose to the occasion and reimagined every possible facet of our daily lives, healthcare infrastructure and business ecosystems to tide over the pandemic. At the heart of this watershed moment was an unprecedented scale of digital adoption across government agencies, industries, medical bodies, and enterprises. While the pandemic crippled the lives of both individuals as well as organisations, it also fast-tracked high technology adoption across the globe and fuelled a cultural transformation that otherwise would have taken another decade or more.
With multiple lockdowns, Indian masses soon switched to a digital lifestyle—be it for work, education, entertainment, or procurement of daily essentials. The local kirana stores shifted to online ordering and doorstep delivery as their primary business. Schools and colleges reconceptualised education with digital classrooms and online learning for millions of students across the length and breadth of the country. And, with doctors switching to teleconsultation and government bodies facilitating vaccinations and other Covid-19–related supplies through online platforms, digital disruption penetrated the common man's life like never before. The Work From Home (WFH) economy is arguably one of the biggest transformation stories of the 21st century with a direct impact on almost half of the world's population. Interestingly, a report submitted by PwC India put India as the highest use of A.I. in 2020, with over 70% of Indian organisations deploying A.I. in more areas as compared to around 62 per cent in 2019. This is higher when compared to major economies like Britain, Japan, and the U.S. While WFH emerged as a household name in 2020, the shift to a more sustainable hybrid work model is inevitable.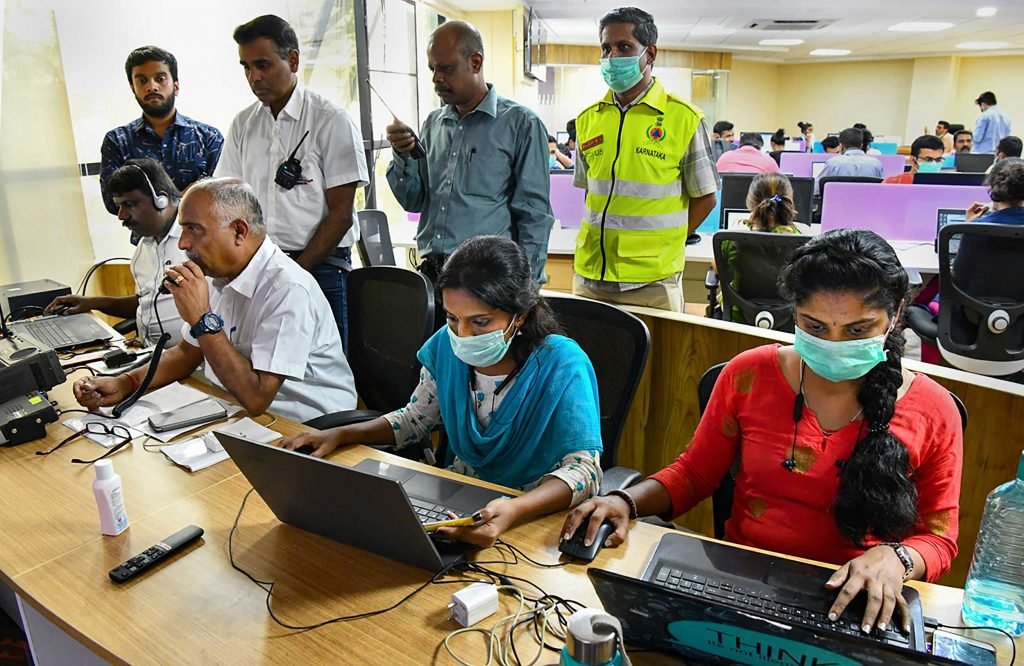 Big data and artificial intelligence (AI) have helped facilitate COVID-19 preparedness and the tracking of people, and so the spread of infection, in several countries. Tools such as migration maps, which use mobile phones, mobile payment applications, and social media to collect real-time data on the location of people, allowed Chinese authorities to track the movement of people who had visited the Wuhan market, the pandemic's epicentre.With these data, machine learning models were developed to forecast the regional transmission dynamics of SARS-CoV-2 and guide border checks and surveillance. As soon as China reported the outbreak, Taiwan initiated health checks for airline travellers from Wuhan, integrating data from immigration records with its centralised, real-time national health insurance database. This integration allowed health-care facilities to access patients' travel histories and identify individuals for SARS-CoV-2 testing and tracking. Taiwan's proximity to Wuhan, China, made the region particularly susceptible to COVID-19, but its efficient use of big data is credited for the low number of cases and deaths.
Swedish Health Services, a USA-based health-care organisation, has developed a platform for health-care workers to report real-time data on volumes of patients with COVID-19, personal protective equipment, staffing, ventilator usage, and other resource information.9 This information has been shared across its hospitals to track the status of facilities, allocate health-care resources, and increase hospital bed capacity. The need to track COVID-19 has fuelled the innovation of data dashboards that visually display disease burden. UpCode uses data provided by the Singapore Ministry of Health to depict infection trends across age, sex, and location, and to plot the recovery time of infected individuals. The Johns Hopkins University (MD, USA) coronavirus dashboard and the web-based platform HealthMap provide up-to-date visuals of COVID-19 cases and deaths around the globe. AI algorithms allow the effect of the climate to be incorporated into the projections.
AI is not without limitations and requires training with COVID-19 datasets. Most of the AI predictive models so far have used Chinese samples, which might not be generalisable. In addition to the absence of historical training data, social media and other online traffic have created noise in big-data sets, potentially producing overfitted or so-called lucky good fit models. This noise must be filtered before accurate trends and predictions can be discerned. The accuracy, validity, and reliability of each AI forecast should be assessed when interpreting projections.
The views and opinions expressed in this article are those of the author and do not necessarily reflect the views of The Kootneeti Team