Malabar 2020: Showcasing a Semi- Alliance?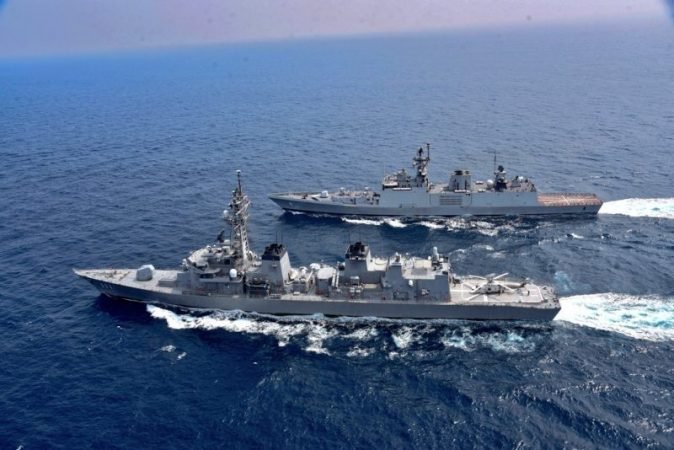 In recent times, ever since China has taken lead in tackling the virus, it has been noticed that many other countries are struggling with them, leading to further resentment and counter balance strategies being adopted to deter any power imbalance or change in status quo, which could be seen through the Quadrilateral initiative being discussed widely in the field of defence and strategy.
Countries such as India, US and Japan have held trilateral MALABAR exercises in the past without the involvement of Australia, which previously didn't want to annoy Beijing by joining a secret clique being used to create insecurity and further power competition. But in the recent dialogues, India held with other QUAD members in October, the vision of a free Indo Pacific was again reiterated along with holding frequent dialogues to further enhance understanding and cooperation, where a reference was indirectly being made to rising Chinese aggression in Ladakh, South as well as East China Seas.
But recently, Canberra agreed to take part in the Malabar Exercises this year because of her own refutations with respect to the CCP propaganda and the role played by the Chinese in the pandemic, which shows the convergence of interests amongst the QUAD members and during US Secretary of State Mike Pompeo's visit for the India-US 2+2 Dialogue, the move of including Canberra was applauded by the US side and discussions about the need for secure oceans, sea lanes of navigation were again reiterated with respect to containing any aggression on seas or territories.
These developments are closely being monitored by the Chinese Foreign Ministry, where they felt that these strategic moves should be used for good intentions rather than moving in an opposite way, where it is keeping a watch on the dialogues and the exercises held recently. They perceived these moves of the US to basically create divisions in the neighbourhood and the latter bringing countries, using the Indo-Pacific term to impact the power balance in the region. It could be said that these statements are just some methods of CCP using misperception to target public audiences and further, India is required to deal with a double threat in the neighbourhood, coming from Pakistan as well as PRC.
Keeping their own strategic issues in mind, the Indian Navy also held exercises with the Japanese Self Defence Forces at the North of Arabian Sea as a part of their annual JIMEX exercises on 25-26th September where activities such as air warfare drills, anti-submarine exercises could be a proper way to ensure increased cooperation between the militaries of both sides viewing future risks.
The Malabar exercises are supposed to be held in two phases, with the first phase taking place between 3rd November till 6th November, where second phase in mid-November. These exercises are aimed to ensure security in the oceans, promote free movement and access to sea lanes of navigation in order to protect the sanctity of the 1982 United Nations Convention of Laws of Seas (UNCLOS). These exercises will take place off Visakhapatnam coast in the Bay of Bengal and the second phase is to be in the Arabian Sea where the agenda will be laid on weapon firing and seamanship exercises, for working towards ensuring peace, safety in the region.
A notable defence expert, Cmd. SL Deshmukh, recently stated that it is symbolic for India to keep options open regarding various international alliances in many domains including the maritime domain where China is vulnerable. China is always against the coalition of like-minded partners which have united on converging values of democracy, freedom.
India, as it is isn't completely capable of handling its own problems in its own neighbourhood where there are two neighbours working on an encirclement strategy through infrastructure, state-sponsored terrorism. Through strategic partnership agreements with these countries, India could benefit technologically plus militarily. India, could attract investments, economic benefits through collaborating with like-minded countries in these exercises and initiatives plus also be beneficial for PM Modi's Aatmanirbhar Bharat and Make In India pitches, at a time when foreign companies are in a state of scepticism to move away from China.
The views and opinions expressed in this article are those of the author and do not necessarily reflect the views of The Kootneeti Team