Saudi-Pak Rivalry: A geopolitical win for India?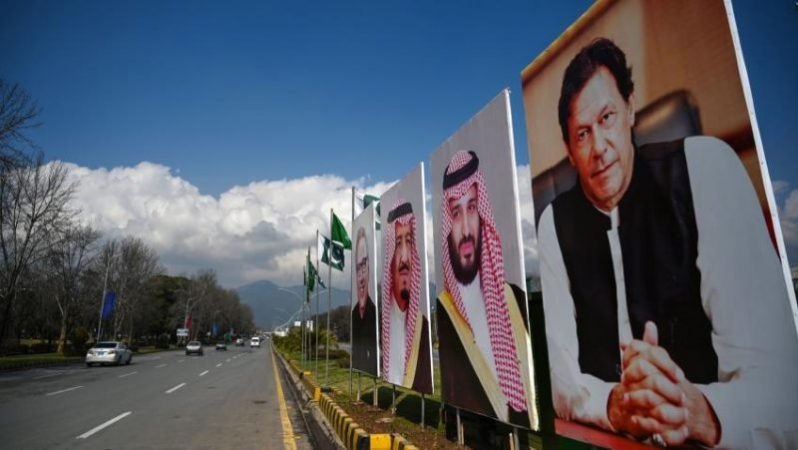 Islamabad secured a loan of 3 billion-dollars from Saudi Arabia in 2018. He did his best to ensure that he would never be asked to pay back. His hopes have been punctured. driving the Arabs around has taken him nowhere. He had to repay this loan. Saudi Rabia has forced Pakistan to pay back a billion dollars.
Since Imran Khan came to power as 22nd prime minister of Pakistan, its GDP growth has fallen from 5% in 2018 to just 0.5 % this year. Pakistan was going through a massive economic crisis in 2018 at that time. His government sought loans from the IMF as well as other friendly countries to avert a balance of payment crisis. Historically, whenever Pakistan's economy has fallen into doldrums, Saudi Arabia always came to rescue them. In Nov 2018 again, Saudi Arabia announced A massive package of 6.2 Billion Dollars in cash and credit to ease Pakistan's external sector woes. The package included if 3 billion dollars cash in loans and an oil credit facility amounting to 3.2 billion dollars.
But PM Khan was obsessed with Kashmir ever since he came to power and this obsession was allowed to dominate Islamabad's foreign policy. This obsession led him to take this help from Saudis 'for granted'.
Last year, after India revoked Article 370 in Kashmir, Pakistan tried to persuade the OIC to condemn India on this move. In February this year, he has repeatedly pushed Saudi Arabia for an OIC strong stand in Kashmir. PM khan wanted the Arab world to slam India on Kashmir. But They refused. Saudi Arabia's message was clear, "Domestic political narratives cannot drive foreign policies, especially not business"
Pakistan has openly challenged the OIC leadership and has threatened to pull out of OIC even went on to say that a new bloc of Muslim nations will be created outside OIC. He has always been fascinated by this idea of a new Islamic bloc led by another big brother Turkey. Pakistan's deep engagement with Turkey and Malaysia has also ignited Saudis' anger. Turkish President Erdogan has the ambition to project himself as the new leader of the Islamic world, challenging 'Saudi's long-held position'. In Sept 2019, Pakistan, Turkey, and Malaysia decided to launch a joint Islamic channel. And also organized a summit in Kuala lumper where one of the issues highlighted was Kashmir. This made the Saudis furious.
A few days back Pakistan's Foreign minister Qureshi gave an ultimatum to Saudi Arabia as he demanded action on Kashmir from OIC. Qureshi has damaged whatever has left out little of the goodwill of Pakistan has left with Saudi Arabia.
But Riyadh does not submit to threats and of course not to Pakistan, who survives on Saudi's loans. And hence Saudis retaliated. It is seeking its loan payback one after the other. secondly, it turned off its oil taps. Pakistan returned 1 Billion dollars. This money came with love from his iron brother China, of which Pakistan had to pay a high cost. But, In the current financial meltdown, Pakistan will unable to pay the next tranche.
Pakistan's army chief Gen Qamar Bajwa went to Riyadh in a 'patch-up' exercise, but Mohammad Bin Salman refused to meet him. He was on a rescue mission, clean up the mess created by PM Khan and his minister, bridge the growing divide between Saudi Arabia and Pakistan. General said this visit was 'preplanned' and only deals with military affairs. But this was a critical mission. Pakistan is losing a lifeline, the leader of the Muslim world and provider of oil and loan has snubbed Pakistan. But Saudi Arabia is in no hurry to mend its ties with Islamabad as was evident when General Bajwa failed to secure a meeting with Saudi crown prince Mohammad Bin Salman. Adding to the snub, Riyadh administration even cancelled the honour of Pakistan army chief Bajwa. This visit was a complete failure.
This development isn't completely new. These tensions between Saudi and Pak have been brewing for some time. In 2015, Pakistan denied support to the Saudi military's effort to restore an internationally recognized government in Yemen. In Feb 2019, after the Pulwama attack, it was Saudi Arabia and UAE that pulled their weight to get Wing Commander Abhinandan released, apart from the US. Saudis even warned Pakistanis that if they dared to go with Malaysia, not only would they cut off all the financial support given in 2018 but also deport Pakistani workers who send around 5 billion USD every year in remittances and replace them with Bangladeshis. Saudi Prince deliberately called off PM khan's trip back home from UNGA in his aircraft and utterly embarrassed, PM had to resort to a commercial flight.
What's in store for India
In his obsession with Kashmir and its attempts to please china, Pakistan is slowly losing the support of the Islamic world. And this loss is a big geopolitical win for India. To Pakistan's surprise, after the revocation of Article 370, Saudi Arabia and the UAE issued statements that were nuanced instead of being critical of New Delhi. Under Crown Prince Muhammad Bin Salman, India has seen a strategic shift in their ties.
Over the last few years, the Saudi India relationship has strengthened. Saudis have helped India in catching terrorists, the economic relationship is also flourishing, the political ties are better than any time before. Not just the Saudi's but also with their close allies such as UAE, India's relations have become extremely strong and very recently, UAE had also marked a historic moment of Israel's recognition, strengthening India's footholds in the Arab world. Both of these countries also honoured Indian PM with their highest civilian award.
India and Saudi Arabia form the Highest-level Strategic partnership council. Under Saudi Arabia vision 2030, Saudi Arabia had selected 8 countries for entering into strategic partnerships. They are India China UK US France Germany. South Korea, And Japan. As the distance between Saudi and Pakistan grows, India can forge deeper ties with the gulf countries.
The views and opinions expressed in this article are those of the author and do not necessarily reflect the views of The Kootneeti Team