Google in trouble after showing Argentine Vice President as 'The thief of the nation'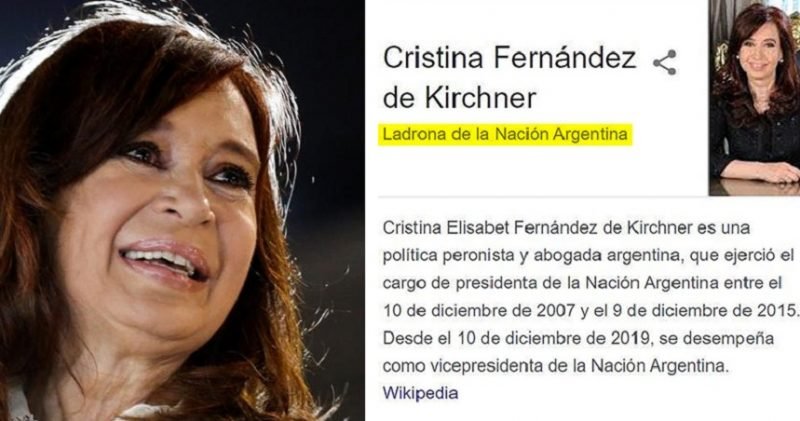 Once again the internet giant Google has come under the controversy when the name of vice-president of Argentina Cristina Kirchner came when 'The thief of the nation' was searched. The vice president has initiated the lawsuit against the internet giant this Wednesday. Carlos Beraldi, the lawyer of the vice president and member of the advisory committee of President Alberto Fernandez, made the presentation to the Federal Commercial Civil Jurisdiction where he referred to the publication made on 17th May in which it was found that the Google's search engine had placed a particular definition in the place where it had to represent the charge that it occupies: in the knowledge panel her photo was appearing along with the writing "Thief of the Nation Argentina".
Before the court, the lawyer of the vice president has asked the court to control the downloading and storing of any data related to Cristina Fernández de Kirchner y Cristina Kirchner from 17 May 2020 until the day of this expertise, arising from the content of a prominent person's Google search engine knowledge panel.
As a test measure, they requested that the details of how this publication is generated be clearly and precisely, for how long it was active, how many visualizations it had, given that the search engine itself claims to have 3 billion visits daily. To determine all that information that will influence the amount of the claim is that the lawyers asked for computer expertise.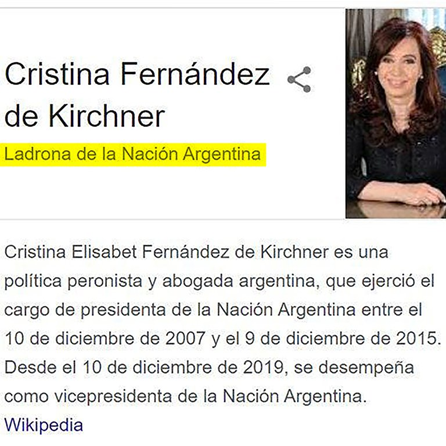 "To sum up, Google published false and humiliating information related to Cristina Kirchner in its platform, tarnishing her name, image and honour", reported by the lawyers.
In response to this, Google affirmed that they hadn't received any legal notice.
"We have become aware of this information through the media, but have not yet been duly notified," said the internet giant.
This is not the first when Google search engine has marked the derogatory names. For instance, Indian PM Narendra Modi's image appeared when the 'Top 10 criminal' was searched, similarly, US president Donal Trump's image appeared when 'Orange man' was searched. For this, Google CEO Sundar Pichai had to testify before the U.S. House Judiciary Committee on a wide range of Google-related issues such as the alleged, potential political bias on Google's platforms, the company's alleged plans for a "censored search app" in China, and its privacy practices. This also shows that the internet giant like Google can be manipulated by anyone to humiliate and tarnish the image of any world leader.
The views and opinions expressed in this article are those of the author and do not necessarily reflect the views of The Kootneeti Team