India-Bangladesh Relations: A new hope in economic relations and China factor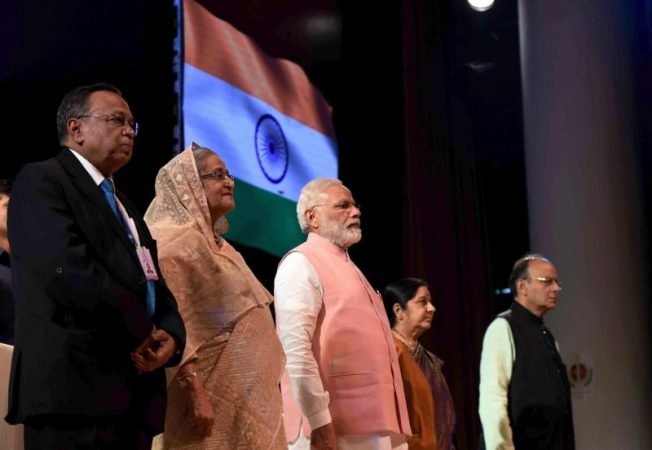 New Dimensions in Indo-Bangladesh Relations
The of India and Bangladesh shares closed and multi-faceted, social, cultural, religious and linguistic ties spanning over the years. Both the countries have established its diplomatic relationship on March 19, 1972, after signing the Treaty of Friendship which is also known as the "Indira-Mujib" Treaty of 1972. Bangladesh remains the key role playing partner for the Indian side in the Indo-Pacific Region and is crucial for maintaining stability in the north-eastern region as a bridge to South-East Asia. This relationship is a part of Prime Minister P V Narsimha Rao "Look East Policy" which laid down the strong foundation in maintaining strong relations. The bilateral relations among India-Bangladesh have usually been friendly, although sometimes there are some border disputes. On June 6, 2015, the historic land boundary agreement was signed between them and is opened a new era in their ties. They both are the common members of the SAARC, BIMSTEC, IORA and The Commonwealth Nations. After the success of "Look East Policy," it helps to motivate the diplomats of the South-East Asian Region to develop the policy into much more action-oriented and result based policy. After a couple of decades, India's Look East policy is transformed into Prime Minister Narendra Modi's "Act East Policy" in the year 2014.
In recent times, India-Bangladesh has achieved the new dimensions in their relations in the international politics in the era of Prime Minister Narendra Modi and Bangladesh Prime Minister Sheikh Hasina bilateral talks in the field of defence ties, border issues etc. In 2014, the then external minister Sushma Swaraj visited Bangladesh in her first official trip in June 2014. The Indian Parliament in the presence of Bangladeshi diplomats unanimously passed the Land Boundary Agreement (LBA) as its 100th Constitutional Amendment (CA), thereby resolving all 68-year old border disputes names as Teen Bigha Corridor on May 2015.
India's partnership with his neighbour Bangladesh stands out as a role model for the strong ties as India provides the medical assistance by donating the Hydroxychloroquine (HCQS) medicines to treat the pandemic coronavirus patients to Bangladesh under the goodwill gesture. Under the leadership of Indian Prime Minister Narendra Modi and Bangladeshi Prime Minister Sheikh Hasina has assured that the bilateral ties between both the countries scripted a "Shonali Adhaya" (Golden Chapter). This pandemic has forced India to come up with innovative solutions which aimed at minimising the disruptions to our logistics supply chain.
Appreciating the leadership of Sheikh Hasina, Indian External Minister Jaishankar told his Bangladesh counterpart, "As your close friend and neighbour, we are indeed happy to witness the transformative growth. We have seen impressive growth rates in the last few years and all your achievements across all socio-economic indicators have set new benchmarks in our bilateral ties emerging in a new era". On July 27, 2020, after handling over the 10 railway locomotives to Bangladesh at a virtual ceremony and it would be India's concessional lines of credit of close to the US $10 billion to Bangladesh are the largest it has extended to any country. A very few countries in the world shares such close fraternal ties as those of ours. Our partnership stands out as a role in the region for good neighbourly relations. As a close friend and neighbour, we are intended happy to witness the transformative growth among each other and has been impressive in last few years.
Chinese Factor
The pandemic of COVID- 19 has posed new challenges to the world and India's stand to prepare and cooperate with the people of Bangladesh to tide over these difficult times. The pandemic has also pushed us to come up with some other innovative and transformed solutions aimed to minimize the disruptions to our logistics supply chain. But the ongoing tensions between India and China over the Galwan valley incident that makes Bangladesh more important to India. China playing its soft card politics towards Bangladesh to gets attracted towards him in these ongoing tensions between India-China and China-US to counter the Indian in the Indo-Pacific Region and the US on the trade war.
In a significant move of economic diplomacy in South Asia, China has announced a tariff exemption for 97% of exports from Bangladesh. It is the part of both government's economic expansion diplomacy and the outcome of the exchange of letters between both the governments of China and Bangladesh. Bangladesh has described the Chinese move as a "major success" in Dhaka-Beijing relationship. Currently, about 3,095 Bangladeshi products enjoy duty-free access to the Chinese market under the Asia-Pacific Trade Agreement (APTA). With this new announcement, 97% products (i.e. 8,256 products) of Bangladesh will join the zero-tariff and get easy access to the Chinese market. Chinese President Xi Jinping announced in the Asian-African Conference which is held in Indonesia that China will grant duty-free market access for Least Developed Countries (LDC). This tariff exemption is expected to help Bangladesh cushion the economic impact of the Pandemic COVID-19.
Bangladesh is also a supporter of China's Belt and Road Initiative and that country's aspiration to link its Yunan province to the Indian Ocean, bypassing the long and stiff Malacca Straits which requires the access to Chittagong through Bangladesh. If it is put into effect, India will see face some restrictions due to the Chinese naval and maritime presence in the Bay of Bengal and consequently in proximity to the Andaman Islands. During this pandemic and the increasing tensions among India and USA, China is attracting the neighbouring countries through which they can counter the Indian side if there would be any possibility of more increase in tensions because Bangladesh has its unique importance in the Indo-Pacific Region. But at a time, India also has strong bilateral ties as Bangladesh claimed the island as its own and drew its maritime boundary and exclusive economic zone from it, while India mentioned that it lay under its jurisdiction.
Way Forward
India shares about 4,156 km land boundary with Bangladesh. It is being more important for India to maintain a positive relationship with Bangladesh to strengthen security and border management. It is also a suitable stand for China as well to maintain a welcoming relationship with Bangladesh and need to ensure trade benefits by using Bangladesh's ports and to keep an eye on India. Bangladesh and India enjoying its close relations in the latter's north-eastern region. This represents a transformation in the two countries in a past relationship which was characterised by suspicion, distrust and insecurity. This recent change which began with the arrival of Bangladesh's current regime that has resulted in a sense of cooperation, mutual interest and connectivity. This article aims to explain this transformation. India-Bangladesh relations have reached a stage of maturity. Bilateral ties can be expected to grow stronger in the future. It is for India to take the lead to remove these irritants.
There is a scope for India-Bangladesh relations to move to a next level which is based on the cooperation, coordination and consolidation and also continued partnership with Bangladesh which benefits both the countries. India has played an important role in the arrest of Captain Abdul Majid who killed the founding father of Bangladesh Sheikh Mujibur Rehman. India also has resolved the much-awaited land border dispute successfully with the current government initiate of Prime Minister Narendra Modi's "Neighbourhood First" policy in motion, shifting Indian foreign policy's focus towards its neighbours. It is a highly appreciated under the Indian foreign policy initiative toward regional connectivity and cultivating the cross border ties. In the recent transformations in the relations India-Bangladesh has achieved new economic partnership by Indian side sends 10 diesel locomotives to Bangladesh under the MoU signed in late 2019 to enhance the trade and railway routes among both countries.
The views and opinions expressed in this article are those of the author and do not necessarily reflect the views of The Kootneeti Team