India-Australia Strategic Partnership to counter Chinese influence?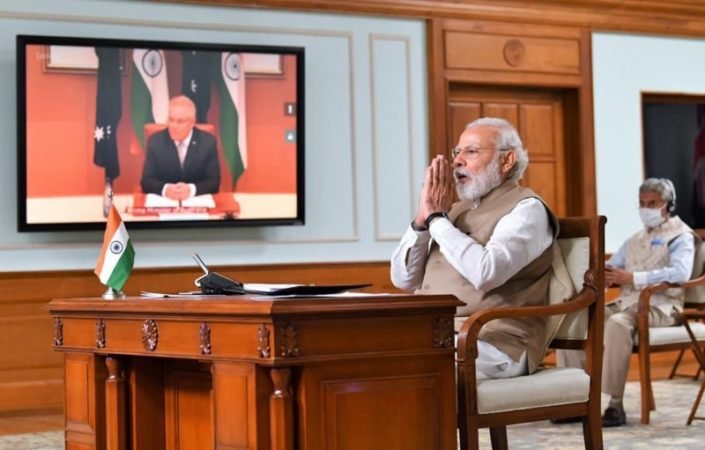 Indian Prime Minister Narendra Modi and the Prime Minister of Australia, Scott Morrison jointly participated in an India-Australia Leaders' Virtual Summit on Thursday. It was the first time that PM Modi held a "bilateral" virtual summit with a foreign leader.
The two leaders committed to elevating the bilateral Strategic Partnership concluded in 2009 to a Comprehensive Strategic Partnership (CSP). The Ministry of External Affairs press release said, "The CSP is based on mutual understanding, trust, common interests and the shared values of democracy and rule of law." So far India has signed CSPs with the United Kingdom, Indonesia, Vietnam, and the United Arab Emirates.
The two countries also committed to taking the "2+2" format of bilateral meetings to the level of Foreign and Defence Ministers, who will meet to discuss strategic issues at least every two years and also agreed to increase the frequency of meetings between the two Prime Ministers.
During the meeting, both Prime Ministers noted the importance of global cooperation for saving lives and managing the economic impacts of COVID-19. Both leaders committed to a new phase of the Australia – India Strategic Research Fund to promote innovative solutions for responding to and treating COVID-19.
The summit was held after Australian PM Morrison had to cancel his trip to India in January 2020 due to the devastating bushfires season in Australia. The two prime ministers have met on four occasions during the last one-and-half years. The Australian Prime Minister called India a "trusted friend of Australia" and a "pioneer in technology".
PM Modi said, "India-Australia relations have deepened. And this depth comes from our shared values, shared interests, shared geography and shared objectives." He further added that the two countries have immense possibilities to make their friendship stronger.
A Strategic move against China?
Ministry of External Affairs officials said there has been "no discussion" on China over the standoff at the Line of Actual Control, and the two leaders had not discussed including Australia for "Malabar" or quadrilateral maritime exercises that would include India, Australia, U.S. and Japan, something that China has opposed in the past.
The concern about China's expansionist behaviour in the South China Sea, as well as, Chinese influence in other countries by providing unsustainable loans, which have started to act as a hindrance to the free and open Indo-Pacific, are shared by both India and Australia.
China has in recent years increased its military presence in the South China Sea, annoying Western nations such as the United States and Australia.
Beijing has also deployed a fleet of underwater drones in the Indian Ocean in mid-December 2019, recovering them in February after making more than 3400 observations. This has also led New Delhi to redouble its foreign aid efforts in the Indian Ocean region
Although China is the biggest buyer of Australia's exports, there have been trade frictions between the two recently, when Australia pushed for an independent inquiry into the handling of the coronavirus pandemic, which first emerged in the Chinese city of Wuhan in December 2019.
In fact, Both India and Australia have been invited by US President Donald Trump to attend this year's expanded G7 meeting at Camp David because of their sharpened efforts to combat China's rising regional influence.
Defence Cooperation
Both sides have agreed to increase military inter-operability through defence exercises under arrangement concerning the Mutual Logistics Support Agreement (MLSA). It gives reciprocal access to each other's bases and ports to refuel and access maintenance facilities, similar to the Logistics Exchange Memorandum of Agreement (LEMOA) between India and the United States. It is understood as broader security cooperation to balance China's growing economic and military weight in the Indo-Pacific region. India has also signed similar agreements with France and Singapore.
Recognising that terrorism remains a threat to peace and stability in our region, both sides support a comprehensive approach in combating terrorism. Both sides called for the early adoption of a Comprehensive Convention on International Terrorism (CCIT). Australia had in the past co-sponsored UNSC resolution to declare Azhar Masood a global terrorist.
Maritime cooperation for an Open and Inclusive Indo-Pacific
Both leaders agreed to boost cooperation in the maritime domain. AUSTRA HIND (a Special Forces Army Exercise), AUSINDEX (a bilateral maritime exercise), KAKADU (a multilateral maritime exercise), and Exercise Pitch Black (a multilateral air exercise) are examples of the Indian Armed Forces' close cooperation with Australian Armed Forces in the Indian Ocean.
Regional and Multilateral Cooperation
The MEA press release said both India and Australia share a common commitment to the rules-based multilateral trading system, including reforming and strengthening the WTO. Both sides committed to continue to work through trilateral and plurilateral mechanisms, including QUAD.
Australia supports India's membership of an expanded United Nations Security Council and India's candidature for a non-permanent seat at the United Nations Security Council for the 2021-22 term. In the recent past, Australia supported India's membership for Australia Group and Wassenaar Arrangement. It favours India's membership of NSG. Australia has supported India's global initiatives such as the International Solar Alliance (ISA) and also welcomed India's hosting of the G20 in 2022.
India and Australia have a lot in common, as both are Westminster-style secular, multicultural democracies with ever-growing people-to-people ties. Both the countries share a vision of a free, open, inclusive and rules-based Indo-Pacific region to support the freedom of navigation, over-flight and peaceful and cooperative use of the seas by adherence to international law, including the UNCLOS.
With the announcement of the Comprehensive Strategic Partnership, the political, economic, and community ties between the two countries will now be further strengthened.
The views and opinions expressed in this article are those of the author and do not necessarily reflect the views of The Kootneeti Team