Sino-Russian relations and its impact on the United States: Revival of the Quad with India in the centre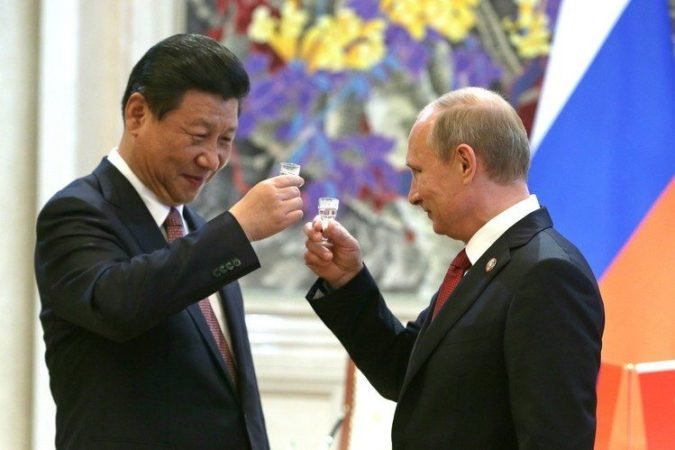 Chinese President Xi Jinping stated that Russian President Vladimir Putin is his "closest companion" during a three-day state visit early in 2019 to Russia. "In the past six years, we have met nearly 30 times. Russia is the country that I have visited the most times, and President Putin is my best friend and colleague," Xi said at a question and answer session. Russia and China have been determined in reinforcing their partnership and encouraging further collaboration despite expanded political and monetary antagonistic policies from the U.S. The maxim that "my foe's adversary is my companion" could be applied right now with regards to China and Russia's relationship with the U.S.
Partnership out of the common ground in having a mutual rival
The "axis of convenience" between China and Russia has, beyond a shadow of a doubt; become bigger, and economic development isn't the main thing drawing China and Russia together. Russia and China are deepening their political, diplomatic, economic and military ties to counter threats from the US. Both countries have been called revisionist powers and declared as primary challengers by the US in its national security strategy. The two countries collaborate at the UN and other forums on issues of regional and global importance. The eastbound expansion of NATO, the superiority of the US and other Western deadly armaments has made China and Russia portray their moves as responsive as opposed to assertive. Russia's risk evaluation of China's ascent has changed altogether over the previous decade. Ten years ago China was seen as a potential hazard because of noteworthy trade imbalances and China's fast-developing military power. Now they perceive China's ascent as non-compromising and collaboration with China as gainful. Simultaneously, there are clear impediments that forestall the development of a completely fledged partnership.
The most significant is the absence of mutual help for assertive moves, for example, Russia's annexation of Crimea or the acknowledgement of Abkhazia and South Ossetia's autonomy, or China's development of artificial islands in the South China Sea and the related territorial cases. As it was, the two states won't need to fear a betrayal even with Western tension; however, both states won't get supportive help for their activities or cases. The Sino-Russian relationship has developed to this degree where the two are currently taking an interest in joint military activities which underscores the quickly advancing nature of this relationship and a changing worldwide power structure. Both are currently more bound together than at any time in recent memory and represent challenges to the US-driven world order. 
Military and Monetary developments
Examination reveals contrasts: The Russians have led or straightforwardly supported hot wars, from Georgia, Chechnya, and Serbia to Crimea, the Donbas, and Syria, they target huge non-military populaces. While, China occupies open spaces, in some cases transforming them into military resources. China is playing in the vacant spaces of the South China Sea, East China Sea and bordering zones with India. Up until this point, it has satisfied its insistence that it "won't fire the first shot". Military adventurism is a long way from the Chinese custom, which is to take a considerably more thorough view of national force and impact. But China may expand its political-monetary reach in other post-Soviet states, specifically Belarus and Ukraine. Connecting the Eurasian landmass with strategically significant projects may somewhat adjust the US control in maritime operations is another reason; this is a venture for the long stretch and with components of rivalry for business sectors and control over spheres of influence. For a long time, China's expansionist motive, particularly in the Siberian region, was perceived as a threat by Russian leaders but this seems to have been relegated to the background.
For China, there is a lot to gain from Russia's operational involvement with warfighting. Although China's military modernization is one of the best in the world, its operational experience is fairly constrained. Russia's involvement with the Syrian war where it has honed and furnished its fighting systems is something that Chinese military officers are looking at with extraordinary intrigue. Russia's decision to sell latest the military technology (like S-400 surface to air missiles and SU-35 fighter jets) to China and an invitation to participate in its largest military drill underlines that it no longer sees China as a threat.  Both China and Russia share a reputation of dismissing international law on regional issues, in spite of the fact those in altogether different circumstances. Conjuring and controlling the UN is turning into a key subject of enthusiasm as China's budgetary impact over the association has developed impressively lately.
There has been an increment in trade and exchange between Russia and China over recent years. The estimation of Russia's export to China multiplied between 2016 and 2018. While that was expected mostly to higher oil costs complimenting the estimation of fares, non-oil exports additionally rose by just about 50 percent over this period. Russia was one of the first nations to ink a cash swap agreement with China, in 2014, for a measure of $24.5bn. Such an agreement makes Russia and China exchange in renminbi and rubles, without utilizing third parties, for example, the US dollar. Such an understanding targets reinforcing exchange ties; it additionally avoids potential US sanctions that target transactions in US dollars. Bilateral trade and exchange crossed US$108bn a year ago, a record high, prodded to some degree by China's involvement in new markets due to the trade war with the US.
As per information from China's National Bureau of Statistics, Chinese exports to Russia topped 9.1 percent in 2018 to 316.7bn Chinese Yuan ($45.8bn) while imports from Russia soared 39.4 percent to 390.9bn Yuan ($56.5bn). The total estimation of China's imports from Russia rose quicker than those of some other top partners in 2018.  For China, President Trump's choice to end business as usual when it came to Sino-U.S. trade and exchange — due to what he has seen as unjustifiable practices— and to force billions of dollars of taxes on Chinese imports, subsequently, has affected its financial development and potential. Against this setting, boosting Sino-Russia trade and exchange could make a way for the development of both Moscow and Beijing as legislators and authorities stand up to sanctions and import duties. While China is still reluctant to increase investment in Russia and China also prefers the West when it comes to making investments or getting a good education for its youth. So this tactical shift in its behaviour can reverse itself very easily. 
Divergences in the partnership
In East Asia, growing asymmetry threatens to debilitate Russia's position as an established force. On the off chance that Russia feels compelled to help China's situation towards the South China Sea or limit its security ties with Vietnam, Moscow's stance in the area will endure a genuine blow. The asymmetry may at last outcome in an accepted subjection of Russia's strategy to China's key policies. Regardless of whether Beijing keeps on taking into account Moscow's concerns, it will reduce China's options while operating against the US. Russia would be the lesser partner dependent on the size of the market and its possibility for development so clearly in that sense, Russia would be manoeuvred into China's influence.
Another vital impediment is the long haul difference in perspectives and approaches identified with financial globalization, worldwide populism, and insurgent developments. Russia is by all accounts flourishing in situations like Brexit or Donald Trump's administration. China, because of the structure of its economy, has significantly more to lose from protectionism and the inversion of financial globalization. China's steady arrangement of their own worldwide 'sphere of authority' with establishments separate from those overwhelmed by the West leaves scarcely any alternatives for Russia. It might even feel obliged to go along with them as a part, for example, the Asian Infrastructure Investment Bank or the Belt and Road Initiative. As the opposition between two in Eurasia – the Eurasian Economic Union and the Silk Road Economic Belt – appears, Moscow can hide any hint of failure utilizing its grand rhetoric and sketching ambitious initiatives yet it can't withstand real monetary and financial rivalry with China. 
Way Forward for the US: India as a Counterweight
Trump's frequent use of the term "Indo-Pacific" as a replacement for "Asia-Pacific" — the more widely used label in diplomatic and business circles — revealed the level of importance Washington places on New Delhi. Twice in the past two years, the White House has held high-level discussions with Indian defence officials, in addition to reviving "the Quad"—an informal strategic dialogue among the other two countries, Australia, and Japan. 
Japanese Prime Minister Shinzo Abe first proposed the Quad in 2007; he wanted a "quadrilateral security dialogue" or QSD connecting Japan, India, Australia, and the U.S. The Quad stays a work in progress and its individuals are still characterizing its needs. In any case, there is no denying the basic changes in the Indo-Pacific in the course of a recent couple of years, on account of China's ascent and global conduct, have given this game plan another desire to move forward quickly. Quad critics have contended that the group comes up short on a common interest that is needed to join the individual nations into seeking confrontational and collaborative approaches intended to impact China.
In any case, the primary meeting in November 2017 of the revived Quadrilateral Security Dialogue, or Quad, the U.S. has been persistent in talking about the security goals it tries to advance through the grouping. New Delhi has been frightened by the developing proximity of Chinese submarines in its conventional effective reach, and as Beijing acquires seaports it manages to utilize nations circling India. Western and Indian representatives stress China may turn these seaports, at present utilized for business purposes; into calling docks for Beijing's naval force by utilizing the colossal obligation of nations it has loaned cash over to. China's policy in the Indian Ocean includes a "slow choke" of New Delhi's geopolitical impact on its key frontier.
In any case, Beijing is continuing ahead cautiously, guaranteeing that its military prowess in the Indian Ocean Region (IOR) doesn't cross the edge of contention with India. India is the world's fifth-biggest military spender, having a budget of $55.9 billion in 2016, as per a report by the Stockholm International Peace Research Institute (SIPRI). With its progressing maritime development, India is looking to turn into a transcendent force in the Indian Ocean Region (IOR), explicitly to counter China's maritime venture into the Indian Ocean. It has defined an objective of keeping up an armada of 212 warships and 458 airplanes by 2027, up from the Indian Navy's present 138-warship and 235-airplane power.
The Indian Navy's latest Maritime Security Strategy underscored New Delhi's attention on sea security challenges radiating from inside the IOR. The United States and India concluded its primary land, ocean and air military exercise in their history, a stage forward in White House endeavours to develop effective collaboration between the nations.
The endeavour, Tiger Triumph, united 500 American Marines, and around 1,200 Indian troopers, mariners, and air forces staff to prepare next to the other for nine days. While the official declaration was to get ready for rescue tasks and disaster reaction, it likewise included search and-seizure preparing and live-fire drills. The main other nation with which India has held comparative activities including three parts of its military is Russia. During the Cold War, India was nearer to the Soviet Union than to the United States, and a great part of the Indian ammunitions stockpile despite everything harkens back to that period. India is expected to assume an urgent role of being a crucial part of the stability of the Indian Ocean.
Conclusion
President Trump has high hopes for India, which has generally been a historical test for American aspiration in the region, is rapidly turning into a key player in the bigger American policy in Asia. Trump administration's policy of a "free and open Indo-Pacific," which sees the Indian and Pacific Oceans as a "single strategic arena" in the ongoing confrontation with China. Modi recently rolled out the red carpet for his fellow populist, hosting an extravagant state dinner and the "Namaste Trump" rally.
The two sides announced an expanded defence partnership, including $3 billion in arms sales. With the Indian military largely reliant on Russia, Delhi's purchase of American helicopters points to a belated reorientation of India's Cold War alignment. For its part, the White House's agreement to transfer sensitive military technology to Delhi is a sign of trust in the Modi government. The deal also includes industrial collaboration and—in a rebuke of Chinese telecommunications giant Huawei—collaboration on 5G networks. 
Trump's endeavours to charm India are from multiple points of view a continuation of a strategy sought after by Presidents George W. Bush and Barack Obama. Both Mr Bush and Obama tried to draw nearer to India and succeeded quantifiably in regions like arms deals. As per information from the Stockholm International Peace Research Institute, trade of American weapons to India from 2013 to 2017 expanded 557 percent over the past five-year time frame. The development of the Quad permits nations in the Indo-Pacific to counter China without officially making an open military union.
It would allow the United States, Japan, India, and Australia—nations with shifting key needs, security priorities, and discernments on partnerships—to utilize a delicate balancing system against Chinese authority. Right now, Quad would be great as it would permit every country to rise as a solid provincial force in their separate corners of Asia: Australia in Southeast Asia, India in the Indian Ocean, and Japan in the western Pacific with dynamic help from the United States, potentially as an initial move toward an "Asian NATO".
The views and opinions expressed in this article are those of the author and do not necessarily reflect the views of The Kootneeti Team