A Tale of India's Foreign Policy in Modi Era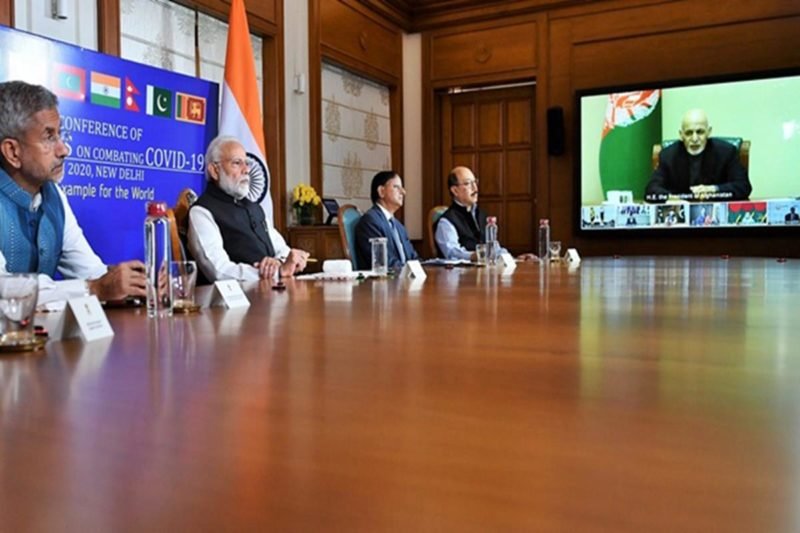 Given India's proactive response and its willingness to shoulder responsibility with a humane approach, it would be extremely difficult for the powers at High Table to write off India anymore.
With Prime Minister Modi into his second tenure, there has been a perceptible sense of anticipation about the trajectory of Indian Foreign Policy under his leadership. Indeed, the country's foreign policy has undergone a remarkable transformation in the short span of his six years into office. Even the government critics now recognise the shift. The Modi Government has left its indelible imprint by clearly stating its objective of projecting India as a "leading power" and not merely as a "balancing power". As India enters into the new decade it abandons its past dogmas and constants to establish itself as a responsive and a rule-abiding nation, playing a more proactive role in global affairs.
A Perceptible Shift
At the 2020 Raisina Dialogue in Delhi in January this year, Foreign Minister  S. Jaishankar declared " India is a stabilising power". Underscoring India's role External Affairs Minister, S. Jaishankar made a critical point wherein he described the Four Cardinal Principles of "India Way". Highlighting India as a country which brings its capacity to bear on the International System for greater global good, Foreign Minister made a point to describe India as a "shaper" rather than an  "abstainer". Being a standard-bearer for the South and harnessing Brand India was also described as pivotal to "India Way".
Rising Geopolitical Salience
In the Geopolitical realm, as India treads deftly, it faces a multitude of challenges, such as from the Growing "Chinese Arc of Influence" in both land and maritime domain, which has indeed made India's Neighbourhood Policy a "Strategic Necessity". At the Raisina Dialogue, 2020 Foreign Secretary Vijay Gokhale succinctly described Indo – Pacific as a "global commons" and quiet unambiguously asserted that Asia- Pacific is a "colonial construct ". As India's salience increases in the Indo-Pacific, Russian reservation and divergences on the issues become starker. While India talks about QUAD, on the one hand, it surprises everyone when it sits together with China and Russia to talk trilateral, thus magnifying it's strategic autonomy vis a vis US.  As India's engagement with the Gulf reaches a new height, it continues to face a truly remarkable dilemma when it comes to fragility of the region. Expatriate dilemma and Energy Security constitute the two biggest challenges for India in this strategically significant region. Recent developments in Afghanistan has created a Catch 22 situation for India with the moot question being,  "What Should be India's Role In Afghanistan?"
Strategic Domain
In the Strategic domain, India's outreach to Africa and Central Asia has been a major success story of India's mature and nimble diplomacy. Of late, a remarkable attempt to ramp up engagement with Latin America has been made with the invitation of Brazilian President Jair Bolsonaro as the Chief Guest on Republic Day 2020. India's outreach to littoral's through its policy of SAGAR has made it a trusted partner in terms of HADR and other maritime challenges particularly in tackling of Anti- Piracy. This has translated into immense goodwill for India along with granting of permission for use of overseas military bases in Seychelles, Mauritius, Madagascar as well as Djibouti.  India's recent admission into IOC as the observer state and it's recently conducted HADR operations like Operation Vanilla to come to the rescue of the cyclone hit Madagascar and it's a leadership role in providing medical assistance to Seychelles in the ongoing pandemic highlights and establishes its role as a "First Responder" and augurs well for its SAGAR doctrine.
On the Economics Front
On the Geoeconomic front, while India decided to abstain from joining Regional Comprehensive Economic Partnership, it has of late, made an earnest effort at reviewing FTA's with its key partners. The US isolationism, near dormant state of WTO's Appellate Body and decline of major institutions representing the Global Liberal Economic Order, continue to pose a stiff challenge. While a limited edition of US-China trade talks promises some thaw, the overall economic situation remains highly precarious and prone to fluctuations owing to any change in the status quo in the Middle East. Spectre of BREXIT along with the slump in overall economic conditions in Europe in addition to no substantial developments being made on a possible India-EU FTA, the general perception signals a dead end in India EU trade relations as of now.
Climate Diplomacy: A New Tool In India's Toolbox
Climate diplomacy has truly emerged as the new tool in India's toolbox as Prime Minister Modi continues to lead from the front through his ambitious initiatives such as International Solar Alliance, launched in 2015, along with France and the recently launched Coalition For Disaster Resilient Infrastructure at the UNGA session of 2019. While the USA's lackadaisicalness and its decision to abandon Paris Deal has lead to a great deal of unease, India and China continue to give some hope. While the issue of Carbon Trading and Polluters pay Principle was a talking point at the recently concluded COP 25 in Madrid, no substantial achievement could be made.
An Unprecedented Pandemic And India's Response
In the midst of the unprecedented ongoing pandemic, when even the best of the minds have not been able to come up with a reliable vaccine and when most of the developed western world has failed, a country like India with its truly continental size and a  booming population of 1.3 billion has emerged as an outlier with all its fragility.  No wonder it is an enigma for the rest of the world to see the resolve of the "Only Island of Hope" in such difficult times. As far as the global leadership is concerned,  India has attached a truly humane approach to it and shown its willingness to take up the leadership role in the Post COVID  world. At a time when most of the countries have turned inward, India has come up with innovative and collaborative ideas like SAAARC video conferencing, thereby giving a ray of hope to otherwise defunct SAARC. India has also advocated a collaborative approach at the G20 leadership summit held through videoconferencing.  It has given a truly humane approach by allowing to export HCQ, Azithromycin etc., whilst also ensuring that its domestic demands are fulfilled and sufficient stocks are available to cope up with any future eventualities.
It is very clear, therefore, that the Post COVID world will be fundamentally different from what we have known and globalization will surely take a backseat, even if it is for a temporary period. Hence, the question that begs to be asked is whether we can continue with the Post WW2 order in future. Questions will also be raised on the functioning, autonomy as well as transparency of organisations like WHO, UNSC etc. Questions related to the "preeminent" position of US would also be raised as it has increasingly shown an inability to respond proactively. Chinese aggressiveness and apathy along with its role in future global order would also be raised. Certainly, many countries, including its erstwhile partners would also be increasingly wary about its intentions going forward.  Whatever, be the case, it's also extremely essential to note that no future alternative would succeed without Chinese having a role to play.  The real challenge, therefore, will be to balance out the Chinese aggressiveness and its ability to behave in a responsive manner. If it is not done properly, I am afraid, it could lead to greater turmoil.
The views and opinions expressed in this article are those of the author and do not necessarily reflect the views of The Kootneeti Team