Can Pakistan be mediator between Iran and Saudi Arabia?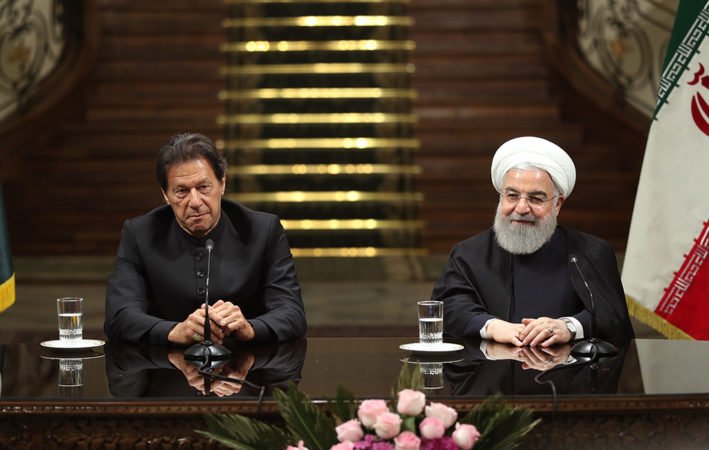 Pakistan Prime Minister Imran Khan is on his two-day visit to neighbouring Iran. In the joint statement with Iranian President Hassan Rouhani, he spoke about Pakistan being facilitator instead of a mediator between arc-rivals Saudi & Iran.
Pakistan Prime Minister also said he wasn't asked by anyone to play this role of mediation, Pakistan is offering instead by itself, hence, it will be a facilitator to the recent crisis in the Middle East. PM Khan emphasised to avoid a conflict in the region
In his statement, he stressed on having close ties with both Iran and Saudi and recognised this as a 'Complex issue and believed it can be resolved through dialogue.'
Pakistan Prime Minister is expected to visit Saudi Arabia next week for a meeting with Saudi Crown Prince Mohammed Bin Salman. In case, he gets a go-ahead by the Iranian leadership who's facing immense pressure and threat by Saudi and West.
Earlier, President Trump has also discussed mediation between Pakistan and Iran with Prime Minister Khan. If Islamabad takes this opportunity ahead it will be a holy grail for a global image build-up as a nation and leadership.
Mediator or Facilitator?
Khan called this a Pakistan-led initiative, hence, acting as a facilitator, Islamabad has a lot of things on the table. starting from the Yemen crisis, where an immediate ceasefire is needed with all possible Humanitarian help. Another thing is recent attacks on Saudi Aramco and Iranian oil tanker nearby Saudi shores.
Iran has called it aggression by the Saudi leadership and has collected evidence following the attacks. These attacks are worsening the crisis between Iran and US-Saudi. Iranian leadership in the joint statement have discussed JCPOA. They also spoke about the US-led sanctions crippling the Iranian economy.
Also Read: Saudi and Iran: A Game of Proxies in the Middle East
A missed opportunity for India?
Currently, Indian Diplomacy is blooming and India is enjoying one of the best eras of ties with Saudi as well as Iran. PM Modi has been honoured with the highest civilian award by the Saudi regime.
India remained one of few countries to keep trade relations with Iran in the critical era of sanctions. In fact, the recent start of the Chabahar port was a visionary step in the direction of Indo-Iranian ties.
India, despite having dynamic and friendly ties with almost Middle Eastern nations, show its reluctance on the global stage and avoid any such steps which could change the course of decades-old foreign policy norms.
Ideally, New Delhi should have been one of the vocal opponents of proxy wars in the Middle East and attempted the mediation at first. Being one of the largest democracy India enjoys greater relations with the West and completely in the conditions to offer mediation between two Middle Eastern powers
The views and opinions expressed in this article are those of the author and do not necessarily reflect the views of The Kootneeti Team