"Your Prime Minister is Capable of Handling Cross Border Terrorism: Trump"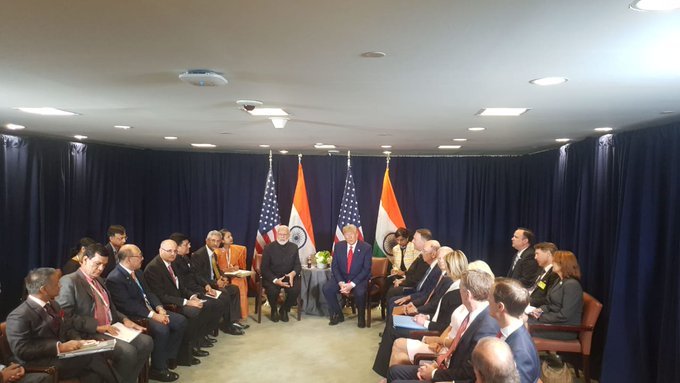 Indian Prime Minister Modi on Tuesday held a bilateral meeting with US President Donald Trump on the sidelines of the United Nations General Assembly. Both the leaders discussed different aspects of US-India relations, indicating strategic dawn in the bilateral relations between the world's oldest and largest democracies.
8 Takeaways from the Bilateral Meeting
1. When asked about cross border terrorism and Pakistan being the epicentre of terrorism, President Donald Trump said, "Iran tops the list in perpetuating cross-border terrorism. PM Modi gave a message loud and clear to Islamabad on the terror front."  
2. 'We will very soon have a trade deal', President Trump looks optimistic on the trade deal and probably a deal could be signed between India & the United States.
3. Talking to the media on Pakistan and terrorism, President Trump said, "It will be great if they can work out something on Kashmir". Talking about PM Modi, he added that you have a great PM, he will solve all the problem.
4. When asked about Personal-level relations with Prime Minister Modi, President Trump compared PM Modi with the rockstar Elvis Presley and said Modi is like a father-figure for India, he's doing efforts to bring the country together.
5. When referred to Pakistan Prime Minister's yesterday's statement on Pakistan army, Trump ignored the question saying, he hasn't heard his statement yet. PM Khan yesterday, quoted about Pakistan creating and Training Militant groups like Al-Qaeda & Taliban.
6. PM Modi said, "Fruitful discussions on many issues. Between the oldest and the largest democracy, this kind of nearness is appreciated." PM Modi also said that not only are the two countries close friends, but the friendship is based on values.
7. PM Modi referred to the day before yesterday in Houston when an agreement was signed by Petronet, worth $2.5 billion dollars. This will lead to trade worth $60 million and jobs for 50,000 people.
8. Trump justified his statement during his Houston rally with Modi on Radical Islamic Terrorism saying, "Your Prime Minister is Capable of Handling Cross Border Terrorism"
The views and opinions expressed in this article are those of the author and do not necessarily reflect the views of The Kootneeti Team