HK protesters not winning love from Mainland China after embracing violence
The Hong Kong pro-democracy protesters, who launched demonstrations this summer to criticize an extradition bill that was initially supported by the Hong Kong SAR (Special Administrative Region) Chief Executive Carrie Lam, were winning wide support and sympathy from the international media and a number of foreign governments.
Hong Kong had witnessed around 2 million protesters taking to the streets in the city with a population at around 7.5 million. In the beginning, the demonstrations were mainly peaceful and some were seen chanting prayers and singing, "Hallelujah" while expressing vocal support for greater freedom in the city.
Although Beijing did not agree with the viewpoints of the Hong Kong protesters and their demands, the Central Government had agreed to offer extra rights and privileges to Hong Kongers under the Basic Law – 'One Country, Two Systems' – after the United Kingdom handed over territorial sovereignty to China in 1997.
Hence, the good people of Hong Kong were legally permitted to join peaceful assemblies and protests and granted freedom of speech, which are privileges not granted to their Chinese compatriots in the mainland.
Had the protesters remained peaceful, Beijing could do nothing more than let the HK SAR Legislative Council (LegCo) handle the situation and stay quiet. Many protesters appeared to be anti-China, but if they had followed Mahatma Gandhi's principles of non-violence, the Chinese Central Government would have no reason to express public concerns over Hong Kong's affairs.
Nevertheless on the evening of July 1, the peaceful protests turned violent as youth activists had stormed the LegCo building (Hong Kong's legislature) to pillage it, while a few participants were observed in video footage waving the Union Jack, British flag, and marking up the walls with anti-China and HK independence movement slogans.
After the incident, many Chinese in the mainland stood outraged and shocked. They no longer viewed the Hong Kong protesters as innocent but misguided. They have deemed the protesters to be criminals, mobsters, rioters, terrorists and violent separatists. Any sympathy the Chinese may have felt for them had vanished.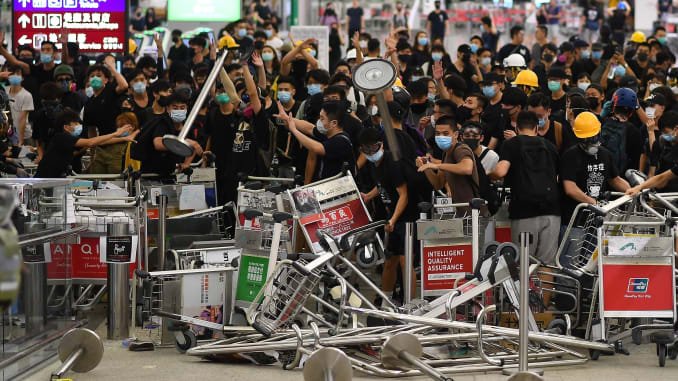 The foreign media and Hong Kongers may have speculated the Chinese people were not sincere in their public outrage against Hong Kong protesters, because they had assumed many they were just brainwashed Marxist propagandists, while recent media reports claimed pro-China defenders on Twitter and Facebook were bots or hired stooges for the Central Government and not authentic people.
But did the reporters talking about Hong Kong even speak with ordinary Chinese in the mainland when making such claims? It would have been very easy to do since Shenzhen is nearby and easy for foreigners to enter if they have a Chinese trip visa.
They could have spoken to local residents and asked them about the violence in Hong Kong. I have lived and worked in Beijing since October 2010. My wife is a native Chinese citizen and I spend most of my time with ordinary folks, not with the expat community or privileged elites and the princelings. So I can get a better understanding of the feelings of the Chinese.
Before the LegCo building was looted, ordinary Chinese were not interested in talking about Hong Kong. They just didn't care. They know HK is Chinese territory, but they view many Hong Kongers as too westernized and slavish followers of Western pop culture, so they hold little respect for them.
Yet the violence committed by the HK protesters triggered the mainland Chinese to feel more patriotic for their homeland and many were hoping the Central Government would take a tougher stand and even consider deploying the People's Liberation Army (PLA) troops to march in and take control of the city.
Consequently, many Chinese patriots were speaking out on WeChat groups, Facebook and Twitter demanding for revenge. These sentiments were for real and were not launched by bots.
Ironically, when the Hong Kong extradition bill protests started at around springtime and early summer, a few Americans claiming to be experts there would also be regime change in Beijing.
Stanford University professor Gordon G. Chang, the author of the best-selling book, The Coming Collapse of China, is quoted in his commentary posted on the Fox News Website as writing:
"'It looks like everyone is loyal and the regime will be here for centuries, that nothing will ever change, and it's easy to believe that,' Vaclav Havel, the Czech dissident turned statesmen, said at the end of last century. Totalitarian societies—China is fast becoming one—always appear strong, but they fail quickly.
Xi Jinping may now appear strong, but demonstrators in Hong Kong are forcing their leader to capitulate and China's leader has to be concerned what happens next."
Well, it should be noted that Mr Chang has earned notoriety for frequently making wrong predictions about China. He predicted the country would soon collapse when his book was published in 2001. And every year since, he appears on the US TV news talk show circuit to forecast doom and gloom for the country.
His commentary was posted on June 19 and he claimed Carrie Lam will resign. But so far that hasn't happened and Lam said her resignation would not solve anything anyway.
In other words, the Hong Kong protests appeared to have backfired, if the protesters believed it would usher in an Independent HK, lead to economic sanctions imposed on Beijing and a spirit of pro-democracy would sweep across the mainland.
What could more likely happen: The Hong Kong protesters will face a crackdown by police officers, the city's economy will enter a steep long-term decline and expect US President Donald J. Trump to ignore Hong Kong if Beijing offers the White House an amazing US-China trade deal.
And if the city suffers from this doomed fate, will many Hong Kongers continue to show passionate and loyal support for the pro-democracy leader Joshua Wong a few years later?
The views and opinions expressed in this article are those of the author and do not necessarily reflect the views of The Kootneeti Team