The Diplomacy of Awards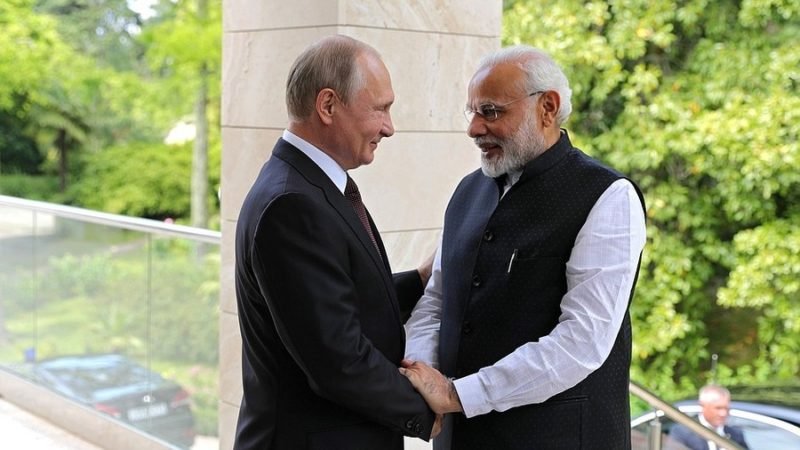 Arguably, Indian Prime Minister Narendra Damoderdas Modi is the most decorated Head of Government by several foreign governments and that too in a short period of less than five years. The most recent one was announced only last week by President Putin of the Russian Federation when PM Modi was awarded the highest civilian honour of 'Order of Saint Andrew the Apostle' for the distinguished achievement in the development of special and privileged partnership between the two countries. It came closely on the heels of yet another highest award 'Order of Zayed or Zayed Medal' conferred upon PM Modi by the UAE just two weeks ago.
In October 2018 s Prime Minister received the 'Seoul Peace Prize' in South Korea for Modinomics and contribution to high economic growth of India. This and several others from Palestine and Saudi Arabia clearly attest to not only the popularity and decisiveness of the Indian leader but recognition and respect for 1.25 billion Indians. It provides the biggest stable market and trillions of dollars opportunity in infrastructure and projects with the fastest growing economy. And for the suppliers of arms and ammunition it is a green field of opportunity. India is the second largest importer of arms and hydrocarbons. India has indeed arrived and looked upon internationally with regard and expectation. Since national interest is the underlying and indispensable factor in the diplomatic outreach, the Awards and recognition of foreign leaders is an implicit aspect of India' strategic matrix.
India and Russia have had one of the most defining partnerships of 20th and 21st century as the relationship has moved into the highest orbit even though both sides had some reservations on some other key partnerships. India looks with askance at the Russia's growing proximity to Pakistan and Russia is wary of US replacing it as the largest supplier of arms and technology to India. Since US-Russia relationship has had its own twists and turns since the Cold War era, India had to balance its ties in a way that it could sub-serve her national interests. Not much has changed since despite the global dynamic having become more volatile and conflict prone. Hence the sanctions regimes have become more common. That poses Hobson's choices for countries like India who wish to have strategic autonomy in their decision making. Since US-Russia relations are witnessing a new low with prevailing sanctions across the spectrum, India had to cast the die itself in keeping with its interests in mind be it for purchase of S-400 from Russia or oil from Iran. In fact, India's military collaboration and defence relationship has further enriched with Moscow although the US bagged big orders too to neutralise the negative impact. Hence the Russian Award to PM Modi is an acknowledgment of his steadfastness to the bilateral relationship.
When PM Modi had come to power in 2014 several of the Arab countries had their apprehensions given his propensity towards Israel and personal friendship with PM Netanyahu. But his very first visit to UAE and other Gulf countries before he went to Israel gave them the requisite comfort level. Not only that, Crown Prince Mohammed bin Zayed was invited to be the Chief Guest at the Republic Day which is a unique honour and underscores the special relationship. No wonder PM Modi has been there twice and so has the Crown Prince to India. Consequently, the real security dimension of the strategic partnership acquired noticeable salience through concrete outcomes be it extraditing fugitives, terrorists and economic offenders or providing India with oil concessions, investments in India or allotting a piece of land for the Hindu temple in Abu Dhabi. Therefore, the Zayed Award underscores Modi's contribution and pivotal role in boosting bilateral ties and strategic partnership with UAE. This was probably also to reciprocate the honour India had conferred on the Crown Prince as Chief Guest on our Republic Day.
Likewise, during the first ever visit of an Indian Prime Minister to Palestine, their highest civilian honour the 'Grand Collar of the State of Palestine' was conferred on PM Modi despite the clear de-hyphenation in our relations with Israel and Palestine. India has emerged as the trusted partner for all in the region. Similarly, during his visit to Riyadh, Saudi King Salman conferred the highest civilian award 'King Abdulaziz Sash' on PM Modi. Saudi Arabia and India in recent times have developed much more closer and strategic bilateral ties and a personal chemistry has been generated between the leaders. Hence Saudi Crown Prince not only announced the potential investments of US$100 bn in India but is also looking to India's collaboration in realising his vision 2030 for reforming the conservative Kingdom.
On the crucial issue of climate change when big and wasting and polluting economies are subverting the fight against it, India has taken the lead. For the first time after more than five decades after the Non Alignment Movement was founded, India along with France was able to launch a new multilateral initiative 'International Solar Alliance' that will define the way humanity will survive the man-made disaster. Hence last year the United Nations Secretary General Antonio Guterres presented the 'Champions of the Earth' Award on pioneering leadership of PM Modi and President Macron for promoting new areas of cooperation on environmental action. This is indeed a unique appreciation and honour by the global community.
It is not unusual for any country to give national awards to foreign dignitaries and leaders. In India we have been doing so for quite some time. In fact during 2019 Republic Day, India conferred its second highest honour Padma Vibhushan on Djibouti President Ismail Omar Guelleh for the assistance India received in evacuaing her nationals as well as from those from dozens of other countries from war-torn Yemen in 2015. This country has emerged as a major strategic location in counter-terrorism and anti-piracy campaigns apart from hosting naval bases from the US, France and China.
Some cynics and critics might find the timing of the Russian and UAE awards somewhat conspiratorial as the news came during the general elections in India and it might benefit PM Modi and his party. But it could also be seen as confidence in his continued leadership, which by most counts appear to be a given by the media and psephologists. For that matter, some would inanely argue that Pakistani PM Imran Khan banking on BJP victory would be like awarding 'Nishane Pakistan' and hoping for a resolution of bilateral issues including Kashmir. Nothing is farther than truth in it except that when a country speaks from the position of strength it commands respect even from adversaries. Like in the US and Europe, only time will tell whether an invisible Russian hand will be presumed during the Indian elections, as some would always find any excuse in the blame game. In any case, foreign policy does not remain static whatever be the premise. Meanwhile, India has won global approbation.
This piece first appeared at VIF-India website
The views and opinions expressed in this article are those of the author and do not necessarily reflect the views of The Kootneeti Team