India & Iran: Victims of cross-border terrorism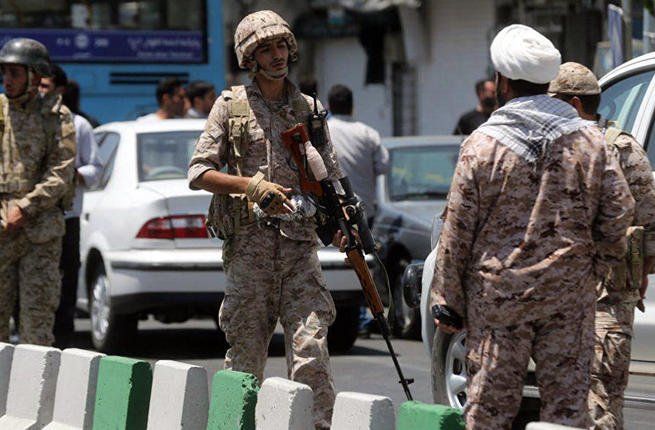 This past week, Iranian and Indian security forces were attacked by terrorists in two separate incidents. The dastardly attacks occurred on 13th and 14th of February respectively. In Iran, the terrorist attack took place when the Iranian Revolutionary Guards (IRG) personnel were coming from the city of Khash to the provincial capital of Zahedan in Iran. In a similar incident, the Indian paramilitary convoy was attacked in Pulwama when they were moving from the city of Jammu to Srinagar in the state of Jammu and Kashmir in India. It is important to note that the modus operandi for both of these attacks were quite similar. A vehicle-borne IED was used by the terrorists in both attacks while the security forces were on the move.
The attack on IRG personnel happened in Sistan-Balouchtestan province in Iran. Since 2002, the region has seen several terror groups such as Jundallah, Harakat Ansar Iran, Jaish Al-Adl and Ansar Al-Furqan working towards a goal of the greater Baloch region comprising parts of Southern Afghanistan, Eastern Iran and Pakistan province of Baluchistan. The recent attack was claimed by Jaish Al-Adl which started in 2013. The group basically comprises of remnants from Jundallah group which was one of the most active Sunni Baloch terrorist organizations operating out of Pakistan till 2012 in Iran. In 2014, the group abducted five Iranian border guards, of which one was killed and others were released after two months. Last year in October, the same group abducted 14 Iranian volunteer forces personnel, of which five were released in November of the same year.
Over the last few years, the Pakistani and Iranian officials have worked together to enhance anti-terror operations along their border areas. Because of the cooperation, the Jundallah was completely dismantled and several of its top leaders were executed by Iran in 2012. But last week's attack on IRG personnel has infuriated the Iranian officials. Maj Gen Mohammed Ali Jafari, Chief Commander of IRG said, "If Pakistan doesn't carry out its responsibilities, Iran reserves the right to confront threats on its borders…based on international law and will retaliate to punish the terrorists." In response to this, Mushahid Hussain, Senator of the Pakistan Muslim League tweeted, "Pakistan too, must set its own house in order: not allow its territory to be used against any other country, esp in the context of Iran's current complaint…"
Read: Why #MeTooUyghur is trending on social media platforms
The issue of Balochi insurgency is important for both Iran and Pakistan. In Pakistan, the China Pakistan Economic Corridor (CPEC) projects in Baluchistan are affected by these Balochi terror groups. While in Iran, the port of Gwadar and the expected corridor from the Gwadar port through Afghanistan into central Asia is critical for the region's development. So Pakistan is working together with Iran with the motive of completely thwarting any Balochi secessionist forces in the region. This is the reason why Pakistan has always tried to solve this issue in cooperation with Iran. While a similar incident in Pulwama saw a different response by the Senator, "Talk of double standards! US has the gall to talk of India's 'right of self-defence on cross border terrorism' while maintaining total silence on Kashmiri people's right of self-determination as well as Indian RAW sponsored act of terrorism against Chinese Consulate in Karachi."
Read: EAM Sushma Swaraj meets Deputy Iranian Foreign Minister
India has repeatedly accused Pakistan of waging a proxy war in Kashmir for several years. Though the Pakistani authorities have outrightly rejected the accusation, it is a fact that several of the terrorist groups are operating in Pakistan. The curious case between India and Pakistan is completely different from the dynamics shared between Pakistan and Iran. In the case of India and Pakistan, the story is about gaining the state of Jammu and Kashmir in India. In this case, Pakistan is not going to lose anything from the proxy war. But this dynamic changes once we move to the Pakistani province of Baluchistan.
The views and opinions expressed in this article are those of the author and do not necessarily reflect the views of The Kootneeti Team