The Digital Silk Road: China's Quest to Wire The World And Win The Future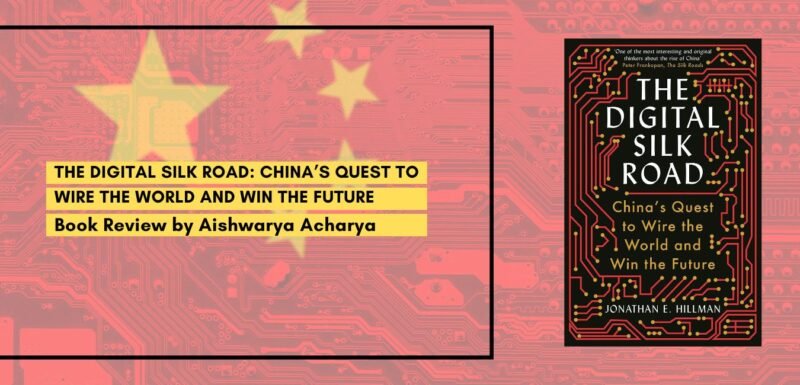 The global events in recent years, the pandemic, supply chain disruptions, lack of critical technology supplies, cyberattacks etc. have highlighted the necessity of understanding Critical Digital Infrastructures. Unlike geographical spaces guarded by conventional forces and technological aspects making an impact only as far as physical dimensions allow, Cyber Space plays by its own rules. The one who understands these rules, wins the content, and thus the context. It isn't just about keeping a tab of what we intend to develop, but also to understand what our competitor is developing. In this context, Hillman's background in Center for Strategic and International Studies and at the US Secretary of State's office, plays a role in his sound capability of looking at current events not just in their lengths in cables, but depths in underwater optical fibers and heights in satellite and other wireless forms of communication. In the seven chapters of the book, he intensely covers all the dimensions that Cyberspace has penetrated into, not only giving a historical background of what has been done, but also a framework for what can be done more, in the end. His ornamental style of describing grave realities just encourages a person to dig deeper into the topic, instead of feeling awed by its magnanimity and complexity. In a succinct manner, he has traced trajectories of the most prominent Chinese telecommunication and IT companies, and with substantial examples that can be considered as proofs, he has tried to make the world aware of China's ambitions, that have transcended the traditional military domain a long time ago.
Communication was considered as a crucial way to promote Democracy since the start of Cold War. Exchanging experiences, sharing wisdom of individual freedom and broadcasting the gains of liberal values were some methods that were thought to be the perfect instruments of maintaining dominance over the world by the West. As the points of contention no longer limit themselves to the State and National borders, Cyberspace, a territory that can at least in theory not be constricted by a particular National identity, has gained prominence. Hillman, from the very initial chapter breaks the illusions of Cyberspace as a medium of freedom and expression, and explains how China has made use of this very same space to facilitate its authoritarian structure. While China's Belt and Road initiative has created anxieties on various levels, these developments on ground are at least traceable due to their accessibility in the Physical Realm. But the Technological strides China is taking, are not easy to detect. And the most dangerous is a combination of both: Traditional Infrastructure and Digital Infrastructure.
According to Hillman, China has been able to manage its activities on three different levels. On domestic level, its strong Firewall System filters all the incoming international data and thus does the task of keeping external opinions, ideologies and ideas outside its cyber as well as geographical territories. Next, it is on this leash of setting up underwater cables, thus connecting the world in its own web. And to make this process more lucid and untraceable, thirdly it has also started setting data centers across the world in the countries with whom it maintains friendlier relations. This Chinese feat has been possible because of its "Digital Capitalism", according to Hillman. By locking out rest of the world, denying accessibility of its territory to the companies outside and encouraging its home companies, with backing of the military and Deng's idea of 'Copinism' it has extorted full benefits of having a huge consumer market. The Big three of telecommunication: China Telecom, China Unicom and China Mobile, the networking giants: ZTE, Dahua, Huawei, the surveillance camera expert Hikvision, cloud service providers like Tencent and Alibaba, and navigation system developer Beidou, analyzed the exact weakness of Western markets- individualistic market-oriented approach. The capitalistic intentions of several Western companies like Motorola, Nortel, Cisco etc. provided easy accessibility of the intellectual property of these tech giants to the Chinese tech sector.
In 2014, as Xi Jinping vowed to make China a Cyber great power, Hillman assesses the statements' implications in 2021. The Chinese tech companies have started using Mao's strategy of encircling cities from countryside, not just in developing countries, but also in the US. With help of various examples, he puts forward an important point: when you are unable to address various inequalities, the rural-urban gap, core-periphery gap and other dissatisfactions in the society, they can easily get converted into security threats. China has very efficiently diagnosed these gaps and has invested in these dissatisfactions. Huawei data centers and Hengtong Marine cables under the sea are a testimony to it. PEACE- a project linking Asia, Europe and Africa, SAIL- connecting South America and Africa serve as quite such examples. China is also accused of being a surveillance state. With its tactic of doublespeak as developed in Orwellian 1984 and mentioned in the book itself, China blurs the boundaries between safety and surveillance by naming its surveillance projects as "Smart eyes" and "Safe cities". With its strategic delay in disseminating information at the firewall from where the international data enters, it tries to convert the firewall into filter, to detect those who are rich enough to pay for the breaches and those who are eager enough to wait for some kind of breach. This Chinese surveillance behavior serves as a motivation for the authoritarian states, who buy Chinese surveillance cameras and other equipment. Thus, it is also accused of transporting "digital authoritarianism". It is a thing to wonder, that despite such allegations of data and privacy breach, China is very well able to ramp up its sales in the developing market, the reason being low cost of its products. Hillman states how affordability is often chosen over privacy, especially in poorer countries.
But Hillman is careful enough not to glorify Chinese position unnecessarily. He also has highlighted Chinese weaknesses like inefficiency of surveillance cameras, low operability of sea cables, glitches in data transfers, dissatisfactory integration in world economy leading to more expenses etc. He is also critical of China's way of treating its employees, who have to survive in harsh conditions with minimum facilities in Kenya, Yemen, Sudan, Pakistan, Afghanistan etc. to make their projects work. This is not just gross human rights violation, but also a classic example of Chinese doublespeak, which covers the exploitation of company workers under the glossy tag of "self- motivation". He criticizes China for intellectual property deceptions, but also praises the employees for their perseverance. But, in US context, his western identity comes at fore when he claims that all the giant US players almost made it on their own, which isn't entirely true, if we follow the argument line of Mazzucato and others. He also says that Europe and Asia will recede in the backdrop, in current geopolitical dynamics and Arab world and Africa will rise. But current increasing relevance of Indo-pacific suggests otherwise. Despite minor points, overall relevance of this book will remain important to understand not just the Chinese, but a general quest of domination of the cyber domain. The Strategic support force formulated in 2015 intends to combine Chinese space's, cyber and electronic warfare capabilities, and China intends to launch Belt and road space information corridor, giving packaged services of infrastructure on ground and satellite in space. Even if the adopted route is a bit different than what Hillman suggests in form of CORE (Coalition of Open and Resilient Economies) with democracy as the common denominator, China's rise needs to be acknowledged. China needs to be included in trust negotiations, instead of being competed against. Economic and strategic interests cannot be kept separated in such times. Thus, contribution, and not competition of world's second largest economy needs to be sought for.
The views and opinions expressed in this article are those of the author and do not necessarily reflect the views of The Kootneeti Team