India's Defence Engagement with Egypt: A New Paradigm in Bilateral Relations
Raksha Mantri Rajnath Singh was recently in Egypt to bolster defence cooperation and the move is slated to add "new impetus and synergy" between the two nations.
The Minister also spoke with Egyptian President Abdel Fattah El-Sisi and emphasized the need for more collaboration, knowledge sharing, and sharing best practices to combat challenges from terrorism and extremism. The events, however, have not received any media coverage as a result of the Prime Minister's recent visit to Samarkand for the SCO Summit. The purpose of this article is to draw readers' attention to the history of India's defence cooperation with Egypt.
Defence Cooperation During The Cold War – The Ups and Downs
India decided to pursue a non-partisan foreign policy in the shape of non-alignment after gaining its independence in 1947. As a result, its objectives coincided with those of secular Egypt. Nehru also endorsed Gamal Abdel Nasser as the leader of the Arab World and allied with him in the struggle against racism and colonialism in Asia and Africa. The two leaders had a personal connection that was unheard of and that was realized in 1965 when Nasser refused to submit to Pakistan's influence during the 2nd Kashmir War and opted to remain neutral.
At the same time, a joint venture initiative between India and Egypt was investigating the feasibility of producing HA – 300 fighter jets. Indians also trained Egyptian pilots and served as test pilots for Egyptian aircraft. "The Indian participation in Egypt's aircraft industry," notes Gp. Kapil Bhargava, "was the direct result of a close understanding between Pandit Nehru and President Gamal Abdul Nasser. Suffice it to say that I was deputed by the Indian Air Force to work as a test pilot in the Egyptian Aircraft Factory 36 at Helwan. The Egyptians had no qualified test pilots, and the project needed one." 2 Even as the HA – 300 projects was abandoned in 1969, relations between the two countries improved steadily.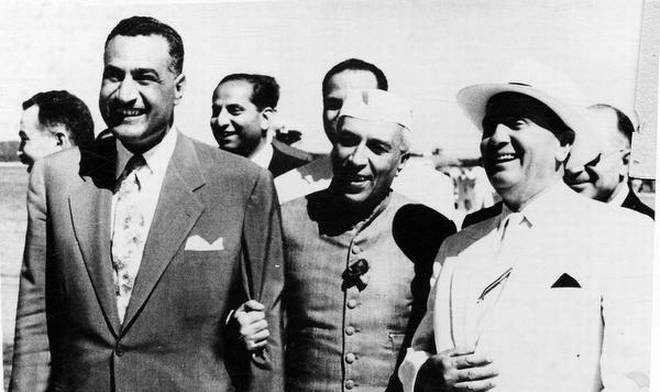 But it is wise to point out that occasions like Egypt's humiliation in the 1967 Arab – Israeli War, the passing of President Nassar, the rise in oil profits in the Gulf Monarchies, and the Islamic Revolution in Iran in 1979 damaged India's relations with Egypt. 3 The result of these events was a shift in the balance in favour of conservative countries, particularly Saudi Arabia and Iran. India had a serious political and economic crisis at the same time as the rest of the world. A lacklustre monsoon and the subsequent drought in 1965 – 1966, the Indo – China War in 1967, the liberation of Bangladesh in 1971, and the Emergency in 1975 hindered India from having substantial international interactions.
Defence Cooperation Since The Cold War – An Era of Renewed Interest:
The fall of the Soviet Union in 1990, and the First Gulf War in 1991, however, increased tensions in West Asia and laid the groundwork for sustained military cooperation between India and Egypt. The rise of the Afghan Taliban and Al – Qa'eda in Pakistan left India more endangered, and the emergence of Al-Shabaab in Somalia and Daesh in the Levant region caused Egypt to experience security concerns. As a result, the two countries moved promptly to sign the Agreement on Combating International Terrorism and Transnational and Organised Crime in 1995. 4 The Chief of Air Staff of India paid a visit to Egypt in the months that followed, and the establishment of a Joint Defence Committee (JDC) was suggested. The two parties under the aegis of JDC have met nine times since 2006, even though it took some time for the committee to take shape. 5
Due to the advent of the age of information, the two countries, since early 2000, have been looking into ways to expand their trade and commerce in the services sector. This led to the creation of the India – Egypt Joint Business Council (JBC). The JBC met for the fifth time on July 22, 2022, and at that meeting, the two parties decided to reach a goal of US$12 billion in bilateral commerce over the following five years. 6 Although exports of IT are projected to account for a large portion of trade, both parties are wary of cyber terrorism. To this end, two Memorandums of Understanding on Cooperation in Information and Communication Technology and Cooperation in Cyber Security were signed in 2013 (MEA Report 2014: 4).
There have been several high-level exchanges over the years to foster defence cooperation between the two nations. 2015 saw an extraordinary refugee crisis brought on by the wars in Libya, Iraq, and Syria. Egypt's hostile borders with these nations and its close vicinity to Mediterranean Europe alarmed Cairo's decision makers and prompted them to improve regional military and intelligence collaboration. As a result, in 2017, General Sedki Sobhi, the defence minister, led a defence delegation to India. In order to maintain the momentum, Nirmala Sitharaman, the then Raksha Mantri visited Egypt in 2018 (MEA Report 2022: 7).
China's assertiveness in the region as a result of its Belt and Road Initiative (BRI) and the "Great American Retreat" from Yemen and Afghanistan under President Joe Biden have highlighted the necessity for India to strengthen its position as a net security provider in the region. It makes sense given that Egyptian scholar Mohammed Soliman discussed the emergence of the "Indo- Abrahamic Accord" to restore stability in the region. 7 The Defence Ministry in New Delhi seems to have found this philosophy to be rather persuasive. Seven defence delegations have been to Egypt since June 2021. At the Egypt Air Power Symposium, the Chief of Air Staff, Air Chief Marshal V.R. Chaudhari, delivered the keynote address. His speech, titled "Strategic Air Intelligence in confronting new and non-organized threats," perfectly encapsulates the scope and character of military cooperation between the two countries. 8
The joint defence cooperation between Egypt and India received a new boost at the Joint Defence Committee's 9th meeting. Trainees in the Egyptian military were given access to brand-new DSSC and NDC courses. Two Egyptian Navy officers took part in India's Multilateral Naval Exercise MILAN, which was held from February 25 to March 4 in 2022, and the Egyptian Air Force and Indian Air Force worked together in their first-ever Joint Tactical Air Exercise. Since 2018, participation in defence expos has increased, and cooperation in air and ship transit has reached a new level. Egypt's Tri-Services Defence Exhibition, EDEX hosted Indian Defence PSUs and private sector companies in 2018 and 2021, and Egyptian delegates also attended Indian Defence Exhibitions, DEFEXPO (MEA Report 2022: 8 – 10).
Raksha Mantri Rajnath Singh has invited Egypt's Defence Minister, Mohammed Zaki, to attend the India – Africa Defence Dialogue and the Indian Ocean Region (IOR) Defence Minister's Conclave during his sojourn in Egypt. As a part of the 12th DEFEXPO, the aforementioned Conferences will take place from October 18 to October 22, 2022. 9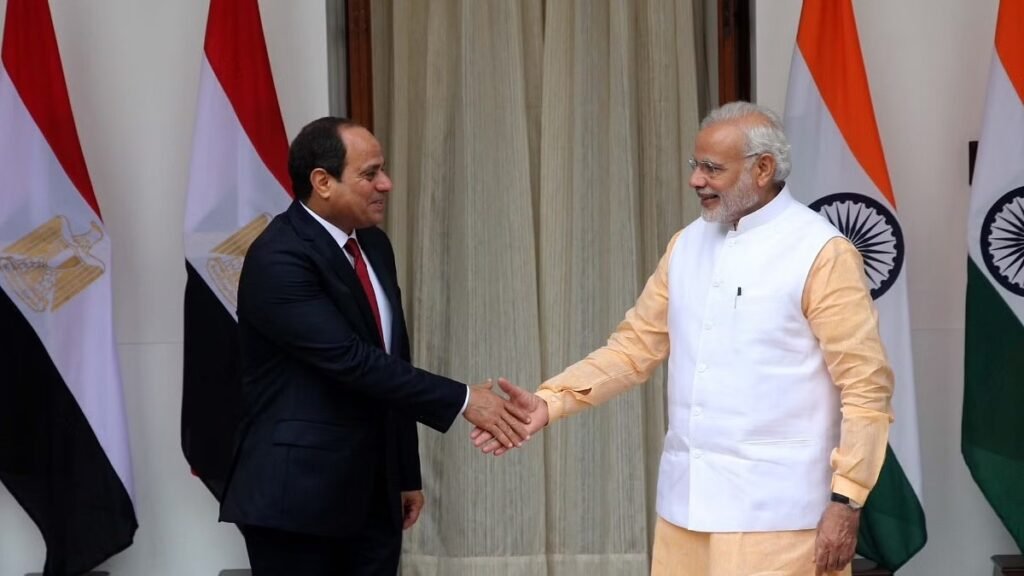 Why Does Egypt Matter?
India's increased defence cooperation with Egypt is motivated by strategic considerations. Economically, India conducts US $ 200 billion worth of annual trade via the Suez Canal. India's trade with Europe, Africa, and America will be significantly compromised if the Canal is threatened.
Currently, India and Egypt have bilateral commercial relations totalling US $ 7.2 billion. Further prospects for improved bilateral trade between the two nations have been made possible by the Russia-Ukraine conflict. India supplied 180, 000 tonnes of wheat to Egypt between April and June 2022, while it imported fertilizer worth US $ 670 million. Overall, India maintains a trade surplus of US $ 223 million with Egypt (MEA Report 2022: 4).
As far as military trade is concerned, Egypt receives body armour from India. Additionally, the former has expressed interest in acquiring Indian missile systems, Advanced Light Helicopters, and 70 Tejas Light Combat Aircraft. 10 In addition to trade and business, the bilateral relationship includes investments in human resource development, agriculture, the environment, energy, and food security.
In global forums, Egypt hopes to take a leadership position. It has long sought participation in the BRICS (an acronym for Brazil, Russia, India, China, and South Africa) and was admitted as the fourth member of the BRICS New Development Bank in December 2021. 11 In the SCO grouping's recently concluded 22nd Summit in Samarkand, Egypt was included as a "Dialogue Partner." 12
Egypt will openly embrace India if it is militarily powerful, economically sound, and politically stable. It can protect itself against China's aggressive wolf warrior diplomacy and combat narco-terrorism and religious extremism. Overall, the recent changes constitute a "win-win" scenario and the bilateral relationship is headed in the right direction.
References:
1) Ministry of Defence (17 September 2022). Raksha Mantri Shri Rajnath Singh to visit Egypt from September 19-20, 2022. Press Information Bureau, New Delhi.
https://www.pib.gov.in/PressReleseDetailm.aspx?PRID=1859975
2) Gp. Captain Kapil Bhargava. "Messerschmitt's HA-300 and its Indian Connection". MEMOIRS. Indian Air Force. Archived from the original on 5 July 2008.
https://web.archive.org/web/20080705050530/http://www.bharat-rakshak.com/IAF/History/1960s/Kapil-HA300.html
3) Naaz, F. (2005). India and the Gulf: Economic Crisis. West Asia and India – Changing Perspectives, p. 16.
4) MEA Report, 2014-15, Government of India, (New Delhi, 2014), p. 4.
https://mea.gov.in/Portal/ForeignRelation/Egypt_January_2014.pdf
5) MEA Report, 2022-23, Government of India, (New Delhi, 2022), p. 8.
https://mea.gov.in/Portal/ForeignRelation/India-Egypt_Bilateral_Brief_2022.pdf
6) Ministry of Commerce and Industry (28 July 2022). "5th Session of India-Egypt Joint Trade Committee and 5th India-Egypt Joint Business Council Meeting 25-26 July 2022 Cairo." Press Information Bureau, New Delhi.
https://pib.gov.in/PressReleasePage.aspx?PRID=1845838
7) The Indian Express, August, 3, 2021.
https://indianexpress.com/article/opinion/columns/india-middle-east-relations-israel-uae-abraham-accords-7435298/
8) The Hindu, November, 27, 2021.
https://www.thehindu.com/news/national/iaf-chief-to-embark-on-5-day-visit-to-egypt/article37716477.ece
9) The Hindu, September, 20, 2022.
https://www.thehindu.com/news/national/india-egypt-sign-mou-to-further-defence-cooperation/article65913296.ece
10) Phillip, S.A. With Rajnath Singh in Cairo, India – Egypt pick up Nehru – Nasser thread left off in the 60's (19 September 2022). The Print.
https://theprint.in/past-forward/with-rajnath-singh-in-cairo-india-egypt-pick-up-nehru-nasser-thread-left-off-in-the-60s/1133839/
11) The Hindu, December, 30, 2021.
https://www.thehindu.com/news/national/india-welcomes-egypt-as-member-of-new-development-bank-of-brics/article38069131.ece
12) SCO member states signed memorandums on granting SCO dialogue partner status to the Arab Republic of Egypt and the State of Qatar (16 September 2022).
http://eng.sectsco.org/politics/20220916/912890/SCO-member-states-signed-memorandums-on-granting-SCO-dialogue-partner-status-to-the-Arab-Republic.html
The views and opinions expressed in this article are those of the author and do not necessarily reflect the views of The Kootneeti Team