Putin's Visit to Delhi and the China angle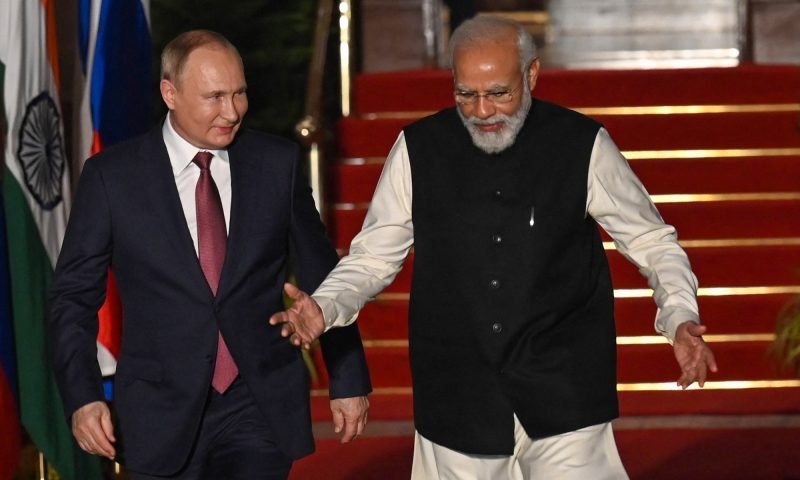 Russian President Vladimir Putin visited India for the 21st India-Russia Annual Summit and it also marked the inaugural session of the first 2+2 Dialogue to strengthen the bilateral mechanism between the Foreign and Defence ministers of both sides. Both Moscow and India have reaffirmed their commitment for further strengthening of the India-Russia Special and Privileged Strategic Partnership, both in the context of the current bilateral relations and in addressing regional and international issues. They expressed their mutual intention to strengthen and expand their bilateral relations for the benefit of the peoples of India and Russia.
Several problems have crept into this age-old partnership in the year 2020. These issues include Russia's involvement with the Taliban in Afghanistan, as well as its relations with China and Pakistan, as well as New Delhi's inclination toward Washington, DC, and rapidly deteriorating relations with Beijing. This visit was a great opportunity to talk about the differences as well as reassuring each other of the bilateral relations.
India expressed its "security-related concerns" about the expanding bilateral ties between Moscow and Beijing at the same time as Russia's discomfort with the Indo-Pacific was discussed. Defence Minister Rajnath Singh brought up the continuing Ladakh conflict during the first 2+2 discussions.
One of India's main concerns is that the Russia-China relationship should not influence our security interests, particularly in sectors such as military technology and information sharing. This is likely to have been discussed in some form, but with the utmost secrecy.
Putin's visit to India, which comes at a time when Indian troops are fighting Chinese troops in border areas, has "certain political meaning and sends a signal to China that these relationships will be managed independently by Russia".
Russia's National Security Strategy was released earlier, and it stated plainly that strengthening strategic cooperation with India and China remained Moscow's foreign policy goals.
One irritation that has loomed big over Delhi-Moscow relationships in the last decade is the growing India-US relationship. When Donald Trump came to India in 2020, PM Modi hosted a large rally for him. It was a raucous display of support for the White House.
Even while its relations with Washington have increasingly worsened in recent years, Moscow has mostly ignored such irritants. However, when India joined the Quad, which includes the United States, Japan, and Australia, Russian Foreign Minister Sergei Lavrov chose to speak publicly. Mr Lavrov didn't appear to accept that the Quad was a non-military alliance that wasn't focused on a specific country. He said that by supporting Indo-Pacific plans, the West is attempting to enlist India in anti-China games. Anil Trigunayat, a former Indian diplomat who served in Moscow, claims that the Quad is a red line for Russia and that it will almost certainly be part of the deal.
Moscow's concerns over the Quad are understandable given the country's strengthening ties with Beijing in recent years. Ambassador Trigunayat goes on to say that Russia has been forced to strengthen connections with China to protect its economic and geopolitical interests in Asia, as the US-led West strives to control the region as well.
The deterioration of China's relations with the United States appears to have pushed Beijing and Moscow closer together.
What makes matters even more complicated is that India-China relations have lately deteriorated, with forces from both countries fighting with clubs and stones in Ladakh's Galwan Valley, killing 20 Indian soldiers. China later admitted that some of its soldiers died as a result of the fighting.
The new geopolitical realities, according to Michael Kugelman, deputy director of the Wilson Center think tank in Washington, constitute a "potential threat to the India-Russia partnership."
Putin's visit is crucial in this context to maintain a special relationship. "I believe Russia's goal in this issue is to emphasise the importance of Moscow's connections with New Delhi, despite geopolitical signs to the contrary," Mr Kugelman adds.
However, analysts such as Mr Kugleman and Ambassador Trigunayat believe that the roots of the two countries' relationship are strong enough to handle each other's issues.
The views and opinions expressed in this article are those of the author and do not necessarily reflect the views of The Kootneeti Team