India in the New Space Age
The earth is the cradle of humanity, but mankind cannot stay in the cradle forever. This is where human beings' deep interest in space and the universe comes into play. Since time immemorial and with every exploration, the desire and intent to know more about space grows, evolving it as a sector of research and development at a geo level and creating a footprint for the country in space exploration.
"He who can listen to music in the midst of noise can achieve great things" – These words by Dr Vikram Sarabhai resonate in India's space program that has gloriously been given a space program focused on providing direct societal benefits and offering a number of lessons. Breaking into the bulwark of space programs held by a handful of countries around the globe, ISRO started its ambitious and daring journey five decades ago with a record of over 100 successful space missions. ISRO today is amongst the top six government space agencies in the world. From launching small rockets of just 30-70 kg payloads to carrying 4,000 kg payloads to outer space, ISRO's journey has been refreshingly audacious.
In Vikram Sarabhai's words, India's space program finds its vision that while there are some who question the relevance of space activities in a developing nation. To us, there is no ambiguity of purpose. We do not have the fantasy of competing with the economically advanced nations in the exploration of the moon or the planets of manned space-flight. But we are convinced that if we are to play a meaningful role nationally, and in the community of nations, we must be second to none in the application of advanced technologies to the real problems of man and society. Having long eschewed non-development missions, seen as unconnected to the ultimate purpose of national development, India's recent announcement (and approval of a budget) for a manned space mission in 2022 marked a significant shift in policy. Another shift in India's space policy was demonstrated when India conducted its first anti-satellite (ASAT) test. Code-named Mission Shakti, the anti-satellite interceptor ballistic missile covered 300 kilometers and hit and destroyed India's live satellite in low-Earth orbit within three minutes. The interceptor missile was developed by India's Defense Research and Development Organization (DRDO). New Delhi has been historically wary of being seen as an assertive major power in outer space, yet the ASAT test saw India utilize its space program for demonstrating space power.
Prime Minister Narendra Modi directed National Security Advisor Ajit Doval to create a draft space doctrine. That, along with recent moves by China, Russia, and the United States to create dedicated Space Forces, may give impetus to desires to move from a small integrated space cell to a dedicated military space organization. Another major shift is the growth of India's private space sector. For the very first time, India has succeeded in its desire to have ISRO transfer satellite building technology to the Indian private sector, with a recent successful launch of a consortium-manufactured navigation satellite. Perhaps more impressive in the long run, entirely private Indian space start-up Exceed Space successfully built and launched the first NewSpace satellite on a SpaceX Falcon 9. The Indian space industry also broke new ground with ISRO, for the first time spinning in technology from a start-up, Bellatrix Aerospace. Those are landmark achievements building confidence for the Indian space industry, which hopes to service a global market. The industry now includes at least seven companies, including Bellatrix, Astrome, Satsure, Earth2Orbit, ReBeam, TeamIndus, SmartEnovations, and others. India even now has a youth-focused rocketry club (such clubs were important in creating an initial talent pool in the first space age).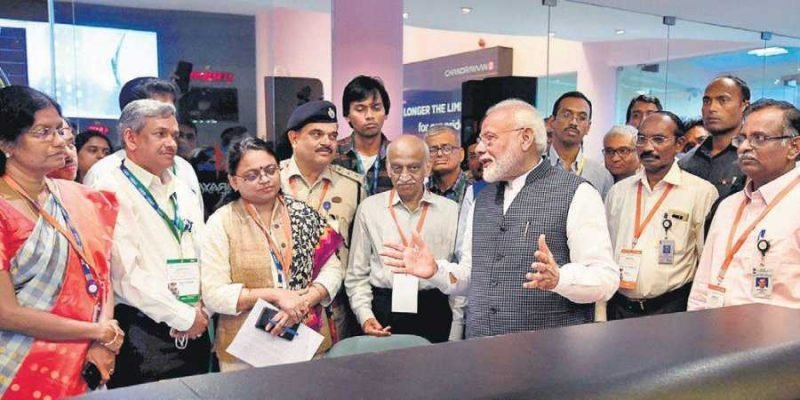 India's most prominent private space company, the one that started it all, TeamIndus (Orbit Beyond), which competed in the Google Lunar X-Prize, recently was selected as one of the companies able to provide Commercial Lunar Payload Service (CLPS) to NASA. The excitement generated by these gains and the activism of the NewSpace community have succeeded in getting the ISRO to engage more widely with youth and the populace, including setting up a visitor centre, allowing the public to watch rocket launches, and establishing space museums across the country.
India's state-based lunar program, Chandrayaan 2 Lunar Mission, though having experienced some delays, is expected to launch its own lunar rover to the moon next month. It will be attempting to land on an ancient high plane just 600 km from the Lunar South Pole, joining a significant amount of lunar activity. Both India's next lunar mission (Chandrayaan-2) and its manned mission (Gaganyaan) rely on India's new heavy-lift rocket, GSLV-Mk 3, which launched successfully in November of 2018 and is capable of placing large communication satellites (4 metric tons) into geostationary transfer orbit (GTO) or 10 metric tons to low-Earth orbit (LEO). Previous space missions are also providing significant returns. India's Mars probe, Mangalyaan, is helping understand methane mysteries on Mars that may be the first evidence of simple life on that planet.
The new global space competitive environment also seems to be forcing India to consider better regulation of its commercial space activities.  The Indian Parliament is currently considering a draft Space Activities Bill. In the last few years, several of India's space and nuclear scientists, including Dr Sivathanu Pillai, professor and former chief of BrahMos Aerospace, specify that "there are plans to mine Helium-3 rich lunar dust, generate energy and transport it back to Earth." This perspective is supported by Dr Srikumar Banerjee, former director of Bhabha Atomic Research Centre (BARC), who asserts that the future lies in mineral wealth mining in space. Technology Information, Forecasting, and Assessment Council (TIFAC) Executive Director Prabhat Ranjan believe that the potential exploitation of moon and asteroids as a mineral resource can be a big game-changer. While the discourse on space-based resources has not reached the level of national-level articulation as is seen in the United States or China, it is not unrealistic to forecast that it will become an integral part of India's space policy given its growing capacity for space access and power projection.  As seen by India's recent ASAT test, India's fears of being shut out from a governance regime (as happened with the nuclear Non-Proliferation Treaty) are likely to force sufficient steps before the emergence of a technology governance regime to ensure New Delhi will at least have a seat at the table.
For a country previously careful to project itself as a peaceful, responsible nation on the international arena, and its space program as entirely peaceful, India's ASAT test marks a significant shift in policy. Its willingness to accept significant reputational risks associated with some 400 pieces of space debris or charges that it could have potentially violated Outer Space Treaty (OST) obligations indicate that India now prioritizes the security of its critical infrastructure from adversary attacks over such normative concerns. Moreover, there is an additional novel component to India's ASAT test.  While most of the current focus on "space warfighting" assumes military targets for ASAT weapons (called "counterforce" targeting), reporting suggests that India is pursuing a retaliatory capability to target an enemy country's economy, stock markets, navigation, and weather infrastructure  (called "countervalue" targeting).  Such a targeting doctrine suggests that India views the ASAT weaponless as a warfighting weapon and more as a deterrent.
However, demand for space-based services in India is far greater than what ISRO can supply. Private sector investment is critical, for which a suitable policy environment needs to be created. There is a growing realisation that national legislation is needed to ensure the overall growth of the space sector. The challenge for new space companies is to develop the versatility of their platforms while manufacturing to order at scale. In the longer term, the challenge will be to manage mega-constellations and ensure their sustainability. To win the space race with successful satellite launches, companies must close the gap between the real and virtual worlds.
India has the required provisions, evolving infrastructure, and young talented minds to master this cusp of space technology and evolve into a global leader in the sector which can be achieved through three ways. The first is to establish new partnerships with the industry and entrepreneurs to collaborate with ISRO and its subsidiaries on indigenous missions like re-launchable spacecraft & human in space programs. Secondly, bring in a business platform that helps shorten rocketry and satellite development time to achieve first-time-right quality for successful launches. Lastly, to win the space race with successful satellite launches, companies must reduce the gap between the virtual and real-world and bring in a framework to manage complex systems of systems through effective global collaboration with international space organizations, thus achieving innovation in program execution.
As the saying goes, so much of the universe and so little time – India must accelerate and envisage Dr Sarabhai's vision and shift from the elitist program and evolve as a global leader in the race to space.
The views and opinions expressed in this article are those of the author and do not necessarily reflect the views of The Kootneeti Team