Tenth Round of LAC Talks: India-China inching towards a complete resolution
After almost a year-long standoff along the Line of Actual Control (LAC), India-China might now be inching towards a complete resolution as both the countries had their 10th round of Corps- Commander-level talks in Moldo (Chinese side of LAC) on 20th February 2021. The two sides on Saturday convened to address the disengagement procedure at the remaining fiction points, namely, Gogra, Hot Springs and Depsang Plains, given that the disengagement process at Pangong Tsao Lake was completed in accord with the 9th round agreement which stated that "both sides will remove the forward deployment in a phased, coordinated and verified manner." Starting in April 2020, Indo-China standoffs and skirmishes at Galwan Valley, Pangong Tsao, Gogra-Hot Spring and other areas along the LAC, were fuelled due to the movement of the People's Liberation Army (PLA) into the Indian territory. This violation of the status quo at LAC seemed like a provocation due to the progress of the Indian initiative of Darbuk-Shyok-Daulat Beg Oldie Road (DSDBO) which runs parallel to LAC connecting Leh to DBO which is situated at the base of Karakoram Pass (Sino-Pak CPEC Pass) in Aksai Chin. Thus, posing threat to China's hold over Aksai Chin and its corridor networks of CPEC.
Why earlier disengagement and de-escalation process failed? 
Initially, the dispute erupted at Pangong Tsao Clash when PLA troops moved up to Finger 4 from Finger 8 on May 5, 2020, as the Indian Army's patrol unit was blocked by the Chinese ingress, given that India's perception of LAC lied at Finger 8, this, in turn, resulted in the emergence of several fiction points in eastern Ladakh. However, while the two sides reached out to establish a phased disengagement process and India was pushing towards the restoration of the status quo (Pre-April), the biggest Indo-China physical clash exploded in Galwan Valley on June 15, 2020, resulting in high casualties on both sides. After this, the situation kept worsening despite the ongoing military and diplomatic talks post-Galwan tragedy, which led to pseudo-consensus questioning the bilateral foundation of Delhi-Beijing as "buffer zones" were created at Pangong and Hot Springs signifying the retainment of the area by a small group of soldiers. Later in August, fresh tension surfaced as the Indian Army retaliated to PLA's rigid position along with Finger 4 by occupying the Indian Side of Kailash Range mountains along the LAC, as the high altitude granted India tactical advantage over the Chinese troops. This led to the massive deployment of troops, and tanks as both sides undertook the preparation to remain deployed with the proximity of 100m with each other throughout the winter at some locations, further stalling the disengagement process. 
Although, the consensus to end the dispute seemed impossible, given that incidents of the firing of warning shots for the first time since 1975, India-China stepped up to execute their disengagement process in Psangong Tsao on February 11, 2021. Following which on 16th February 2021, the Indian Army released videos of Chinese troops withdrawing from Psangong Areas as Indian troops move to their permanent base at Dhan Singh Thapa Post near Finger 3.
During the recent 10th Round of Talks, both sides appraised the smooth completion of disengagement of the frontline troops near the Pangong Lake area, as they look forward to executing disengagement in Depsang, Hot Springs and Gogra, where partial disengagement has already been executed in June-July 2020. The two sides also claimed that once complete disengagement is achieved in all fiction areas, both sides will undertake de-escalation along LAC. Further, sources state that backchannel talks between the representatives of boundary resolution – Ajit Doval, India's National Security Advisor and Wang Yi, Chinese Foreign Minister are expected to be held soon, aiming to ensure that no one unilaterally violates the status quo and both the sides abide to restore their pre-standoff positioning along the LAC.
Meanwhile, as the commander corps talks were shaping ease to LAC border standoff, the Central Military Commission of China (CMC) on 19th February 2021 confirmed the death of four PLA military officers and soldiers, namely, Chen Hongjun, Chen Xiangrong, Xiao Siyuan and Wang Zhuoran, thus officially unveiling China's casualties at Galwan Valley Clash (June 15, 2020). Further, only PLA Xinjiang Military Commander, Qi Fabao was reported with a serious head injury, following which he was awarded the title of "hero regimental commander for defending borders". Although the question of "How many injuries PLA suffered in total?" remained unanswered signifying China's silence over the actual causalities suffered by PLA, Indian officials stated that they counted 60 Chinese soldiers on stretchers, thus claiming that Beijing suffered higher casualties than India as the latter recorded 20 deaths within Indian Army.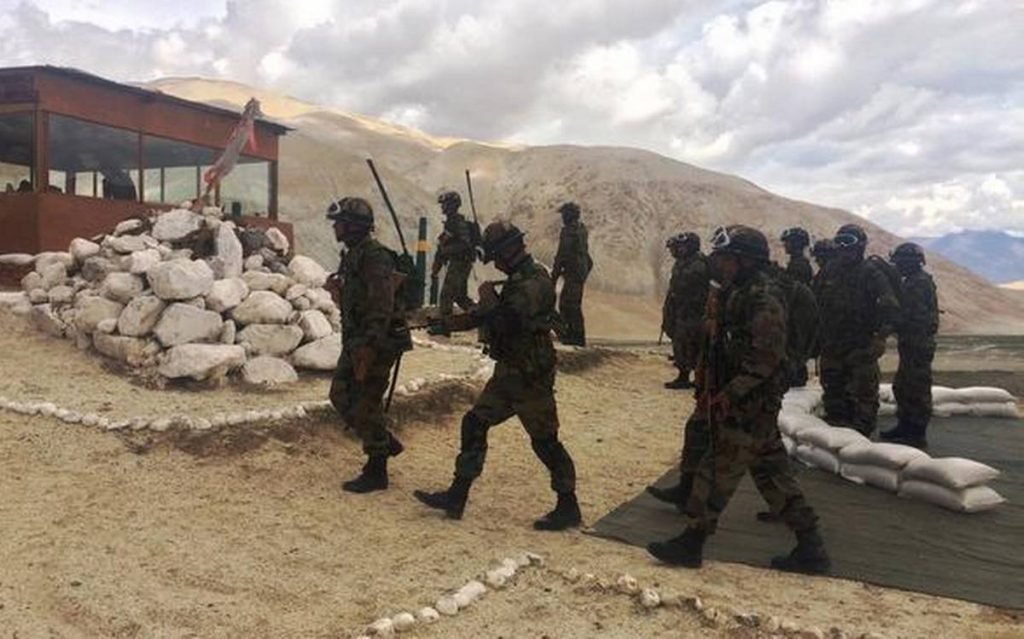 This discrepancy in acknowledgement of causalities, along with the published report by PLA Daily, which refers to the Indian Army as a "foreign military" that illegally trespassed the Galwan Valley LAC, forcing PLA to concede for preserving China's National sovereignty, ironically highlights Beijing's restraint of not inciting sentimental opposition of Chinese public against the ongoing process of disengagement and negotiations with India. Despite a smooth disengagement at Psangong Tsao Areas, India should be cautious the next stage of withdrawal given that Despang Plains are strategically located in northern Ladakh near the Siachen Glacier – the highly militarized Indo-Pak disputed area along with critical proximity with India's DSDBO highway which was the root cause of the Chinese aggression over the last one year. This certainly will pose a risk to India, if China does not abide and backtracks from further disengagement given the Galwan Clash too resulted during the disengagement process. Therefore, India should remain cautious, while China should not be oblivion to its largest trading partner, as India avenged China on the economic front via banning Chinese apps during the military faceoff.
However, India and China must understand that close military proximity of 100 metres between two nuclear states as they fight to establish themselves as regional powers, historically has not turned out to be good as it leads to disruption of "balance of power", given the already volatile international power dynamics. Lastly, if the disengagement and de-escalation process along the LAC is smoothly completed, India-China must rule out a way to deal diplomatically in future to avoid military confrontation as both sides hold a dissimilar geographical perception of LAC align
The views and opinions expressed in this article are those of the author and do not necessarily reflect the views of The Kootneeti Team