Understanding pro-democracy protest for Sindudesh
Pro-independence protest rally in Pakistan's southern Sindh province recently seen various top-notch world leaders' placards. The protests were part of a rally to mark the birth anniversary of GM Syed, a vocal proponent of Sindhudesh or a separate country for the province. The protest rally had pictures of other world leaders as well, including US President-Elect Joe Biden, Afghanistan President Ashraf Ghani, Bangladesh's Sheikh Hasina, France's Marcon, Crown Prince of Saudi Arabia Mohammed bin Salman, Russian President Vladimir Putin, German chancellor Angela Merkel, UN Secretary-General Antonio Guterres, British PM Boris Johnson. The posters mentioned, "Sindh wants freedom from Pakistan", reports WION.
Sindh is one of the five provinces of Pakistan. Located in the southeast of the country, it is the home of the Sindhi people. Sindh is the third largest province of Pakistan by area and second-largest province by population after Punjab comprising Population of 4.79 crores (2017). SINDHUDESH is an idea of a separate Homeland for Sindhis. The movement is based in the Sindh region of Pakistan and was conceived by the Sindhi political leader G. M. Syed. A Sindhi literary movement emerged in 1967 under the leadership of Syed and Pir Ali Mohammed Rashdi, in opposition to the One-Unit policy, the imposition of Urdu by the central government.
The pro-freedom rally supporters of Sindh province asserted that Sindh have been the cradle of Indus Valley civilisation and Vedic religion before the British occupied and took away it by the Pro-Pakistanis in 1947. Chairman of Jeay Sindh Muttahida Mahaz, Shafi Muhammad Burfat, stated that regardless of the efforts to erase its culture and history, Sindh could be able to conserve its 'pluralist, tolerant, harmonious identity.' Earlier, before now In 2012, a Sindhudesh rally was organised by a nationalist party in Karachi. In 2020, the Pakistani government banned multiple separatist outfits including the Jeay Sindh Qaumi Mahaz – Aresar group, Sindhudesh Liberation Army, and Sindhudesh Revolutionary Army.
Problems that Sindh province include, 'Sindhi seperatists carried out 10 terror attacks across province in 2020 and responsibility for 8 of them was claimed by the Sindhudesh Revolutionary Army (SRA) alone', according to a annual security report, reports International The News. Jeay Sindh Qaumi Mahaz is a nationalist political party in the Sindh province of Pakistan, that advocates for Sindh's independence from Pakistan. The party was founded in 1995 after death of GM Syed. This has been a hindrance to China for a long time now. In December the SRA had claimed responsibility for the attacks on two Chinese nationals in Karachi. In both the attacks, their Chinese targets had escaped unhurt.
Sindh is the province, second only to Balochistan where people want freedom from Pakistan. Balochistan is comparatively smaller in terms of population and has witnessed continuous demand for a Separate nation. However, Pakistani army has brutally suppressed the movement, reports Australian media the Guardian. Balochistan has encountered many blanket internet shut downs altogether, writes Shah Meer Baloch in his article in the Diplomat.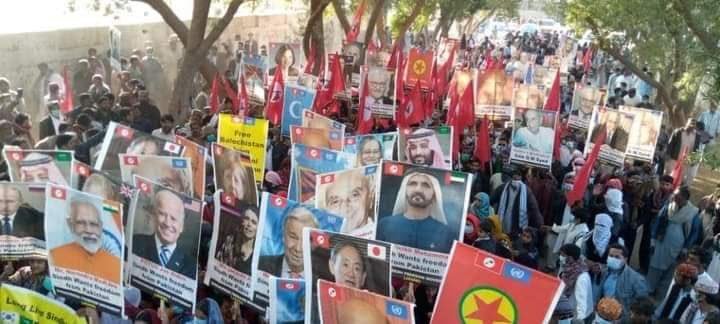 Relatively the cruelty that Pakistani army has commited to Balochistan Movement, Sindhu Movement has seen less for the reason as Balochistan's Freedom movement is comparably much stronger than the demand for Sindhudesh. Balochistan is the most neglected province out of 5 provinces of Pakistan. Illiteracy rate is high, lack of infrastructures such as schools, hospitals. People of the region are not pleased with the neglected efforts of the Government of Pakistan to improve their lives. They want their seperate Balochistan nation. In a similar manner, Rally was organised in Pakistan for the freedom of Sindhudesh wherein placards of Prime Minister Narendra Modi and other world leaders were raised seeking their intervention in the freedom of Sindhi People from Pakistan, ANI reported.
Ever since Pakistan has formed after the partitioning from India in 1947 it has a number of separatist movements comprising a major one in the largest province of Baluchistan, Sindhudesh in Sindh, and also calls to form a separate homeland for Muhajirs, for people who left India for Pakistan.
The views and opinions expressed in this article are those of the author and do not necessarily reflect the views of The Kootneeti Team