De-coding the CBRN Threats for Tomorrow: Interview with Col (Dr) Ram Athavale
The Kootneeti in association with COVINTS interviewed Col. Dr Ram Athavle on CBRN Warfare. He is a pioneering spirit in the dimension of CBRN.  Col. (Dr.) Ram Athavale, is an '81 Batch army veteran and world's leading CBRN expert. He has commanded an Armoured Regiment during Operation Parakram and held numerous General Staff appointments in his three decades plus active service. Recipient of the Chief of Army Staff Commendation, he was last posted as Director CBRN at the Directorate of Perspective Planning, Army Headquarters. Col Ram has been a Key CBRN Advisor to the Government of India, EU CBRN Risk Mitigation Centres of Excellence and has advised governments of Eastern and Central Africa on CBRN risk mitigation matters for three years.
1.What does the term of CBRN stands for?
CBRN stands for Chemical, Biological, Radiological and Nuclear. It is the new acronym for NBC or WMD. It covers all such toxic substances, their threats, management and safety security.
2. Which out of the four is most lethal?
CBRN threats or weapons are low probability high impact ones. Each has its own peculiarities. From a purely single-instance impact point of view, Nuclear weapons carry the torch. However, Bio agents are over a period of time the most lethal. We are witnessing the havoc created by Covid-19. At the same time, probability wise, Chemical are the most likely threats as they are available in bulk in trade and industry. Wide use and knowledge of toxic chemicals make them easy and powerful threats. Whether it be accidents (Bhopal 1984 or Vizag 2020) or deliberate (terrorist, non-state or State sponsored) acts (Iraq 1988, Japan 1995, Syria 2012-19), Chemicals pose a very potent threat. Radiological threats have been increasing in the last decade. We had the Litvinenko poisoning in 2006, the Dirty Bomb scares (Chechen terror 1995 Moscow) and the Chernobyl (1986) and Fukushima (2011) disasters. The threats are real.
3. Do you think as a society we are prepared for threats related to all of these?
No! No society is prepared for CBRN threats. Covid-19 has proven this world over. We should aim to prevent CBRN threats by vigilance, strict following of safety and security regulations and by preparing a comprehensive response in case prevention fails. Aim is to negate or minimise casualties and damage.
4. What are the key issues when looking at securing against CBRN threats?
CBRN Security is a complex issue. There are many stakeholders who need to come together to institute an optimal paradigm. The key pillars are:
National CBRN strategy and Plan

CBRN linked laws and legislations

Management structure – Decision & Policy, Implementation and oversight
5. What education/training does one need to be an expert in CBRN?
Any graduate studies can form the base for further studies on CBRN subjects. A science background will be an asset. One can become a scientist in any of these fields and do MSc and PhD too. The University of Rome Tor Vergata conducts a Full Time Masters in CBRN Protection course. This is the premier course recognised by the UN, OPCW, IAEA and NATO among others. In India, some universities are planning to institute Diploma courses in CBRN Risk Mitigation. Delayed due to Covid-19. I do hope these begin soon and many young people can learn about these threats and their mitigation.
6. How do we gain more information on CBRN threats?
Ah, there are many books and journals that have been published on these subjects. The internet is full of all aspects of CBRN threats and their mitigation. In India, very few publications are there. I have published a pioneering book called "Toxic Portents" on "CBRN Incident Management" in 2019. This is the book. It is Not a technical book. It is meant for everybody to read. The book is available on amazon. Please do read the book.
7. On a scale of 1-5 (one being least), how important is CBRN security?
You really cannot scale CBRN threats as they are Low Probability, High Impact threats. So CBRN security is an important facet of security. Be it Global, Regional or National. CBRN security is also necessary aspect to compliment social, domestic and internal security. So it is an embedded aspect in any security paradigm.
8. What is your message to the world about CBRN security?
CBRN threats are very real. We need to really get our act together in a comprehensive manner to prevent CBRN incidents and respond effectively if they do occur.
9. If given the power, what would be the top 3 things you would do to up the game in CBRN security?
Awareness generation and enhancement – public, administrators, managers, decision & policy makers, students, trade and industries
Develop a Comprehensive, enforceable and effective National CBRN Strategy and Plan
Enhance response effectiveness by optimal training and equipping of response teams.
10. If you had to pick the most dreaded CBRN threat attack/situation from the past which one would that be?
The Ghouta chemical attack occurred in Ghouta, Syria, during the Syrian civil war, in the early hours of 21 August 2013. Two opposition-controlled areas in the suburbs around Damascus were struck by rockets containing the chemical agent sarin. Estimates of the death toll range from at least 281 to 1,729.
The Tokyo subway sarin attack was an act of domestic terrorism perpetrated on 20 March 1995, in Tokyo, Japan, by members of the cult movement Aum Shinrikyo. In five coordinated attacks, the perpetrators released sarin on three lines of the Tokyo Metro (then part of the Tokyo subway) during rush hour, killing 14 people, injuring 5,500 people of varying degrees, and causing temporary vision problems for nearly 1,000 others.
Col Ram Athavale has authored one of the pioneering works on the CBRN – His book Toxic Portents: CBRN Incident Management in India is one of the best reads on the topic. Get your copy here
He would be presenting on the topic of 'Countering CBRN Threats and its challenges to National Security' at a special session on CBRN Threats ay COVINTS's National Security and Defence Conclave 28-30 Jan. 2021.
Register here: https://training.covints.com/lms/
For Special Student's Offer use the Code: COVINTSKOOTNEETIDEFCON (terms and conditions apply).
For exciting Corporate Offers Reach out to us at: team@thekootneeti.com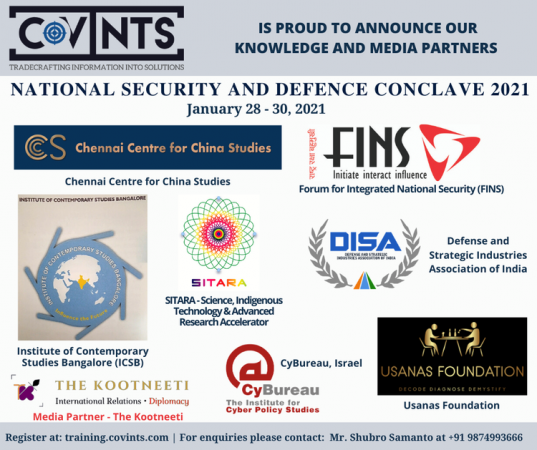 The views and opinions expressed in this article are those of the author and do not necessarily reflect the views of The Kootneeti Team