India and Pakistan: Reimagining the Way Forward
Former Indian Prime Minister Indira Gandhi, in an interview to The New York Times in 1971, had said, "You cannot shake hands with a clenched fist."
She made this comment with regard to the hostile relationship between India and Pakistan — in the especially tense background of West Pakistan's attempts to subjugate the then East Pakistan, and India's support for the latter's liberation.  
Even today, after almost half a century, her comment holds unequivocally true in the case of the two dominions and historical rivals born out of British India.

The relations between the two countries have been chequered since 1947: characterised by a fundamental difference in socio-political systems – India, a secular republic formally accommodating and equalising people of all faiths, and Pakistan, an Islamic republic with reduced rights for non-Muslims.
This not only became the basis of the division of a unified country, but also sponsored intense distrust between the two nations: Pakistan repeatedly tried to capture territories within India by waging wars (in 1947, 1965 and 1999) and was defeated by India in the 1971 war that resulted in the liberation of East Pakistan (now Bangladesh).

The historic rivalry between the two countries has been continuing mostly unabated since Partition, with few brief periods of détente – at the time of the Tashkent Agreement in 1966, the Shimla Agreement in 1972 and the Lahore Declaration in 1999.

Since the 2000s, proxy wars and state-sponsored terrorism by Pakistan have characterised the frosty ties between the two South Asian neighbours. Relations have remained tense, just like before – propagated and worsened by unwarranted firing along the Line of Control (LoC) and terrorist incidents like the attack on the Indian Parliament, the 26/11 Mumbai terror attack and most recently, the Pulwama suicide bombing in 2019 by a Jaish-e-Mohammad militant, which killed 40 Indian CRPF personnel.
 
What has become clear through these repeated confrontations is that neither country is willing to let its guard down. Suspicion and anarchy have become deep-rooted within the conscience of both India and Pakistan, and their innumerable problems seem to have no constructive and long-lasting solution.

India's demands are clear – an absolute discontinuance of support by the Pakistani government and Inter-Services Intelligence (ISI) to terrorist organisations operating from Pakistani soil, and no unilateral action or claims by Pakistan on Jammu and Kashmir. 
Functionalism
While it is obvious that the belligerence cannot end until there are agreements on these sensitive matters, what can be done in the meantime is the preparation for prospective peace.
It is here that the option of "Functionalism" becomes relevant as a potential way forward. Functionalism is an important part of the liberal approach to international relations – which stands by the belief that nations can develop cooperation among themselves by identifying and pursuing common interests, like democracy, pluralism and world peace.

Functionalists, having a pragmatic approach, believe that nations have vested interests and cannot let their guard down politically or militarily – especially if the nations in question are belligerents like India and Pakistan. Decades of distrust, wars and espionage will simply not allow this to happen.
What Functionalists suggest is a slow process of building consensus between such rival nations by creating cooperative agreements between the two countries in areas like science, culture, economics and technology — basically, in areas far away from the Realist domains of politics and defence.

The idea is that countries would have less suspicion and fear in regard to inculcating cooperation in these sectors compared to political ones. There are two reasons for this: first, these areas do not represent a threat to the sovereign power or military capacities of countries; and second, these agreements could be of immense mutual benefit to the nations involved, as they would stand to enrich themselves with shared economic, scientific or cultural gains.
A prime example of Functionalism is the Kartarpur Corridor. Inaugurated in 2019, the corridor is a secure passage between the Gurdwara Darbar Sahib in Pakistan and the Dera Baba Nanak Gurdwara in India. The idea was to create a religious 'bridge' between the two countries – particularly for the Sikh communities in India and Pakistan who revere these shrines because of their religious significance.
The corridor's length is a mere 4.7 kilometres. Earlier, Indian pilgrims would have to travel more than 120 kilometres into Pakistan to visit Gurdwara Darbar Sahib.
The hope behind this initiative was that following its inauguration, tensions between the two countries would simmer down — which they did, but only for a brief period.

In order for Functional agreements, such as this, to be successful in the long-run, they must lead to 'spill-overs'. The main concept behind a spill-over is that cooperation between two countries in one area should 'spill-over' and create similar cooperation in other areas as well.
For instance, a trade agreement between two countries to exchange agricultural goods may lead to the forging of cooperative agreements in the transportation sector, labour exchanges, common labour standards, and so on. The reason this could happen is because of the mutual economic gains both the countries would make through these common agreements.
As cooperation is forged in one area after another, tensions between the two countries would naturally reduce, eventually leading the countries to political unity.

Even if these non-political agreements do not lead to political unity, at least they would lead to the creation of a peaceful background – in which the implementation of political peace agreements is more plausible and easier to implement.

In the spirit of Kartarpur, efforts should also be made to reignite trade between India and Pakistan – that has been declining since 2014 due to Pakistan-sponsored terror attacks as well as the revocation of the special status of Jammu and Kashmir by India through the abrogation of Article 370. This has led to losses on both sides, with businessmen along the border facing massive economic losses and even bankruptcy. Trade in cement, fertilisers, petroleum, fruits, chemicals, plastics, cotton, etc has all but stalled – leading to irreparable damages to Indian and Pakistani businesses. This has, in turn, pushed the prospects of peace between the two nations further back. 
Full-stop to terror
It is undeniably true that there cannot be a long-term peaceful relationship between India and Pakistan unless there is an end to Pakistan's back-handed support to terrorist groups. Multilateral pressure has been building up on Pakistan for quite some time now – such as its inclusion and repeated retention in the Financial Action Task Force (FATF) grey list for harbouring and financing terrorism.
India has also been using its global standing as an emerging and responsible middle-power to create a consensus among like-minded democratic nations to exert pressure on Pakistan. In addition to this, India can also use its non-permanent membership of the United Nations Security Council (which is due to begin in January 2021 for a two-year term) to intensify the pressure on Pakistan.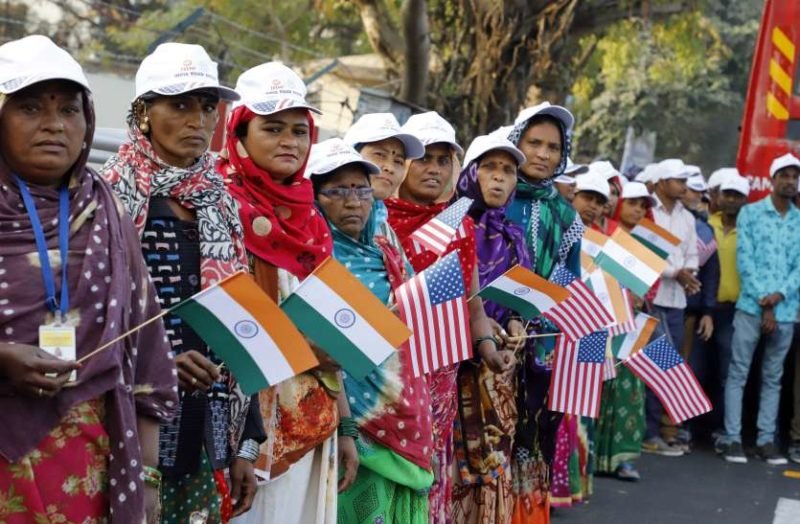 The United States of America, in consonance with India, has also been hustling Pakistan to put an end to terrorism and arrest UN-designated terrorists residing in the country. In the India-US "2+2" dialogue held in October this year, a joint statement was issued by both countries urging Pakistan to take immediate action against terrorist networks functioning from its soil.
The US has also unilaterally slammed Pakistan for its inaction on terror and, earlier this year, discouraged its citizens from travelling to the country due to the untamed activities of terrorist organisations like the Hizb-ul-Mujahideen and the Lashkar-e-Taiba.

However, it is not wise for India to solely depend on the US with respect to pressurising Pakistan. The President-elect of the US Joe Biden is unlikely to hit the brakes on the on-going Afghan peace process between the US and the Taliban; in fact, pulling out American troops from the region will be among his top priorities after being sworn-in in January next year. If the talks end peacefully in Afghanistan and the US withdraws its remaining troops, the country will require the assistance of Pakistan to keep a watch on the Taliban, just as it did following the former Soviet Union's invasion of Afghanistan during the Cold War. In the 1980s, Pakistan was used as a bulwark state by the US to stem hostility from the USSR in the region. Thus, in the future, the US may soften its stance against Pakistan to accommodate its own national interest.
Unwillingness, not inability
The greatest challenge remains the seeming unwillingness of the governments of both India and Pakistan to hold bilateral negotiations. We must learn to 'un-clench' our fists and initiate a dialogue with our neighbour at the negotiating table.
Just as Pakistan must unambiguously stop supporting terrorism, India on its part must abstain from demonising all Pakistanis. The Indian government must make it clear that their antagonism is against fundamentalists, hardened terrorists and dogmatic government and military officials across the border, and not with ordinary Pakistani people – who earn their basic livelihoods and face daily struggles just like their counterpart in India. In fact, the Pakistani populace is probably as sick of this unrelenting and unyielding qualm between the two countries as Indians are – especially those Indians and Pakistanis living along the border between the two countries, threatened by constant border skirmishes across the LoC, which has become a hotbed of tensions with more than 4,000 ceasefire violations by Pakistan so far in 2020.

This feud, if it continues unabated, will categorically cause losses to both sides, as it has done for more than 70 years. Unless painstaking efforts are at least initiated towards achieving peace, a sudden, dangerous confrontation between these two nuclear-powered countries could lead to risky consequences for the entire South Asian region — something that would have adverse geopolitical repercussions for the world at large. 
The views and opinions expressed in this article are those of the author and do not necessarily reflect the views of The Kootneeti Team