The invisible hand of Russia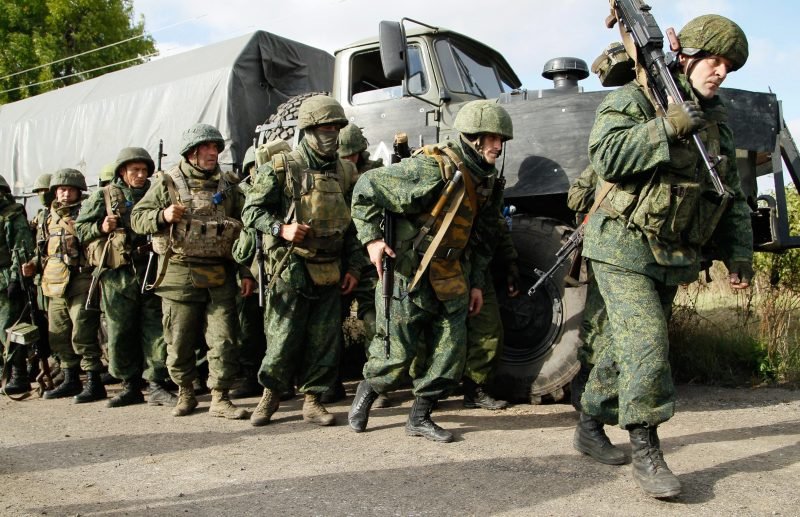 Introduction
In recent years, Russia has taken the practice of using private military companies to a new level, demonstrating that they can carry out offensive missions and actually form the occupying army's backbone.
Russia is trying to combine traditional military and special means with the activities of the PMC, mercenaries, local collaborationist forces, and other paramilitary groups. According to a single plan, all these units are integrated into a common intelligence and information space and operate under the direct control of the top military leadership of the Russian Federation. Modern Russian military theory defines such an approach as an integrated grouping of troops (forces). The Kremlin will continue to apply this highly effective hybrid approach to the use of force in subsequent military conflicts and regions considered to be an area of Russia's national interest. Thus, Russia can use such an "integrated group of forces" against other sovereign states, even European countries (Lb.ua, 2020).
The so-called "private military company of Wagner" is the most illustrative example of Russia's use of such armed groups. In fact, it is a freelance military unit of the General Staff of the Russian Armed Forces, which is completely under the control of Russia's top military and political leadership. In this essay, I will demonstrate PMC Wagner's activities in Ukraine, Syria, and Libya.
PMC Wagner is a free division of Russian authorities
The Russian Federation's hybrid aggression against democracies includes hostilities and information, political and economic activities. Simultaneously, the Russian leadership publicly denies the existence of military units of the aggressor country on the territory of other states. In case of revealing their affiliation, pre-prepared "cover legends" are spread in the information space: military "on vacation", "lost", "volunteers", "private military company", etc. The main difference between these armed groups used by the Russian Federation and real private military companies (Blackwater, US) is that such a company does not officially exist. It is not in the register of legal entities in the Russian Federation or any other country (The Defense Post, 2018).
Moreover, the Wagner Air Force's organizational and staffing structure fully corresponds to the structure of the GRU's regular units. The advanced tactical group structure looks like this – 6 companies, reinforced by tank platoons, artillery, mortars, multiple rocket launchers, air defenses, snipers, anti-electron weapons). Military transport aircraft and ships of the Russian Navy are also used for logistical purposes (Bellingcat, 2019).
As a freelance unit of the Russian Main Intelligence Directorate, the so-called Wagner Group began its activities in eastern Ukraine in late May 2014 (downing of the IL-76 aircraft of the Ukrainian Air Force, storming of Luhansk airport, participation in hostilities near Debaltseve, Sanzharivka, Utkin). Simultaneously, the Security Service of Ukraine found that many Russian citizens who had been members of Wagner's PEC since May 2014 entered the Autonomous Republic of Crimea through the Caucasus-Kerch ferry in February 2014.
Several months ago, records of testimonies of Wagner militants issued by the Russian Federation about their participation in the war in Donbas were published. So, the fighter Denis Kharitonov said that since 2014 he fought as a part of a battalion "Step" in Ukraine. He led a MANPADS group (portable anti-aircraft missile system – the editor). Kharitonov claimed that he shot down a helicopter and two SU-25 attack aircraft near the village of Marynivka. According to Kharitonov, he took part in the "liberation of the Luhansk airport" and learned to shoot MANPADS in Russia in Novocherkassk. Kharitonov said that he served in the Russian army in 1999-2001, has two state awards of the Russian Federation – for the capture of Palmyra and the "turntable in Lugansk." The award for downed planes was presented to him in Moscow by Russian presidential aide Vladislav Surkov. The information that Kharitonov shot down a Ukrainian helicopter and two attack aircraft was confirmed by another "Wagnerian" – Sergei Shcherbakov. He claims that he fought with Kharitonov in Ukraine in 2014 (Lb.ua, 2020).
Another Wagner militant, Alexander Sidorov, said that he got to the Donbas as part of the Russian unit "Amur." He fought in 2014 and 2015 "in the People's Republic of Luhansk," and in 2016 – near Pesky's village in the Donetsk region. During the battles for Luhansk airport, he worked as a driver. After performing tasks on Ukraine's territory in August 2015, the private military company Wagner was withdrawn from Ukrainian territory, and 1350 people were transferred to Syria in support of the dictatorial regime of Assad. Subsequently, the permanent contingent of the private military company "Wagner" was increased to almost 3 thousand people (The Defense Post, 2018).
After the reduction of field operations in Syria, part of Wagner's units (from 1 to 4 companies, depending on the needs of a particular period of time) was transferred to support the regimes of African countries that are in the Kremlin's geopolitical interest (Sudan, CAR, Libya, and others). Regular rotations of personnel from Syria to African countries are carried out, in particular, by the "223rd Flight Detachment" of the Ministry of Defense of Russia. At the same time, to cover the staff, separate foreign passports are issued. By the way, foreign passports issued to members of the Wagner Police Department and GRU officers Petrov and Boshirov, who carried out the terrorist attack in Salisbury, differ only in the latest figures in the issue (Lb.ua, 2020).
For covert financing of Wagner's PMC directly from Russia's state budget – structures belonging to Eugene Prigogine are used. His official companies receive billions in government revenue from the Russian Ministry of Defense, and the proceeds are used to provide financial support to units of the Wagner Group (Bellingcat, 2019).
"Slavic Building (Slovʺyansʹkyy Korpus)" as a PMC Wagner prototype
Russia has launched private military operations using the Slavic Corps in Syria. The private military company Slavonic Corps was registered in Hong Kong in 2013 as a Russian Moran Security Group subsidiary. It was set up to implement agreements with the Syrian government to protect the Assad regime's assets, such as oil and gas facilities. As the Moran Security Group leaders wanted to avoid sanctions and reputational losses through their engagement with Assad, Slavonic Corps was created as a proxy site and a "pilot project" to find a ground (Hromadske, 2020).
The Slavic Corps became the first in Russia and in many ways an experimental private military company of the "new type," which was entrusted with the tasks normally performed by armies, such as frontal attacks and combat operations – in contrast to Western APCs, which mainly perform auxiliary and training tasks. After the first unsuccessful experience with the use of private military companies, Russia concluded. It used the Slavic Corps case to create a more effective non-governmental military formation – Wagner (Lb.ua, 2020).
Occupation of Crimea
During the seizure of Crimea in 2014, Russian private military companies were in the process of being formed. They could not yet be used as a cover for the so-called "self-defense of Crimea," "Cossacks," and other pro-Russian radical groups and formations. At the same time, they have already been used together with special operations forces and airborne units of the Armed Forces of the Russian Federation under one plan and under one command. Russian armed aggression in eastern Ukraine has demonstrated the importance of the APC for Russia. Their main task was to inflame and further destabilize the situation at the first stage, provoking the transition from political confrontation to a phase of direct violence and hostilities (The Defense Post, 2018).
As the number of tasks increased, so did the number of personnel in private military companies. Since May 2014, Wagner, which has been involved in eastern Ukraine, has grown from 250 to 1,500. This company took part in terrorist and subversive activities against the Armed Forces of Ukraine. The facts of Wagner's participation in the battle for Luhansk airport (April-September 2014), in the districts of Sanzharivka (January 2015) and Vergulivka (February 2015) were confirmed. About 250 members of Wagner took part in the fighting near Debaltseve from January 14 to February 20, 2015 (Bellingcat, 2019).
The concept of an integrated grouping
Russia is trying to combine traditional military and special means with the activities of the PMC, mercenaries, local collaboration forces, and other paramilitary groups. All these units are integrated into a common intelligence and information space and operate under the direct control of the Russian Federation's top military leadership. Modern Russian military theory defines such an approach as "an integrated grouping of troops (forces)." Examples of applications could be observed in Ukraine, Syria, and Libya. PMCs' combat experience in Ukraine and Syria enables the Kremlin to use this tool to project its military influence in other regions. Russia can use such an "integrated grouping of forces" against other sovereign states, even European countries. The practice of applying this approach can be observed in September during the strategic command and staff exercises "CAUCASUS 2020".
Another Russian PMC "ENOT building » engaged in both combat and non-combat operations. It is particularly a question of providing armed support to the Russian so-called "humanitarian convoys" (14 missions). "ENOT. corp. » took part in hostilities near Chornukhyn (Luhansk region) and Debaltseve (Donetsk region). Moscow uses the PMC to recruit, train, and equip mercenaries, increasing its hybrid expansion in Ukraine and worldwide. The PMC fighters are being trained at the military training ground in Molkin (near the city of Krasnodar) – a training ground for the 10th special brigade and the PMC Wagner (Hromadske, 2020).
Russian PMCs typically recruit fighters from Russia and the former Soviet Union. Many mercenaries were recruited from the temporarily occupied territories of Ukraine – Donbas, and Crimea. Russian PMCs are developing rapidly and today look almost the same as units of the armed forces. In fact, they are cheap regular forces that do not have state social protection. There are signs that Moscow is not going to reduce the use of PMCs in the next few years (The Defense Post, 2018).
Wagner's involvement in war crimes in Libya
The International Criminal Court intends to investigate war crimes committed by Field Marshal Khalifa Haftar during the Libyan civil conflict. Russian mercenaries from Wagner's private military company fighting on Haftar's side are involved in these crimes. The basis for the International Criminal Court investigation was found in Libya, 11 mass graves of men, women, and children. First of all, it is about the mass graves found in Tarhun, which was liberated from the armed forces of Caliph Haftar. Field Marshal Haftar commands the so-called Libyan National Army, which opposes the international community-recognized Government of National Consent based in Tripoli. Acting with the support of Saudi Arabia, Egypt, and the UAE, Haftar launched an offensive on Tripoli last year. Russia also provides significant assistance to the field marshal, supplying the LNA with various weapons, equipment, specialists, and, most importantly, human resources in the form of mercenaries from the Wagner Air Force (Bellingcat, 2019).
The Wagnerians, numbering about 2,000 in Libya, are notorious for their involvement in the Donbas war and the Syrian civil war, where they sided with President Bashar al-Assad. The Wagnerians have long been used as a kind of Russian "foreign legion" when Russia does not want to advertise its military presence (Lb.ua, 2020).
Russian mercenaries cannot boast of special successes on the battlefields. For example, in Syria, a detachment of "Wagnerians" was completely defeated by American aircraft in Hisham's battle, near the city of Deir ez-Zor, on February 7, 2018. But what Russian PMC can be remembered for is the various atrocities against the civilian population. In particular, Russia's Novaya Gazeta recently published an investigation into the events of three years ago near the Syrian al-Shyer gas field. Occupying this object, the "Wagnerians" tortured to death a Syrian citizen Hammadi Taha Al-Buta. Entertaining themselves with jokes and sayings, the mercenaries crushed the unfortunate man's limbs with a sledgehammer, cut off his hands, and then beheaded. His head was hung on the fence, and his body was burned.
Military success did not accompany the "Wagnerians" in Libya. Initially, Haftar's troops advanced relatively successfully. They approached Tripoli and were preparing to take the city, but here the regular Turkish army came to the aid of UNZ, which defeated the LNA formation and drove them away from the Libyan capital. In Tarragona, which is located about 80 km south of Tripoli, there were both Libyan Haftar formations and Russian "Wagnerians." When LNA troops left Tarhun, containers were found in the city containing charred corpses of burned people, wells with the remains of the executed, and at least eight fresh mass graves, in which dozens of people were buried, apparently buried alive. Some bodies belonged to members of the same families. There is every reason to believe that mercenaries from Wagner's PMC are also involved in these atrocities (Bellingcat, 2019).
Conclusion
Usually, private military companies are commercial structures that recruit qualified specialists of a narrow profile: instructors, security guards, military consultants, etc. These are expensive professionals, so customers resort to their services in extraordinary cases. And only in Russia have the PMC been adapted to perform the functions of line infantry units. Thus the Russian mercenary is cannon fodder. His presence in a country is officially denied, so if such a "fighter" dies, his family can only expect that the employer will fulfill its financial obligations. The international community must find ways to counter hybrid armies under the cover of PMCs (Lb.ua, 2020).
There is an urgent need to establish an international body that would establish uniform rules and ensure strict control over the activities of the PMC. It is considered appropriate to define the PMC in international law, including the Rome Statute. All countries must strongly oppose mercenaries. Only 35 countries have ratified the International Convention for the Suppression of the Recruitment, Use, Financing, and Training of Mercenaries. At the same time, it is not able to respond to modern challenges (Lb.ua, 2020).
Finally, the free world must increase pressure on Russia and other countries waging hybrid wars using PMCs and other paramilitary organizations.
References
Bellingcat (2019) Wagner Mercenaries With GRU-issued Passports: Validating SBU's Allegation [Available from]: https://www.bellingcat.com/news/uk-and-europe/2019/01/30/wagner-mercenaries-with-gru-issued-passports-validating-sbus-allegation/ [Accessed: November 15th, 2020]
DW (2020) Wagner's PVC: everything that is known about it [Available from]: https://www.dw.com/uk/pvk-vagnera-all-what-about-his-know-/a-42599597 [Accessed: November 13th, 2020 ]
Economics and Enterprise Management (2020) International Experience and Peculiarities of Functioning at Private Military Companies: A Retrospective Analysis [Available from]: http://www.market-infr.od.ua/journals/2020/40_2020_ukr/23.pdf [Accessed: November 17th, 2020 ]
GPF (2020) PMSCs: Risks and Misconduct[Available from]: https://www.globalpolicy.org/pmscs/contractor-misconduct-and-abuse.html [Accessed: November 10th, 2020 ]
Hromadske (2020) "Wagner" was created not to recognize the losses of the Russian army in the war in Syria – researchers of military conflicts [Available from]: https://hromadske.ua/ru/posts/zelenskij-podpisal-zakon-o-shtrafah-za-otsutstvie-maski [Accessed: October 13th, 2020 ]
Lb.ua (2020) Records with testimonies of Wagner militants issued by the Russian Federation about participation in the war in Donbass have been published [Available from]: https://lb.ua/news/2020/08/18/464157_oprilyudneno_zapisi_zi_svidchennyami.html [Accessed: November 5th, 2020 ]
Lindsey Cameron (2020) Private military companies: their status under international humanitarian law and its impact on their regulation. [Online] International Review of Red Cross. vol. 88 [Available from]: https://www.icrc.org/en/doc/assets/files/other/irrc_863_cameron.pdf [Accessed: October 15th, 2020 ]
Shearer David (1998), Private Armies and Military Intervention, New York, Oxford University Press.
Slovo i dilo (2020) The hand of Moscow: what "famous" Russian mercenaries in Libya [Available from]: https://www.slovoidilo.ua/2020/06/26/kolonka/denys-popovych/svit/ruka-moskvy-chym-proslavylysya-rosijski-najmanczi-liviyi [Accessed: November 10th, 2020 ]
Spearin Christopher (2008), Private, Armed and Humanitarian? States, NGOs, International Private Security Companies and Shifting Humanitarianism , Security Dialogue, XXXIX, (4), 363-382.
The Defense Post (2018) An experimental playground: The footprint of Russian private military companies in Syria [Available from]: https://www.thedefensepost.com/2018/02/17/russia-private-military-contractors-syria/ [Accessed: November 18th, 2020 ]
The Defense Post (2018) Russia arrests PMC Wagner expert Vladimir Neelov on treason charges [Available from]: https://www.thedefensepost.com/2018/11/09/russia-neelov-wagner-expert-arrest-treason/ [Accessed: October 19th, 2020 ]
Ukrinform (2020) PMC Wagnera [Available from]: https://www.ukrinform.ua/tag-pvk-vagnera [Accessed: November 5th, 2020 ]
The views and opinions expressed in this article are those of the author and do not necessarily reflect the views of The Kootneeti Team