Compare to Chinese Dragon, Uncle Sam is best bait for India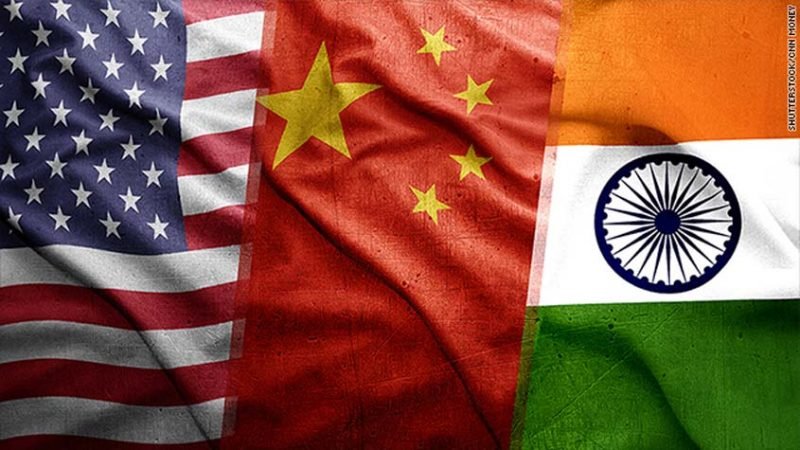 Since May 2020 People's Liberation Army (PLA) incursion into Ladakh, many in India have been arguing that India's leadership should proactively mend relation with aggressor ignoring border dispute. As per them, the second most populous but economically and militarily weak elephantine India should not challenge superpower China for barren land at the height of inhospitable Himalaya. (It is a different matter that these people latter may not hesitate to taunt the government for surrendering to the dragon in case the government goes by their above suggestion). As per them, India should join China for technologies and skills for the economic development of the countries and region, which house a large number of poor in the world.
Here, I would like to bring to the notice of everybody concerned the way Nehru's Home Minister Gulzarilal Nanda reinforced the importance of barren land exhibiting his bald head when PM tried to reduce the importance of 1962 China invasions and its occupation of barren Aksai Chin in a cabinet meeting. And apart from what Nanda had said, the issue looks incomplete without mention of what Communist China founder autocrat Mao Zedong -soon after expanding Chinese territory up to South Asia contour after occupying Tibet- wished, "Tibet is China's right-hand palm, with five fingers in its periphery: Ladakh, Nepal, Sikkim, Bhutan and Arunachal, and it is China's responsibility to 'liberate' these regions." Who knows what would be the wish of Xi Jinping, who is second to Mao to get the status of Paramount Leader and got his candidate-specific constitutional amendment to remain in the same position for life, after his expansionist strategy through 'Belt and Road Initiative' and 'String of Pearls' getting required supports from India's inimical as well as blackmailing neighbours?
In fact, it looks very odd and felt very unfortunate, when a nation looks at another nation far away -in fact, on the other side of the globe- for friendship ignoring immediate neighbour. But, it happens. And it is accepted when the neighbour is found deceptive besides being aggressive with military adventuring. Now, in Asian regions, in fact around Communist China, the geopolitics has gone to such a level because of China's deception and belligerence that economically and militarily weak as well as geographically and population-wise small countries including Communist-ruled Vietnam have no alternative but to embrace friendship of outsiders and look for latter's intervention for safety of their economic activities and territorial integrity. Now, China is an economic superpower in the world with the highest GDP in terms of PPP and third-largest (conventional) military power with the largest navy. Its military spending is three times more than India, the fourth largest military in the world and 2nd largest in the region. Now, China is 'The Factory of the World' manufacturing 28% products and controls 30% of the world supply chain. It has the world highest foreign exchange reserve at $3.1 trillion, six times more than India.
For long, despite governance differences (communist and democracy are incompatible bed-fellows) between China and the majority of neighbours in the region's democratic nations, the latter have so far avoided external intervention. This attitude has been well demonstrated when all the three Foreign Affairs Ministers from the region including India's FM Dr S. Jaishankar refused to name aggressor China on October 6, 2020, Quadrilateral Security Dialogue (popularly called as Quad) Meeting held in Tokyo, ignoring provocation from the US Secretary of State Mike Pompeo, who named China for her security threat towards the countries in the regions. Even, in India, the opposition leaders and media have been persistently criticizing the government for its reluctance to name China which incursed into Indian Territory, and later ambushed unarmed and disciplined Indian security forces. A study of previous Indian government's records also says that the government despite being informed of China's incursion on the border in 2013 had not challenged the aggressor and not asked for non-regional player's intervention. In 2007, at the formatting stage of Quad, Australia refused to participate in the annual Quad's Malabar Naval Exercise after participating its earlier edition –allegedly under the pressure of China- saying, "The region cannot afford a Cold War situation." But, Communist China has not reciprocated her neighbours' resilience, as if she understood neighbours' resilience is their weakness.
Many experts including the author of this column are strongly in favour of India's close friendship with the US, though in the past few years but before Covid19 the relationship with neighbour China through bilateral and multilateral mechanism improved, and trade and commerce have exponentially increased (despite the contentious border conflict, and periodical skirmishes). The May 2020 incursion followed by 14-15 June intervening night China initiated deceptive Galwan Valley skirmish, which killed 20 Indian soldiers and 35 PLA soldiers (as per Western media and intelligence sources), has drawn the curtain with the statement of Indian FM, who told his Chinese counterpart, "The martyrdoms of 20 Indian soldiers will have a considerable impact on Indo-China bilateral relationship."
A comparison between Indo-US and Indo-Sino bilateral relationship (apart from what discussed above) is necessary before concluding why India's friendship with the distance the US over neighbouring China is best bait. 
When India is the largest democracy in the world, the US is the oldest democracy as well as the second-largest democracy. In increased democratized world (In 1950, the world had 25 democracies and 130 autocracies. In 2018, number of democracies have gone up and about 99 and autocracies are down at 80), both the nations located in the two sides of the globe can work together to promote a democratic system of governance in all over the world for mutual benefit. Now, with Joe Biden as President-elect and his subsequent ascendancy in the world most powerful mansion in two months (not counting present occupant's reluctance to vacate The White House), the togetherness of India and the US will get a huge push to the spirit of democracy as the author goes by Delaware Senator statement in 2006 that says, "My dream is that in 2020, the two closest nations in the world will be India and the US. If that occurs, the world will be safer." As recently as last month, Biden wrote in an op-ed in India West newspaper that a Biden-Harris administration will build on the "great progress" in ties with India under the Obama-Biden administration. "We can and should be natural allies," the President-elect said.
India's arch-rival since independence is her Western neighbour Pakistan is more or less a theocratic state irreconcilable to India's secular constitutional democracy, and it is mostly ruled by military dictatorships or military-backed elected governments including its present democratic government lead by cricketer-turn-politician Imran Khan. The nation's Islamic elite were not happy when the colonial ruler divided India into India and Pakistan on communal lines instead of handing over the entire country to Muslims as they used to argue 'the colonialists had got the country from Muslim rulers, and when they left they should have handed over the country to Muslims'. Later, to add to their hurt ego, India directly intervened in Partition of Pakistan into Pakistan and Bangladesh to end the atrocities of West Pakistan over East Pakistan (Bangladesh). To avenge the above two injuries as well as to get Muslim majority India's northern state Kashmir, Pakistan has been indulging in terror activities in India employing her manufactured terrorists, now baptized by her as 'non-state actors', as per the 1970s' the then PM Zulfikar Ali Bhutto's designed and military dictator General Zia-Ul-Haq, who succeeded former in a military coup and executed him (Bhutto), implemented "thousand years war" with 'bleed India through thousands cuts'. Since both the US and India are victims of Pakistan origin Islamic terrorists, who don't believe in democracy and have in the meanwhile grown to be one of the major existential threats to human civilization on earth, they (US and India) are natural allies in the fight against this threat. 
It is a well-known fact that democratic countries can accommodate communist-ruled countries in their neighbourhood, but not vice versa. Communists, in view of their citizens-caged governance, know very-well that their people at all the point of time look for an opportunity to be freed. And they used to get inspiration from democracies. If the democracies are in the neighbourhood, communists headache is high. This aspect is the major instigator of communist rulers, wherever they are, to have a conflict with democratic neighbours. In South Asian region, the world largest democracy i.e. India, which has been the inspiration and strength for other democracies in the region (Per example, it is India which facilitated the return of democracy from autocracy in the Maldives in 2018), has been gaining ground both economically and militarily albeit slowly compare to China.  Now, Communist China has been found busy extending its area of influence, using its economic prowess, builds multi-purpose (economic and military) infrastructures such as Belt and Road Initiatives (BRI) and String of Pearls, and through tariff-cut on imports, soft and debt democracies, wherever whichever is suitable, in Indian Ocean Region (IOR) very aggressively. As per many geopolitics experts of the region, China's this diplomacy is aimed to strangulate India and pull latter to the subordination of her, and eventual subjugation a la autocratic Joseph Stalin of erstwhile Soviet Russia got the East European and Central Asian countries post-WWII.
On the other hands, the US and India share historic tie as the world's oldest and largest democracies, respectively. Though India rejected the suggestion of the USA about setting up a Centre for Asian Democracy, yet she retains her membership in 'Community of Democracies', a prominent endeavour of the United States for promotion of democracy in the world. Apart from a democratic synergy between the two largest democracies in the world, the US is world's largest generator of investable capital and developer of modern technologies (As per former India's Ambassador to the US, Mr Lalit Mansingh), which no nation on the earth aspiring for her economic development can ignore. According to Gallup's annual world affairs survey, India is perceived by Americans as their sixth favourite nation in the world with 71% of Americans viewing India favourably in 2015, 74% in 2017 and 72% in 2019.
In 2019, India's goods and services trade with the US totalled an estimated $146.1 billion. Exports were $87.4 billion and imports were $58.6 billion. India's goods and services trade surplus with the US was $28.8 billion in the same year. The US is one of the few countries with which India has a trade surplus and the same is increasing favouring India. Presence of Indian diaspora of about four million in the US is one of the main reasons for increasing bilateral trade, Biswajit Dhar, Professor of Economics at Jawaharlal Nehru University, said. "Presence of Indian diaspora is creating demand for Indian goods such as consumer items and we are supplying that. A balanced trade deal will further boost the economic ties," Dhar said.
"Because of the anti-China sentiment, several US companies are exploring new suppliers in countries like India to cut dependence on China and if it will happen, then it will greatly help India to boost exports to the US," Ludhiana-based Hand Tools Association President Subhash Chander Ralhan said. The US Foreign Direct Investment (FDI) in Indian (stock) was $45.9 billion in 2019, 8.1% increase from 2018. The US FDI is led by professional, scientific, and technical services, manufacturing, and wholesale trade. In 2017, a total of $11.7 billion was made in remittances to India from the US out of the total $68.9 billion, and a total of $6 million was made in remittances from India to the US out of total $5.7 billion, for a net inflow of $63.258 billion.
In 2019, India's exports to China were $17.97 billion and imports were $74.92 billion. India's trade deficit with China stood at mountainous and un-scalable $56.95 billion. According to Chinese MOFCOM, Chinese non-financial cumulative investment in India stood at $5.08 billion by the end of September 2019, while $0.19 billion received during January-September 2019. Indian non-financial investment in China by the end of September stood at $917.44 million, of which $17.44 million received in January -September 2019.
With President-elect, Mr Joe Biden, who set a target to take the bilateral Indo-US trade to $500 billion from present $150 billion by 2025, and wants to work together with India to make the world safer, now in The White House, it is better for India to accept distance superpower the US as the nation's best bait compare to closest superpower Communist China often compared with the dreaded dragon for its behaviours, attitude and military posturing towards her neighbours.
The views and opinions expressed in this article are those of the author and do not necessarily reflect the views of The Kootneeti Team