Pakistan should not expel the French Ambassador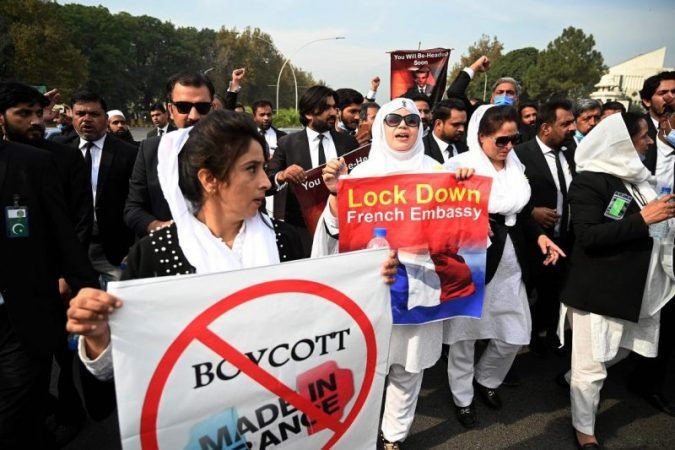 Severing diplomatic ties between Pakistan and France would damage the economy and undermine the battle against militant Islam.
Expelling an ambassador is a dramatic step which has profound consequences.
Occasionally governments may deem it necessary, if war has broken out, or if there has been a case of espionage, or a serious breach of domestic or international law.
But it is evidently clear that the move by Pakistan to oust the Ambassador of France – His Excellency Dr Marc Baréty – follows no such provocation.
Dr Baréty's expulsion is to be considered by parliament at the behest of Islamic organisations which have a grudge against the French President, Emmanuel Macron.
In their minds, Mr Macron has offended Islam by condemnding the decapitation of a school teacher who showed cartoons of the Prophet Mohammad to students at a school near Paris.
Mr Macron defended the decision of the murdered teacher, Samuel Paty, to discuss the caricatures with his class, saying it was an acceptable expression of free speech. Mr Macron also spoke out against what he called "Islamic separatism".
According to the Al Jazeera news agency, the Pakistani government will put the question of expelling the French ambassador to the parliament in Islamabad "within two or three months".
It has also apparently decided not to appoint its own ambassador to France and will "completely boycott French goods on a government level".
Al Jazeera says the agreement was signed by Ijaz Shah, Pakistan's interior minister, and Pir Noor ul Haq Qadri, the minister for religious affairs, on Tuesday 17th November.
Given that the parliament has recently passed motions condemning France, it is entirely likely that the next step will lead to a complete severing of diplomatic ties.
In my opinion, as the Editor of Asian Affairs magazine, there is no political sense in such a move.
In fact, it appears to be a result of worrying political capitulation to the enormous pressure placed on the government by the religious leader, Khadim Hussain Rizvi.
His supporters from Tehreek-e-Labbaik Pakistan (TLP) have been protesting against France on the streets near government buildings in Islamabad. Some of them burned the French flag and set fire to images of President Macron.
Given these alarming events, French diplomats may choose to leave the country for their own safety. But they should not be expelled.
What has been largely overlooked in the Pakistani media is the fact that
France is one of the most generous supporters of Pakistan in terms of humanitarian and development aid.
In 2019, the French government promised to raise its financial assistance to Pakistan to half-a-billion euros a year, making a particular effort to help the water and hydropower sector.
At that point, the water resources minister, Shamail Ahmad Khawaja, welcomed French investment on behalf of the Prime Minister and the chief ministers, according to a report in the Pakistani newspaper The International News.
It is with a note of weary regret that I notice alongside the moves against France, Pakistan has also started to up the rhetoric against its old rival India.
It is blaming India for what it describes as state-backed terrorism, linked to a perceived narrative of Islamophobia.
Islamabad has accused the Indian government of running militant training camps in Afghanistan and of using terrorist groups to destabilize Pakistan and damage its partnership with China.
The Pakistani government used a televised event to present a dossier which it said contained "irrefutable evidence" about India's actions.  The Indian Foreign Ministry says Pakistan "is concocting documents and peddling false narratives."
I have not read the dossier, so I must leave it to security experts to appraise its claims.
However, from a diplomatic perspective, I sense the region is returning to a fruitless exchange of claim and counterclaim.
According to Dawn, Pakistan's Foreign Ministry is preparing to present the dossier containing the anti-Indian allegations to the United Nations Security Council, which is made up of five countries: China, the United States, Russia, Great Britain and France.
It is hard to imagine anything other than a hostile response from the French, nor do I think it likely that any other country will wish to pay it much attention, given their own issues. How would such a step further Pakistan's cause?
My conviction is that this is a time when Pakistan's Prime Minister, Imran Khan, should be nurturing international ties, rather than threatening to sever relationships.
The Afghan peace talks are approaching a delicate next stage and the United States about to have a new president.
If Pakistan wants to be a respected player on the world stage, it needs to continue to try to reduce tension with its neighbours and resist pressure from religious extremists.
First and foremost, I believe the government of Pakistan needs to call an immediate halt to the diplomatic crisis with France. Ambassador Dr Marc Baréty must be assured safety and parliament must not vote to expel him.
The views and opinions expressed in this article are those of the author and do not necessarily reflect the views of The Kootneeti Team