Kosovan recognition of Israel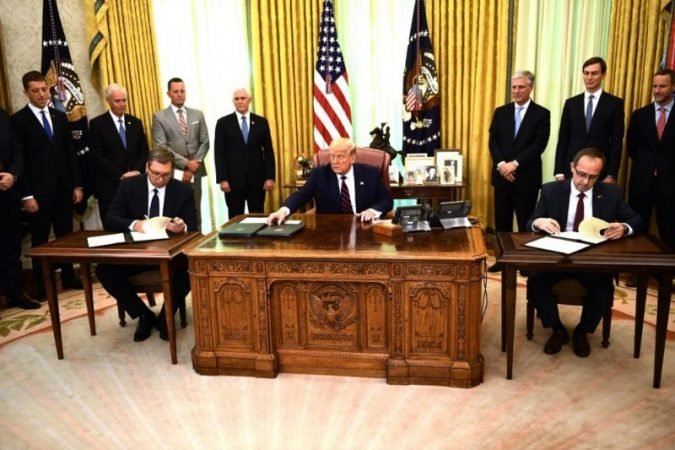 The status of Jerusalem is one of the thorniest obstacles in the forging of peace between Israel and the Palestinians, who with broad international backing, want East Jerusalem, captured by Israel in the 1967 Middle East war, as their capital. Israel regards all of the city, including the eastern sector it annexed after the 1967 war, as its main city.
With US President Donald Trump acting as a middleman between Israel and several majority Muslim states, particularly the Arab states, Tel Aviv is fast achieving its goal of normalising its ties with the states that refused to recognise it for decades, brushing Palestinian aspirations under the carpet.
Kosovo and Israel have agreed on establishing diplomatic relations, and the Balkans Muslim-majority country, along with Serbia, will open an embassy in Jerusalem.
With Kosovo becoming another country to follow the footsteps of the UAE, which recently forged formal links with Tel Aviv, Pristina also agreed on opening its diplomatic mission in Jerusalem, a move that strengthens Israel's unilateral decision of declaring Jerusalem as the capital of Israel.
Kosovo's President Hashim Thaci tweeted on Saturday: "I welcome the announcement of Israeli PM [Benjamin] Netanyahu about the genuine intention to recognize Kosovo and establish diplomatic relations. Kosovo will keep its promise to place its diplomatic mission in Jerusalem."
Many in Pristina believe that he ruling dispensation came under the pressure of the US, as Washington wanted them to stop ignoring or cold-shouldering Israel and be diplomatically warm to the Jewish state.
The locals of Prizren city were vocal about their neighbours (the neighbouring countries as well as the other minorities in Kosovo) as they believe both the Albanians and Turks are uncomfortable with the deal.
Since the US-brokered agreement was taken without parliamentary approval in Kosovo, it was undertaken. Had it been proposed to go through the parliament, it wouldn't have been accepted.
Many Kosovars say that the current government may not survive in the near future and its decision to normalise its ties with Tel Aviv will be one of the main reasons people would eject them from power.
Kosovars have been supporting Palestinian people since the Yugoslavian era. Kosovo is a young state established in 2008. This move is to be seen from the Kosovar side, as it requires to have recognition from as many countries as possible. The deadlock and a subsequent political crisis appeared earlier this year between Serbia and Kosovo also got normalised, as in Washington the satisfied Kosovar diplomats with the recognition of Israel, signed an economic normalization agreement with the Serbian counterparts.
Though the peace between the Serbian and Kosovar counterparts was re-established, the Israeli hold on Jerusalem became more firm as the real winner of this deal turned out to be Israel.
The views and opinions expressed in this article are those of the author and do not necessarily reflect the views of The Kootneeti Team