Engagement Between Democratic India With Democratic West Is Solicited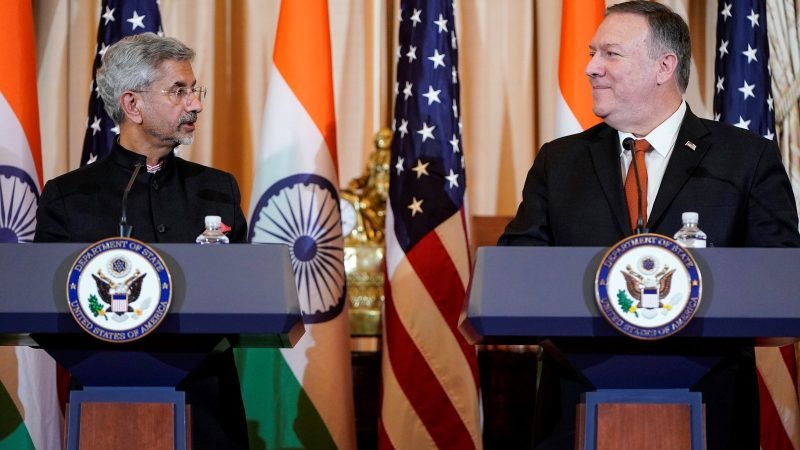 Since independence in 1947, democratic India, an uninterrupted practising democracy, rare in South Asia, has never had a close diplomatic engagement with the democratic US and US-lead strategic alliance NATO. This was despite being they have been leading democratic nations in the world (while India is the largest democracy; NATO, a bloc of mostly democratic nations, has the world's oldest democracies). In the past, during the acrimonious Cold War era, post-WWII, India had resisted a lot of allures to be part of world's largest democratic bloc which was among other economically developed with world's maximum investable capital generation capacity, and home to modern technologies which are considered as an engine of modern economic development.
Despite all the above, India preferred to be one of the founding members of Non-Alignment Movement (NAM) started in 1961, a bloc claimed to have non-alignment with any of the two superpower blocs though many experts use to allege NAM was close to Communist bloc called Warsaw Pact, now defunct after fall of its leader Union Soviet Socialist Republic (USSR) in 1992. This was despite India had got instant support from Democratic West (US and UK) during 1962 Communist China aggression in Himalayan mountain height as requested and when USSR preferred to concentrate in Cuban Missile Crisis ignoring India's appeal, which as per many Asian experts' view forced aggressor to stop the war and withdraw from its so far occupied territory in Eastern war-front in India's NEFA, now called Arunachal Pradesh.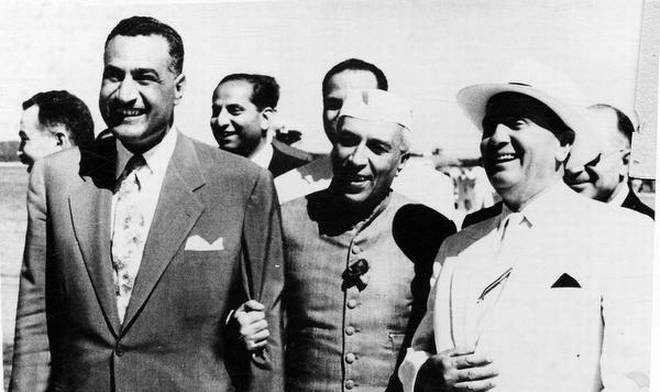 The Non-Aligned Movement member nations mostly remained uninvolved, and only the United Arab Republic (then a political union of Africa's Egypt and Asia's Syria), now defunct, openly supported India. Of the Non-Aligned nations, only six Egypt, Burma, Cambodia, Sri Lanka, Ghana and Indonesia met in Colombo on 10 December 1962 and proposed Chinese withdrawal of 20 KMs from a pre-war line without any reciprocal Indian withdrawal. The failure of the group to condemn China aggression disappointed India's then leadership.
There is an allegation that India was offered the elite Veto powered permanent membership in UN Security Council, which India's the then leadership refused, and instead, supported China's getting the same right (BJP spokesman tweet 10.57 AM March 14, 2019).
During the period, many claims, India had estranged relation with the world of democracies as most of the NATO nations had consistent democratic governments while NAM members were either inconsistent democracies with often ruled by dictators (Iraq, Pakistan, Egypt, etc.) or Communist governments (Cuba, Vietnam, North Korea, etc). And NAM had failed to deter fight between its member states (Examples: Indo-Pak war 1971, Iraq-Iran war from 1980 to 1988, etc. etc.)
Even after the end of Cold War, which closely coincided the end of long one Nehru-Gandhi family rule of India with few years of breaks (though the power remained in the custody of the political party that had supported the family all along and was alleged closed to USSR), India did not completely give up its estrangement from democratic NATO. The end of the Cold War also contributed towards making NAM further irrelevant. From 1992 to till the eve up Galwan skirmish June 2020, though the relation between India and democratic West (NATO & US) have seen huge positive growth (for instance with the signing of much-debated Civil Nuclear deal), yet the engagement between the two was not that concrete. Therefore, one can comfortably claim, the 1992-2020 era is India's truly Non-Aligned era in its world politics. During this era when the US retained its Super Power status, the erstwhile Warsaw Pact leader and now fragmented Russia remained a just power with a huge arsenal (with an annual defence budget of $61.6 billion much less than US's $686 billion in 2019) and mostly engaged in exporting arms to warring nations and war-lords around the world without economic influence (GDP $1.64 trillion, 11th among nations in GDP), and Communist China grew both economically and militarily.
Now, China is the second-largest economy with $14 trillion (2020) GDP and second strong military power with the world's second-highest annual defence budget of $178 billion (2019). It has almost taken over the Cold War era's Warsaw Pact position in the 21st Century.
With the growth of the economic and armed forces, China has started USSR kind Cold War-era geographical expansionist activities starting with occupation of South China Sea using 'hard' and 'soft' powers as and where which one is applicable or at places both. In China's above activity in its close vicinity, the democratic large neighbour India, though economically (with GDP of $2.8 billion) and militarily (defence budget of $61 billion) not matching with China, is found major stumbling block. And in the entire South and South-East Asia region, democratic India is the only nation which has the potential to stand against Chinese hegemony. India's large size, non-interference and non-expansionist politics (Example: though India had virtually occupied an eastern wing of Pakistan, separated from India in 1947, then called East Pakistan, now Bangladesh defeating Pakistan in 1971 war, it instead of retaining the same like China occupied Tibet and Xinjiang claiming based on past historical occupations attract region's other nations having a border with China protection against Communist dragon. Even Communist-ruled Vietnam looking for an alliance with Democratic India on the face of Chinese aggression in its claimed South China Sea area.
In the meanwhile, China has been relentlessly building a relationship with India's arch-rival and western neighbour Pakistan, an alleged terror manufacturer of the world, with huge capital investment in the latter's infrastructure development. As per the latest report in Financial Times, China offers infrastructure and economic investment to the Taliban if latter, an ally of Pakistan, gives up terrorism as soon as US forces withdraw from Afghanistan. In the north of India, the neighbouring Nepal, where nation's Communist Party rules, speaks the language of China on issues related to India, and in the recent past, the Chinese Ambassador in Kathamandu played the mediator role between warring factions in the ruling coalition, unseen in the history of South Asian countries. In another northern neighbour that is Bhutan, which is an India's protected state; China raised boundary conflict as it has with almost all neighbours. Soon after Galwan skirmish, when India started banning trade relation with China, China reduced tariffs to zero on 97% of all Bangladeshi products imported.
Now, China as part of its policy of encircling India known in diplomatic circle as 'String of Pearls', has been setting up port-based military and economic bases in Myanmar, Bangladesh, Sri Lanka, Maldives, Pakistan, Iran and Djibouti in Indian Ocean Region from Strait of Malacca in the east to the Gulf of Aden in the West using financial prowess in which India is literally very weak.
In view of long and relentless China-centric problems which threaten its very respectable existence, India has no alternative but to give up its decades-long estrangement with Democratic West in favour of engagement at least till the time it has reached the position to face the aggressor eye to eye with both economically and militarily strength, and can stop its neighbours' potential blackmailing using China card (per example) as seen in recent past in Bangladesh, the country desperately needed ten diesel locos to maintain its transportation needs that India supplied only to be criticized by its media on the flimsy ground with the tacit support of the government.
Now, in the West, there is growing support for unit among democratic nations. On the wake of Galwan skirmish, responding to Conservative Party MP Flick Drummond on the implications British interests of a dispute between a Commonwealth member and the world's largest democracy on the one side, and a state that challenges our notion of democracy on the other, UK PM Boris Johnson described the escalation in eastern Ladakh as a very serious and worrying situation, which the UK is "monitoring closely". France expedited supply of Rafale fighter planes and its President and Defence Minister offered all kind of support in the fight with the aggressor. And the US offers India NATO alliance at par with Japan, South Korea and Australia in its NDAA 2020. In recognition of the shared democratic values and commitment, another suggestion in the US budget document is to increase engagement with India in multilateral frameworks "to promote regional security and defend shared values and common interests in the rules-based order". It said the quadrilateral dialogue among the US, India, Japan and Australia should be enhanced.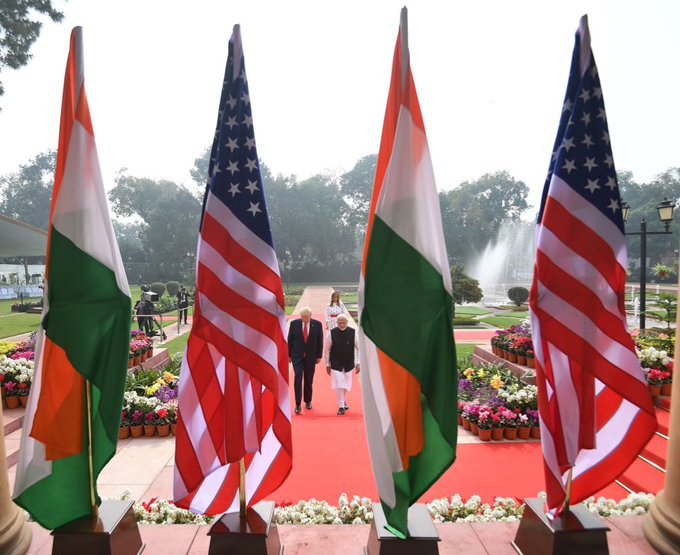 In view of Chinese aggression in one side and neighbours blackmails on the other, India has no option but to follow diplomacy of engagement with Democratic West ignoring possible internal criticism of "Sell Out" to West. In 1962, on the face of Chinese aggression when USSR and NAM ignore India's cause, Nehru requested for West support and got. Later, in 1971, before the Indo-Pak war, Indira Gandhi got signed "Peace, Cooperation and Friendship Treaty with USSR. If India had "Sell Out" then, let the same happens during present LAC conflict while China origin COVID19 reign the world.
In view of the above, a concrete engagement treaty with Democratic West is solicited.
The views and opinions expressed in this article are those of the author and do not necessarily reflect the views of The Kootneeti Team