India-Myanmar Relations: An Analysis of Connectivity Diplomacy
One of the defining features of the modern economy of any nation is connectivity, which is reflected through its linkages with communities, and economies of other nations. Different institutions gave varying definitions of connectivity; however, a general theme that characterises all the definitions is that it is a multi-layer concept combining different types of networks, including physical and virtual.
India shares a 1,643 km land border and maritime boundary in the Bay of Bengal with Myanmar (also formerly known as Burma). The four North-Eastern States of India – Arunachal Pradesh, Nagaland, Manipur and Mizoram shares border with Myanmar's States of Kachin in the North, Sagaing in the middle and Chin in the South. Historically, few literatures provides evidence of the existence of Yunnan-Burma-India road, referred to as the Southern Silk Road during the first and second centuries C.E. During the nineteenth century, the British too wanted to expand their territorial presence and exploit Burma's economic resources. The preliminary surveys were also conducted to link Burma and Assam (India) through railways in 1896. Since the 1990s, the emphasis was laid on establishing close linkages between India and Myanmar. This paper is an attempt to analyse the various aspects of the connectivity diplomacy between India and Myanmar. Along with, this paper suggests the way forward for swift implementation of pending projects under effective cooperation between the two nations – India and Myanmar.
India–Myanmar Strategic Connectivity: A Key to Resilient Relations
The rise of Asian economies, especially since the 1990s, is a result of deeper integration, an increase in economic growth and prosperity in the region. India and Myanmar embarked on the journey of market-oriented reforms in the early 1990s. In India, the 1991 economic reforms let to opening up of the economy for greater global integration. While in Myanmar, the collapse of the centrally planned economy in 1988 gave rise to market-oriented reforms. To further increase the participation in regional and global integration, establishing cross-border connectivity was essential and therefore high on policy agenda for both countries.
The geographical and strategic location of Myanmar makes it crucial for India's connectivity agenda in the East. At first, Myanmar is the only 'land bridge' between ASEAN (Association of Southeast Asian Nations) and India; therefore, connectivity with Myanmar is a pre-requisite to building stronger relations between India and other South-East Asia. It is crucial for India's commitment to its "Look East" and "Act East" policies. Secondly, as Myanmar share border with India's four North-Eastern States, the strategic partnership with Myanmar is crucial to ensure peace and economic growth in its landlocked North-East region.
Successful Projects: Foundation of Resilient Indo-Myanmar Relation
India has accomplished several projects in Myanmar which were executed by Indian institutions, both government and private companies. The projects have covered various sectors such as roads, railways, telecommunications, and energy, among others. In February 2001, India's Border Roads Organisation (BRO) built a 160 km "India-Myanmar Friendship Road" connecting Moreh (Manipur, India) – Tamu (Myanmar) – Kalemyo (Myanmar) – Kalewa in Myanmar's Sagaing region in 2001. As an on-going project, in December 2012, India and Myanmar had signed an MoU for – construction and upgradation of the Rhi-Tiddim Road project to enhance road connectivity through Mizoram (India) with further development of 80 km road connecting Tiddim in Chin State to Rihkhawdar (Rih) on the India–Myanmar border. India's TATA Motors established a "turbo truck assembly plant" with the assistance of Line of Credit by the Indian Government. In the area of telecommunication, India's telecommunications Consultants India Ltd (TCIL) had carried out an ADSL (Asymmetric Digital Subscriber Line) high-speed data link project connecting 32 cities in Myanmar.
The Kaladan Multi-Modal Transit Transport Project (KMTTP) or the Kaladan Road Project is one of the critical projects undertaken by India in Myanmar. The framework agreement for the project was signed in 2008. India's Ministry of External Affairs (MEA), Myanmar's Ministry of Foreign Affairs are nodal agencies for the implementation of the project. The KMTTP is funded by India, which provides sea-connectivity through eastern Indian seaport of Kolkata with Sittwe seaport in the Rakhine State of Myanmar. The project was scheduled to complete by 2014. Most of the significant portion of the project is complete, however, the MEA has noted that the road between Paletwa (Myanmar) and Zorinpuri (India) is running behind schedule. Considering India's Act East policy in the neighbourhood, the project includes developmental activities of Sittwe port in Rakhine State; further dredging of the Kaladan River along with a road link from Kalewa in Myanmar to Aizawl in Mizoram, and finally improving the Aizawal-Guwahati National Highway in India. During the visit of Myanmar's President to India in February 2020, a renewed commitment for early completion of the project was laid.
| | | |
| --- | --- | --- |
| Strech | Mode | Distance |
| Kolkata to Sittwe Port in Myanmar | Shipping | 539 km |
| Sittwe to Paletwa (River Kaladan) | Inland Water Tranport | 158 km |
| Paletwa to Indo-Myanmar Border (in Myanmar) | Road | 110 km |
| Border to NH. 54 (Lawngtlai) (in India) | Road | 100 km |
Table 1: Transit route envisaged under KMTTP (Source: Ministry of Development of North-East Region, India https://mdoner.gov.in/kaladan-multi-modal-transit-transport-project-inland)
The World Bank has provided financial support to enhance connectivity between India and Myanmar. In 2014, the Government of India, including the State Government of Mizoram, and the World Bank signed a USD 107 million credit agreement for the Mizoram State Roads II – Regional Transport Connectivity Project (RTCP) to improve transport connectivity in the State of Mizoram. The objective of the project is to harness the potential of regional trade with neighbouring countries, i.e. Myanmar and Bangladesh.
Shipping Linkages
Historically, India and Myanmar shared flourishing maritime linkages. The visit of Myanmar President-Thein Sein to India in 2011 had emphasised on the need to set up the ferry services on Kolkata-Yangon and Chennai-Yangon routes. Considering the importance of maritime connectivity, the Shipping Corporation of India Ltd. had launched direct container services connecting major ports in India with Myanmar, since 2014.
Road-Rail-Air Projects: A Tri-Junction of Development
India-Myanmar-Thailand Trilateral Highway (IMTTH)
India-Myanmar-Thailand Trilateral Highway is a significant and under-construction project among three countries which plays a significant role in India's "Look East" policy. The Government of India, Myanmar and Thailand proposed the project for transport connectivity and agreed upon funding the 1,360 km long cross-border highway network, which will link Moreh (India) -Bagan (Myanmar) -Mae Sot (Thailand). India agreed upon to build two vital road sections – Kalewa-Yagyi distancing 120 km, and 69 bridges on the Tamu-Kyigone-Kalewa (TKK) road of this trilateral highway project. The work on both the projects are underway since 2017 and is expected to be completed by 2021. During the ASEAN-India Commemorative Summit 2012, a decision was taken to extend the Trilateral Highway to Lao PDR and Cambodia to enhance integration between ASEAN and India.
Trans-Border Bus Service between India and Myanmar
During his visit to Myanmar in 2012, then-Indian Prime Minister (PM) Manmohan Singh and Myanmar's President Thein Sein committed to launching a trans-border bus service from Imphal (India) to Mandalay (Myanmar). The need for the trans-border bus service was reiterated during the First Meeting of the "India-Myanmar Joint Consultative Commission" on 16 July 2015. The 'Land Border Crossing Agreement' was implemented in August 2018, which allowed bonafide travellers with valid documents to cross the border at two international checkpoints – Moreh-Tamu and Zokhawathar-Rih. The agreement had given hope for sooner commencement of bus services between two countries. During the visit of Myanmar President – U Win Myint to India in February 2020 both countries agreed that the Imphal-Mandalay bus services would begin from 07 April 2020, however, due to the COVID-19 pandemic, the trans-border bus services got delayed.
New Delhi-Hanoi Railway Link (DHRL)
Railways have been an essential transportation mode to enhance the bulk-trans-national movement of goods and services. The preliminary study to establish the railway link was completed in 2006 by the Indian Consulting Engineering company – RITES. The major obstacle in the operation of the project is 238 km of missing links in Myanmar, which requires huge investments. Apart from the construction of missing links, there is a need to upgrade and harmonise the railway tracks in the region. India and Myanmar constituted a Joint Railway Working Group in 2013 to undertake a feasibility study for laying of broad gauge between Moreh and Kalay, as Myanmar has only meter gauge. There are costs of laying new tracks and alternatives are being considered for the proposed Kalay-Tamu railway to be in meter gauge and the transhipment at the border along with customs clearance.
Air Links between the two countries
During the visit of then – Indian PM Manmohan Singh to Myanmar in 2012, both countries signed Air Services Agreement to boost direct air connectivity, along with other agreements to strengthen trade and diplomatic ties. The aim was to promote business interaction, tourism and people-to-people connectivity. India's flag carrier airline-Air India flies Kolkata-Yangon (to-and-fro) twice a week, i.e. Monday and Friday, and during the Buddhist pilgrimage season-it increases its frequency to three flights a week. Since 2014, Air India and Golden Myanmar Airlines have been coordinating weekly flights started on the Delhi-Gaya-Yangon route. With Imphal becoming an International Airport, chartered flight services from Imphal (India) to Mandalay (Myanmar) commenced in November 2019.
"Cost and Benefit" Analysis of India-Myanmar Connectivity Projects
Stéphane Straub (2008) established a positive relationship between infrastructure connectivity and development outcomes in developing countries. Based on the existing literature, Straub found that many studies depict the positive relationship, in the short, medium and long-terms. As India builds on its connectivity diplomacy with Myanmar, it aims to boost trade and investments, infrastructure development, tourism and people-to-people connectivity. The growth in trade would further enhance agriculture and food processing, small scale handicrafts and handlooms industries as well as services sector. Amid the pandemic of COVID-19, India has supplied around 200,000 tablets of Hydroxychloroquine (HCQ), protective gloves, body bags, syringes, defibrillators and other forms of Personal Protective Equipment (PPE) more to Myanmar in May 2020.
At present, India is Myanmar's fifth-largest trading partner, sharing a land border of more than 1,600 km, it is imperative to explore the underlying trade potential both in terms of goods and services. In addition to increasing trade opportunities, the connectivity projects aim to enhance production potential in border areas, which would thereby increase supply-chain efficiency.
There has been a delay in scheduled completion of the IMT highway sections; the construction works still continue. The land acquisition issues, lack of feeder roads & bridges to transport heavy equipment for construction, and frequent disruptions (demands and seeking the attention of Indian government on various issues) by the local communities in Manipur have affected the progress of connectivity projects. The likely spillovers or unintended consequences of these delays would increase the financial costs of the projects.
Security and Social Implications
There are concerns about spatial distribution and maintenance of connectivity projects. For example, the TKK road has eased movement between Tamu and Kalewa in Myanmar's Sagaing region, but beyond that, road conditions from Kalewa to Mandalay are poor.
In addition to the economic benefits, strategic interest also drive India's increasing connectivity desires with the neighbouring country. Bertil Linter (2015) has established the close connection of affairs of India's North-East States with the neighbouring Myanmar, which was also facing the trouble of ethnic insurgent groups. India's interests is underscored by the need to contain the ethnic armed insurgents taking refugee in Myanmar's territory. The increasing drug lords and consequent money laundering in both Myanmar and North-East India disturb the political and economic well-being of the region.
A recent rise in conflicts between the Arakan Army (AA), an ethnic rebel group in Rakhine State and Myanmar Army since the end of 2017 has hampered the progress of India-Myanmar KMTTP connectivity project. The security forces of India and Myanmar carried out 'Operation Sunrise' in South Mizoram along the borders to wipe out the insurgent groups. India has also committed to providing surveillance equipment and non-lethal military support to Burmese troops, like combat gears and troops' uniforms to ensure peace and stability in the region. However, the Myanmar Army, especially since the onset of COVID-19 crises, has attacked the Chin and Rakhine States where the AA is currently located. It is crucial to analyse the risks of political instability for the successful implementation and operation of connectivity projects in both the countries-India and Myanmar.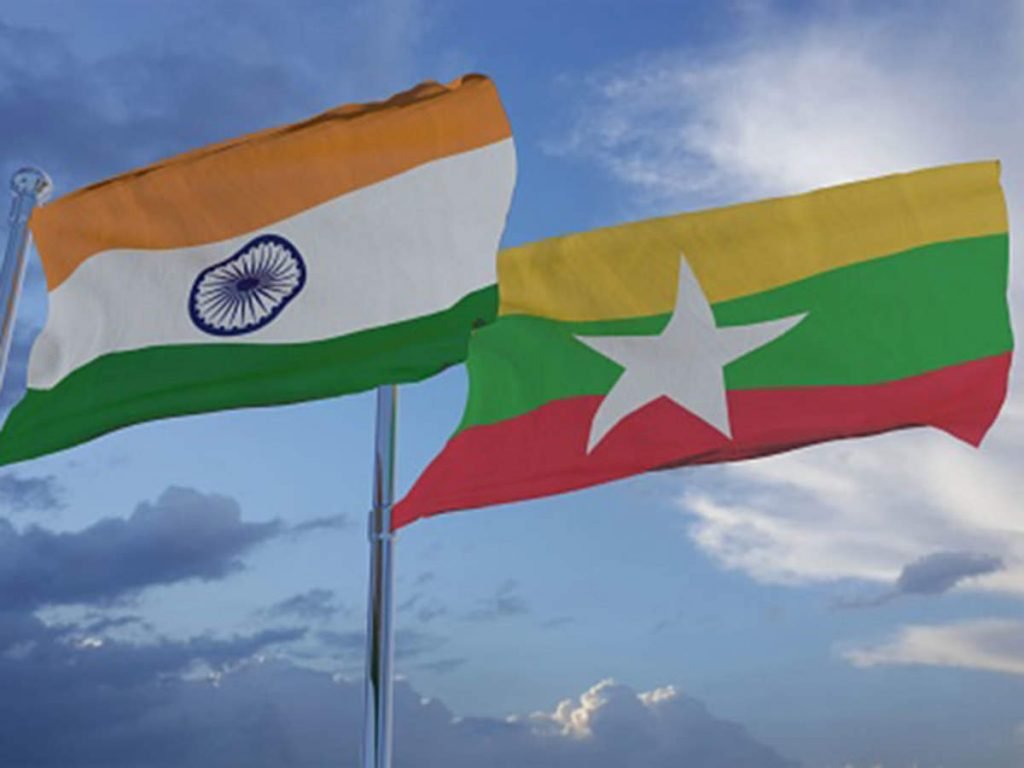 India-Myanmar Connectivity: The Way Forward
The rise of China has raised concerns about its economic and strategic presence in the South-East Region. Since the 1980s, China slowly shifted its political agenda and started creating economic dependency by increasing trade & commerce and building connectivity corridors. Along with the economic expansion, China's strategic interest got exposed as it has been exporting military equipment to Myanmar. India, in the 1990s, moved to establish closer relations with Myanmar to expand India's economic and strategic interests. From increasing trade to exploring new markets in the South-East region, India started connectivity projects with Myanmar.
To reiterate South-East Asian economic and geostrategic relevance, the Indian Prime Minister Narendra Modi, unveiled the 'Act East Policy' in 2014 during the 12th India-ASEAN summit in Natpyitaw, Myanmar. Myanmar is the natural 'landbridge', as mentioned earlier, and therefore acts as a vital link between India and South-East Asia. The completion of the Kaladan Project and IMT highway is crucial for the need for integrated transport planning, harmonisation of infrastructure, rules & procedures and application of ICT in transportation and cross-border management.
Furthermore, the 'connectivity diplomacy' between India and Myanmar aims to reinvigorate the opportunities with ASEAN as well as establish the infrastructure in North-East border areas to ensure growth and development in the region. This connectivity provides opportunities and efforts which are required to eliminate the limitations and bridges the gap. To achieve a strong partnership with Myanmar, India needs to prioritise the deadlines of the scheduled projects for the facilitation of trade and investment, and consequentially boost bilateral relations. Implementation is the key to ensure economic, political and social interactions between India and Myanmar.
References
Bertil Linter. "Great Game East: India, China and the Struggle for Asia's Most Volatile Frontier", 2015, Yale University Press, New Haven & London.
De, Prabir and Ray, Jayanta, "India-Myanmar Connectivity: Current Status and Future Prospects", 04 May 2013, Available from SSRN: http://dx.doi.org/10.2139/ssrn.2260693
Htun, K. W., N. N. Lwin, T. H. Naing and K. Tun, ASEAN-India Connectivity: A Myanmar Perspective' in Kimura, F. and S. Umezaki (eds.), ASEAN-India Connectivity: The Comprehensive Asia Development Plan, Phase II, ERIA Research Project Report 2010-7, 2011, Jakarta: ERIA, pp.151-203.
Huma Siddiqui, "As insurgents target Kaladan Project, India keeps watch on situation along Myanmar Border", Financial Express, 4 April 2019, Available from: https://www.financialexpress.com/defence/as-insurgents-target-kaladan-project-india-keeps-watch-on-situation-along-myanmar-border/1537973/
Huma Siddiqui, "Coronavirus Pandemic: India lends helping hand to it's neighbour Myanmar; send medical supllies", Financial Express, 5 May 2020, Available from: https://www.financialexpress.com/defence/coronavirus-pandemic-india-lends-helping-hand-to-its-neighbour-myanmar-send-medical-supplies/1948830/
India. "Joint Statement by India and Myanmar on the State visit of Prime Minister of India to Myanmar", Ministry of External Affairs–Government of India, 28 May 2012, Available from: https://www.mea.gov.in/bilateral-documents.htm?dtl/19893/Joint+Statement+by+India+and+Myanmar+on+the+State+visit+of+Prime+Minister+of+India+to+Myanmar
India. "India-Myanmar Relations", Ministry of External Affairs–Government of India, July 2012, Available from: https://mea.gov.in/Portal/ForeignRelation/myanmar-july-2012.pdf
India. "Joint Statement by India and Myanmar on First Meeting of the India-Myanmar Joint Consultative Commission", Ministry of External Affairs–Government of India, 16 July 2015, Available from: https://www.mea.gov.in/bilateral-documents.htm?dtl/25485/joint+statement+by+india+and+myanmar+on+first+meeting+of+the+indiamyanmar+joint+consultative+commission
India. Question no. 1127 Status of Trilateral Highway Project, Parliament Q&A, Ministry of External Affairs, Government of India, 20 December 2018, Available from: https://www.mea.gov.in/rajya-sabha.htm?dtl/30799/QUESTION+NO1127+STATUS+OF+TRILATERAL+HIGHWAY+PROJECT
India. "Joint Statement by India and Myanmar during the State Visit of the President of Myanmar to India", Ministry of External Affairs–Government of India, 27 February 2020, Available from: https://mea.gov.in/bilateral-documents.htm?dtl/32435/IndiaMyanmar+Joint+Statement+during+the+State+Visit+of+the+President+of+Myanmar+to+India+February+2629+2020
Khriezo Yhome, "The Burma Roads: India's Search for Connectivity through Myanmar", Asian Survey, 55(6), December 2015, Available from: https://www.researchgate.net/publication/296700449_The_Burma_Roads_India's_Search_for_Connectivity_through_Myanmar
Nava Thakuria, "Still under Construction", The Statesman, 13 May 2018, Available from: https://www.thestatesman.com/supplements/north/still-under-construction-1502635461.html
Nisha Taneja, Tin Htoo Naing, Sanjana Joshi, Thiyam Bharat Singh, Samridhi Bimal, Sakshi Garg, Riya Roy, Manali Sharma. "India's Act East Policy: Facilitating India-Myanmar Border Trade", ICRIER, July 2019
Rajiv Bhatia. "India-Myanmar Relations: Changing Contours" Routledge, 2016
Straub, Stéphane, "Infrastructure and Growth in Developing Countries: Recent Advances and Research Challenges", World Bank Policy Research Working Paper 4460. Washington, DC, 2008, Available from: http://documents.worldbank.org/curated/en/349701468138569134/pdf/wps4460.pdf
V.S. Seshadri, "Transforming Connectivity Corridors between India and Myanmar into Development Corridors", Research and Information System for Developing Countries, 2014, New Delhi, and ISBM: 81-7122-104-1
The views and opinions expressed in this article are those of the author and do not necessarily reflect the views of The Kootneeti Team