India's relations with Myanmar's Military Junta and Chinese influence
Coup'de tat of Myanmar by its military was the beginning of civil unrest in the country, where the military treaded over the human rights of the general populace. India expressed deep concerns over the situation and over the fall of Aung San Suu Kyi's National League for Democratic Party (NLD). India since then has been walking a tightrope of diplomacy as it tries to stay neutral on the matter. But what exactly can be said or stated as a neutral ground?
India has been cautious in its diplomatic relationship since the coup, condemning the violence but not reaffirming the legitimacy of the 2020 election results. India is attempting to achieve its goals in Myanmar by going beyond the basic quantitative and qualitative aspects of multilateralism. Its approach of India to the situation in Myanmar must be viewed through the lens of competition with China.
In December 2021, then-Foreign Secretary Harsh V. Shringla paid a visit to Burma. Though he mentioned the Association of Southeast Asian Nations (ASEAN) five-point consensus on Myanmar and the need for the country to return to democracy, his main concern was ensuring that India's physical connectivity projects continued uninterrupted, as well as discussing the rise in insurgency on the Indian side of the border following the coup.(1)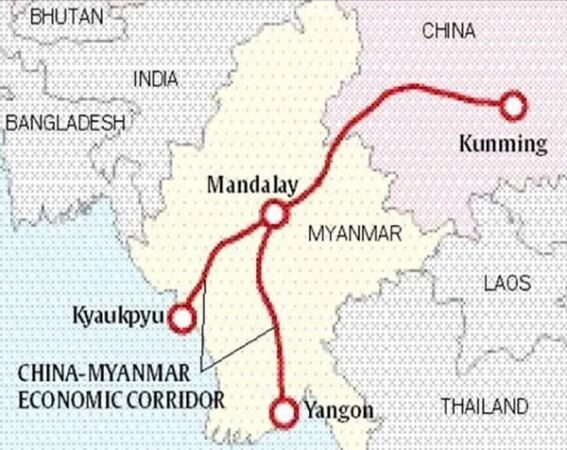 CMEC
The CMEC a BRI initiative is a 1,700-kilometer inverted Y-shaped corridor with strategic infrastructure projects such as roads, railways, and ports that will connect Kunming, China's Yunnan Province's capital, to Mandalay and then to Yangon and Kyaukphyu in Rakhine State.
Myanmar and China signed an agreement in September 2018 to establish the CMEC, and on January 18, 2020, then-State Counsellor Aung San Suu Kyi and President Xi Jinping oversaw the signing of 33 project agreements during Xi's two-day visit to Myanmar. Memorandums on the Kyaukphyu Special Economic Zone and Deep-Sea Port, the Muse-Mandalay Railway, the Muse-Mandalay Expressway, and the Kyaukphyu-Naypyidaw Highway were among those included.(2)
China has stated that it will support the Myanmar regime no matter what happens, indicating Beijing's desire to deepen exchanges and cooperation with Naypyitaw, which is a source of concern for India.
Following the coup, development on the China-Myanmar Economic Corridor (CMEC), accelerated. The CMEC initiative's working committees for critical development projects have been reorganised. China has offered further assistance for Myanmar's future growth and has authorised Myanmar to open an additional consulate in Chongqing. Beijing is providing Myanmar with an RMB 650 million (US$ 95 million) grant as well as funding for a new LNG plant.
Relations and Junta
Myanmar, a bridge between South Asia and Southeast Asia, has loomed large on India's diplomatic horizon, and its significance is all too clear. Both countries share a 1,600-kilometer (994-mile) land border as well as a maritime border in the Bay of Bengal. Myanmar is also important for Indian national security. The two countries have agreed to share real-time intelligence in order to combat Indian insurgents operating along the border.
Furthermore, New Delhi has economic interests in maintaining friendly relations with Myanmar's military because the country has natural resources such as natural gas, petroleum, and rare earth metals that are useful to India's high-tech industry.(3)
India's hands are tied as it invested heavily to counter China's growing influence in the region and India's investments in Myanmar are untenable under the current circumstances both morally and politically. According to public documents, the state-owned Indian Oil and Natural Gas Company (ONGC) had invested $722 million in four joint ventures with the state-owned Myanmar Oil and Gas Enterprise (MOGE) as of 2019. Since the coup, Myanmar's military has had complete control of MOGE and the valuable oil and gas business in the country. India in this conundrum is trying to avoid which happened with Afghanistan.(4)
India and Myanmar are planning a number of connection projects that will either cross through or near to Chin. These initiatives will not only construct new connection lines, but will also enhance current infrastructure. Once completed, the initiatives will aid in the creation of jobs and the development of this region, which has been plagued by the effects of a long-running insurgency. Given the difficulties in transportation and the absence of other appropriate infrastructure, such as reliable power supply, there is minimal influx of investment in China.
The Kaladan Multimodal Transit Transport Project (KMTTP) and the trilateral highway are two of the most important projects for Chin state. The KMTTP includes a 158-kilometer waterway segment on the Kaladan River from Sittwe Port to Paletwa in Myanmar, as well as a 109-kilometer road segment from Paletwa to Zorinpui in Mizoram on the India-Myanmar border. The India-Myanmar-Thailand (IMT) Trilateral Highway is an East-West route that will connect India's northeast with Myanmar and Thailand, with the possibility of further extension to Cambodia, Laos, and Vietnam. Both of these projects have been pushed back.(5)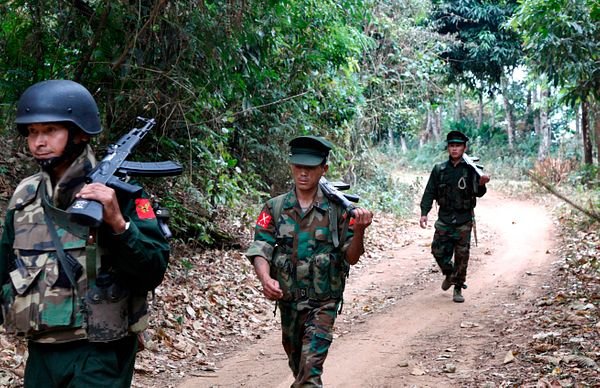 Insurgent Groups
The Burmese coup has reignited collaboration between Indian and Myanmarese militant organisations operating along the border. The Indian organisations require safe havens, while the Myanmar groups require funding. Many of the latter have a lengthy history of training, accommodating, and selling guns to militants in India. The Burmese coup has reignited collaboration between Indian and Myanmarese militant organisations operating along the border. The Indian organisations require safe havens, while the Myanmar groups require funding. Many of the latter have a lengthy history of training, accommodating, and selling guns to militants in India which are engaged in proxy war on behalf of China. Another Manipur-based group, the People's Liberation Army (PLA), is suspected of collaborating with Myanmar's military junta.(6)
Refugees
Many refugees in exile in India have attempted to maintain efforts to raise awareness of human rights violations and to persuade the Indian government to take a stronger stance against the Myanmar government. Over 20,000 Chin refugees have already crossed into the border districts of Mizoram, a state in north-eastern India. They are housed in refugee camps located throughout the state's southern districts along the Myanmar border.(7)
Way Forward
India and Myanmar share a 1,700-kilometer border, and developments in Myanmar have direct ramifications for India's border districts; thus, stability in Burma is critical for the northeast. India understands the importance of connection with and via Myanmar. Similarly, restoring stability and prosperity to the northeast is vital for India to advance its eastward connection objectives. It is also critical for Myanmar to improve its connectivity. As a democratic nation and near neighbour, India should work with not only the military administration but also other parties such as the government-in-exile to ensure the security and progress of its connectivity initiatives. India must take a more active role in promoting the five-point ASEAN consensus, which the junta has failed to execute.
Citations
Basu, Nayanima. "India Plans 'Twin-Track' Approach to Engage with Myanmar Junta as China Makes Inroads." ThePrint, January 6, 2022. https://theprint.in/diplomacy/india-plans-twin-track-approach-to-engage-with-myanmar-junta-as-china-makes-inroads/796249/.
What's Behind the China-Myanmar Economic Corridor 'Plus' Initiative? – The Diplomat. "What's Behind the China-Myanmar Economic Corridor 'Plus' Initiative?," August 10, 2022. https://thediplomat.com/2022/08/whats-behind-the-china-myanmar-economic-corridor-plus-initiative/.
Quartz. "Are India's Oil Investments in Myanmar an Act of Support to Its Military?," March 23, 2022. https://qz.com/india/2144291/is-india-supporting-myanmar-military-through-oil-investments.
Nikkei Asia. "Insurgents from India Add Fuel to Fire in Myanmar's Restive North," n.d. https://asia.nikkei.com/Spotlight/Myanmar-Crisis/Insurgents-from-India-add-fuel-to-fire-in-Myanmar-s-restive-north.
dw.com. "What Is India's Relationship to Myanmar's Military Junta? – DW – 08/02/2022," n.d. https://www.dw.com/en/india-walks-diplomatic-tightrope-on-myanmars-military-junta/a-62685316.
The views and opinions expressed in this article are those of the author and do not necessarily reflect the views of The Kootneeti Team