Strengthening ties between India and Uganda: A step in the Right Direction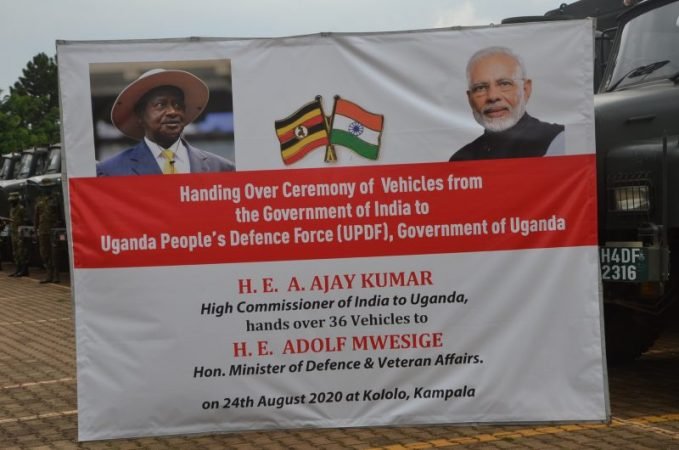 India Uganda relations, especially after the Covid-19 Pandemic have been reclaimed when on 26th of August, the Defence Ministry of India released a statement saying that around 36 vehicles, including 10 troop carriers were gifted to the Uganda People's defence force ( UPDF). The vehicles, which consisted of 2 Ambulances, 10 Buses, 14 motorcycles and the 10 troop carriers, were received by the Ugandan Defence Minister Adolf Mwesige from the Indian High Commissioner to Uganda Ajay Kumar. The announcements came as a result of the promises made by the Prime Minister of India on his visit to Uganda in 2018. This is seen as a huge achievement in the mutual cooperation and generosity between the two countries.
India-Uganda Relations
Uganda is an east-central landlocked country in Africa. It is a country with huge potential for growth and development of human capital. Narendra Modi was the first Indian Prime Minister to visit the country of Uganda in 2018, where he committed his cooperation in various arenas mutual interest ranging from Education, infrastructure, science, space and defence. India has been one of the most ardent helpers to the country during the Covid-19 Pandemic by providing it with health assistance. The defence has been the highlight of the bilateral relationship between the two countries. Ugandan military forces have received training by the Indian Army and various defence collaborations have been undertaken. The Indian Military Association, headquartered in Kimaka, have actively been involved in setting up various defence bases across the Republic of Uganda. Along with this, in 2019, eleven containers containing 57 different medicines were also given by India to the African nation. These medicines for a variety of ailments were worth USD 1.4 million and were distributed by the National Medical Stores to the network of Government-run hospitals across Uganda.
Why does it matter to India
India has always been committed to serving the African countries which need its assistance in infrastructure building and other economic growth activities. Most African countries have a huge trade volume that happens with India, which have increased from 980 million dollars to 67 billion dollars in a span of fewer than 20 years. With Mahatma Gandhi quoting that "India will never forget the role of Africa in its own freedom struggle", the Indo-African relationship has taken a huge leap since then with much more engagement and strong bilateral ties today. Africa is a country with enormous potential for prospering as a successful continent and with a talented pool of Human Resources. India has always been keen on improving its assistance in every possible way to make the most out of its partnership with the sub-African countries. Various exchange programmes, educational opportunities and infrastructure projects have been initiated by the Indian side in Africa to bring it at par with the global growth trajectory. Strategically as well, Africa is a crucial partner for India since China has also been eyeing on exploiting African resources for its own benefit and fulfilling its agenda of global dominance. Solely for economic reasons, Africa plays an important role in strengthening economic ties which can give a greater edge for India over other countries, especially China. Apart from Uganda, India has been an active trade and defence partner to other African countries including Nigeria, Kenya, Senegal and South Africa. India today is considered one of the most friendly nations in the world among the African countries, who have been immensely grateful towards India's contributions in their countries.
The views and opinions expressed in this article are those of the author and do not necessarily reflect the views of The Kootneeti Team