India-Argentina Relations: A Partnership For The Future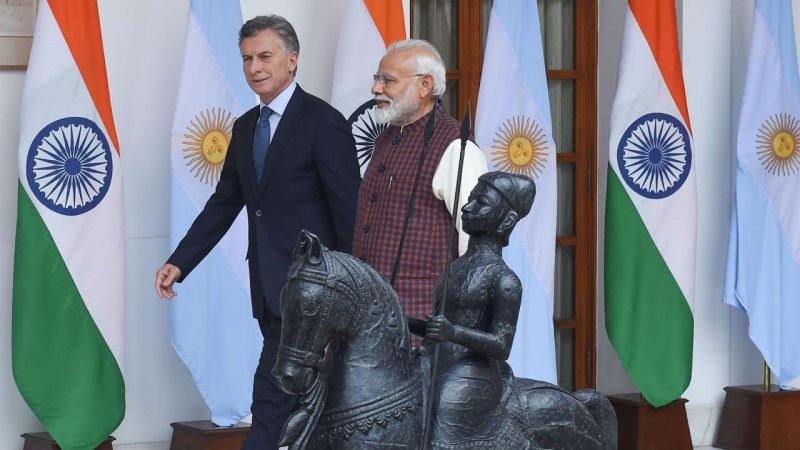 July 9, 2020, marks the 204th anniversary of Argentina's declaration of independence. The Argentine independence movement began in 1806 when British attacks on Buenos Aires were repelled by local militia with little help from Spain. On July 9, 1816, they declared the country independent under the name of the United Provinces of the Río de la Plata.
India and Argentina are not historically, culturally and linguistically connected but when we trace back India's relation with Argentina it comes out to be very old. It started when Rabindranath Tagore visited Argentina in 1924. During pre-independence India, World War II brought serious food shortages to India, with the prospect of a deadly famine looming in 1946. Argentina responding to an Indian appeal, played a critical role in exporting corn and wheat during this challenging period. In early 20th century, first Indians to arrive in Argentina were Sikhs from the Indian state of Punjab who came to Argentina to work on a British-built railroad. Argentina seemed the most promising of South American nations, and so they stayed, eventually concentrating in the north, which reminded them of the scrappy mountains and plains of Punjab.
Last year, India and Argentina celebrated 70 years of bilateral relations. Both countries relations are an example of a strong tie in political, economic, agriculture, scientific, nuclear energy and technological cooperation including Antarctic research and cultural cooperation.
According to Daniel Chuburu, ambassador of Argentina to India said "India is a very important partner for us. Both food and energy security, people to people as well as tourism are important for further deepening the relationship. As far as food security is concerned, we are keen on establishing a relationship with India."
Political Relations
Political relations between India and Argentina started with Trade Commission in Buenos Aires in 1943 which was later converted into one of the first Embassies in South America in 1949. Ties with Argentina energised when by President Cristina Fernandez's visit to India in 2009, the first in 15 years. Recently, India-Argentina relations were elevated to the level of Strategic Partnership during the State Visit to India of President of Argentina in February 2019. Multi-faceted relations between the two countries have strengthened over the years and encompass political, economic, cultural and scientific & technological cooperation.
Economic Ties
India- Argentina have a strong bilateral trade relationship. The two countries at present are at around US$3 billion with increasing potential for further growth. In August 2012, a unique Regional Action Plan was started to promote India ́s commercial and economic interests in Argentina.
India exchanges information regularly with Argentina on commerce, trade and technological cooperation. India exports to Argentina were valued at USD 563 million, while Argentina's exports to India were valued at USD 1.96 billion during 2018-19.
Major items of India's exports to Argentina include two-wheelers, iron and steel, agrochemicals, manmade yarn-fabrics-made-ups, organic chemicals, bulk drugs and drug intermediates and motor vehicles. Major items of India's imports from Argentina include vegetable oils (soya bean and sunflower), finished leather, cereals, residual chemicals and allied products and pulses.
Science and Education
India-Argentina have always been a prominent partner in scientific cooperation. Both the countries signed a nuclear agreement where Argentina is offering to set up small nuclear plants in India, which is trying to increase the share of nuclear power in its energy mix.
In January 2007, ISRO launched Pehuensat-1, an Argentine nano-satellite onboard PSLV. India and Argentina are both members of the Antarctic Treaty. India also provides five 25 ITEC scholarships to Argentine candidates annually. Argentine diplomats have attended the courses at the Foreign Service Training Institute of India. The University of Buenos Aires conducts postgraduate courses in Ayurveda in collaboration with the Gujarat Ayurveda University. The Jawaharlal Nehru University signed an MoU for cooperation with the San Luis University of Argentina.
Cooperation
India and Argentina have always supported each other on major international issues. Argentina supported India ́s candidature to various UN and multilateral bodies and India supported Argentina on, the sovereignty issue of Malvinas Islands and on the issue of sovereign debt servicing and holdout creditors. India and Argentina reaffirmed their commitment to globalisation and reformed multilateralism. Both the countries agreed to work together for reforms in World Trade Organisation (WTO) and comprehensive reform of the UN Security Council.
India-Argentina's strong cooperation in maintaining strong strategic and bilateral relations have now identified more areas for strengthening relations in future.
The views and opinions expressed in this article are those of the author and do not necessarily reflect the views of The Kootneeti Team