Trouble in the Indian Ocean: Chinese Naval Base at Gwadar?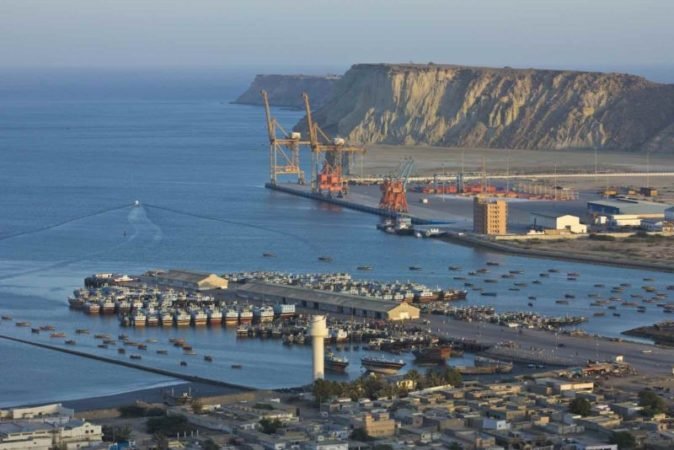 Follow @thekootneeti
Islamabad and Beijing are strengthening their 65 years old Relations. This secretly building of a compound by China near Gwadar Port in Balochistan province of Pakistan which will be used for a naval base in future seems to be one more addition to the Islamabad-Beijing's long term alliance.
In the latest satellite image which is circulating all over the internet coming from Gwadar Port which shows The high-security compound has been identified as being used by the China Communications Construction Company (CCCC Ltd). This is a majority state-owned company that is heavily involved in many Chinese civil engineering projects. While some degree of security is normal in the region, the level of security seen here is extensive. It has anti-vehicle berms, security fences and a high wall. Sentry posts and elevated guard towers cover the perimeter between the fence and the inner wall. This suggests armed guards with rifles." According to Forbes.
After the attack on Chinese consulate in Karachi on November 23, 2018, and then attack on a five-star Hotel in Gwadar in May 2019, where Chinese investors were on target. Both the attacks were carried out by Baloch Liberation Army.
Gwadar Port
Gwadar Port is the deepest seaport of the world situated on the Arabian Sea at Gwadar in Balochistan which is the largest province of Pakistan. Both Islamabad and Beijing sees it as a major game-changer. Islamabad sees it as a playing huge role in its uplifting its economy and showing India that it has the support of emerging superpower China. Beijing sees it as a one step closer to becoming a world power and making a hold in the Indian Ocean.
The port plays a prominent role in the China–Pakistan Economic Corridor (CPEC) plan and is considered to be a link between the Belt and Road Initiative and the Maritime Silk Road projects.
China Pakistan Relations
Tracing back the relationship of the two countries have always shown strong alliance ever since. The closeness of the relationship between the two countries can be seen from major bilateral interactions over the years. For instance, in the Indo-Pakistani wars of 1965 and 1971, China took the side of Pakistan against India.
Back in May 2013 new beginning of relations started by the visit of Chinese Premier Li Keqiang to Pakistan. When he suggested the proposal of China Pakistan Economic Corridor (CPEC) which is of $46 billion projects connecting China's Xinjiang to Pakistan's Gwadar Port of Balochistan, that helps China to facilitate import-export easily. This project is a link to President Xi Jinping's One Belt, One Road Policy, establishing economic projects across the world. Which marks the increasing role of the Chinese Navy in the Indian Ocean Region.
India's Stand
New Delhi sees it as a threat to national security. The main objection to the China Pakistan Economic Corridor has been that it runs through Gilgit-Baltistan, a part of Jammu and Kashmir, that is under Pakistani occupation. India has always communicated its protest. In 2019 During the G-20 summit at Hangzhou in September Prime Minister Narendra Modi had expressed India's concerns over the CPEC to President Xi Jinping holding that the two countries needed to be sensitive to each other's strategic interests he said.
Violation of Human Rights
The Islamabad and China deal is a violation of Human Rights. Killings of Baloch people who are against the government of Pakistan. More than 600 girls and women of Pakistan were sold as brides to Chinese men over a period of nearly two years, according to investigations by authorities in the South Asian nation of 200 million people.
Officials with knowledge of the investigations say this is because of pressure from government officials fearful of hurting Pakistan's lucrative ties to Beijing.
It seems the geographical theory of The String of Pearls on potential Chinese intentions in the Indian Ocean region is coming true.
Follow @thekootneeti
The views and opinions expressed in this article are those of the author and do not necessarily reflect the views of The Kootneeti Team