Evacuations and role of Indian diplomacy in the times of COVID-19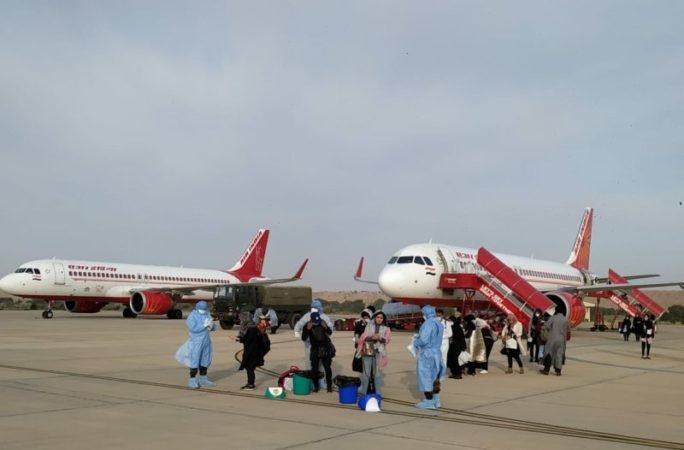 Indian diplomats have played an important role in the evacuation of Indian nationals, risking their own life. Till now, it's good news, no Indian diplomat has been infected with this deadly disease. And along with the diplomats, the job of pilots, crew members and other important people who played an important role in the evacuation, is quite recommendable. India has a unique history of performing such evacuations at the time of distress.
Here, writing this piece, I remember the words of former External Affairs Minister (EAM) of India, Late Sushma Swaraj who was popular for her quick response and always ready to help behaviour. She used social media as a tool to connect various people, who somehow got stuck in other countries. Once she said, "Even if you are stuck on the Mars, Indian Embassy there will help you". Her legacy has been correctly taken further by present EAM, Dr S Jaishankar.
The COVID-19 pandemic has turned every government of the world to test. Various agencies are working day and night to normalise the situation. The death toll has reached over 18,605 as of now (24 March). These digits keep on increasing so there are various challenges that are occurring with every passage of clock.
Ministry of External Affairs (MEA), spokesperson Raveesh Kumar, in a press brief said, "Indian missions across the world, and wherever you have the pandemic widespread, we are working under tremendous local challenges because the ecosystem is not under your control. You have restrictions in terms of the medical facilities."
Further, he added, "People right in the front they are trying best to be able to help, in terms of providing accommodation, in terms of arranging food in the lockdown situation. So there are challenges. Mission officials who are right at the forefront, they are operating under complex environment, they have to follow local advisories"
In its first medical evacuation, Air India flew two flights to Wuhan in Hubei province of China, to evacuate the 637 Indians and seven Maldivians stranded there, on January 31 and February 1. All were quarantined in a separate facility in New Delhi.
Air India has always been standing in the tough times and has brought Indians back from war-torn Kuwait, Iraq and Jordan, so operating evacuation flights is not new for the national carrier. But the Wuhan operation was different. This operation was in the epicentre of virus breakdown, which took hundreds of lives till that time.
Later on, one more separate Indian Air Force (IAF) evacuation mission retrieved 112 people, including 76 Indian citizens, from Hubei province and other parts. The Indian mission also included citizens of Myanmar, Bangladesh, Maldives, China, USA, Madagascar and South Africa. This mission carried 15,000 Kg of medical assistance from India to China, comprising masks, gloves and other medical equipment as China is facing a huge shortage of these materials.
Another notable Indian evacuation was to take back 119 Indian citizens and other 5 nationals from Sri Lanka, Nepal, South Africa and Peru. The Indian government sent a chartered flight to retrieve all 124 passengers from the Diamond Princess Cruise Ship, which was kept in the waters off the Japanese port of Yokohama for several days as Japan refused to provide them assistance on its land.
Prime Minister Narendra Modi, came with a proposal to invite South Asian Association for Regional Cooperation (SAARC) leadership for making a plan to combat with this pandemic. As this is not restricted to any individual country. It has spread in all the SAARC member nations. This sudden proposal came as a surprise to many as the Indian government made a distance from SAARC from many years. One the reason being, SAARC's failure in tackling the threat of terrorism.
India also pledged a contribution of $10 million towards a 'SAARC Covid-19 Emergency Fund' proposed by Prime Minister Narendra Modi during the video conference with other members of the regional grouping – Pakistan, Afghanistan, Bhutan, the Maldives, Nepal, Bangladesh and Sri Lanka.
"I propose we create a COVID-19 Emergency Fund. This could be based on voluntary contributions from all of us. India can start with an initial offer of 10 million US dollars for this fund," Modi said at the conference. "Any of us can use the fund to meet the cost of immediate actions. Our foreign secretaries, through our embassies, can coordinate quickly to finalise the concept of this fund and its operations," he added. Later on Bhutan's Prime Minister Dr Lotay Tshering also proposed $10 million to this fund.
As China part of evacuation was over, another part of the Indian evacuation effort started, the situation of Iran was getting worst day by day. For Indians in Iran, the Indian Air Force send a C-17 Globemaster. The C-17 flew to Tehran to retrieve Indian students and other citizens who had been unable to leave Iran.
The latest evacuation was done from Italy, which has the maximum death numbers, even more than China. An Air India special flight carrying 263 Indians evacuated from the coronavirus-hit Italy capital city of Rome, landed at the Delhi airport on 22 March morning. Later on Indian government on Thursday announced no international flights would be allowed to land in India from March 22 onward for a period of one week.
The war is now at the home. Death numbers have reached to 10 with total confirmed cases over 500 till now (24 March). Earlier Janta Curfew has been practised all over the country on the call of Prime Minister and now India is in full lockdown from 24 Midnight. It's a hard time of turbulence and instability. People have to understand their duty. Any type of carelessness would cost very heavy.
The views and opinions expressed in this article are those of the author and do not necessarily reflect the views of The Kootneeti Team