Qaboos bin Said al Said: An Indian ally in the Arabian Peninsula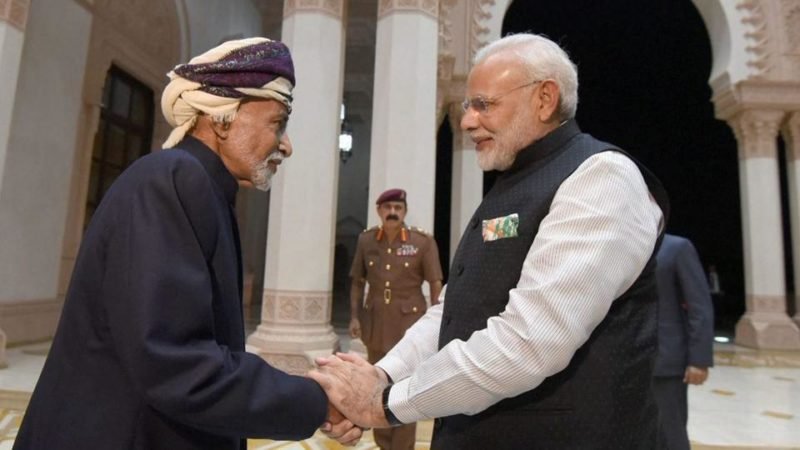 The Gulf State of Oman witnessed a shock with the demise of the Sultan of Oman, Qaboos bin Said al Said who is regarding as the creator of modern Oman. He focused widely on improving the national and diplomatic issues and giving Oman its own identity. After the coup which overthrew his father from the throne, covertly backed by the British, the late Sultan decided to change the outlook of his country by making it progressive and developing by using the country's rich oil resources towards the path of modernization. He came to power in 1970 and within the first decade of coming to the throne, Oman under Qaboos transformed from an isolated and poverty-stricken country to a prosperous and a flourishing economy that it is today.
Sultan Qaboos was a charismatic leader who worked to fulfil the aspirations of his people. He was a visionary and a peacemaker who developed the future of Oman in the fields of art and culture, education, international politics and initiated major social reforms to reshape his country.
Sultan Qaboos's death is a loss for the Arabian Peninsula, now deprived of a wise and benevolent leader who made strategic decisions to maintain peace in the berserk region.
Oman's foreign policy is framed around the principle of 'friend of all enemy of none' turning away from the old Middle East adage that 'the enemy of my enemy is my friend'. The country under the late Sultan adopted a pragmatic, independent and modernising approach towards their foreign policy. Its geographical position has now allowed Muscat to expand itself in the South Asia region aiming to boost Vision 2020 for itself.
Oman has now positioned itself in such a way that it now holds a solid foundation with an emerging economy like India and the relations between the two can be traced back to centuries.
India and Oman hold strong and close relations with each other. Historically, both have been maritime partners, strengthening their trade and economic relations and gradually bonding their cultural ties over time. The British linked both these countries together and India was one of the few countries with whom Oman held close relations under Said bin Taimur rule, the deceased Sultan Qaboos's father. As a student, Sultan Qaboos was taught by Shankar Dayal Sharma, The Former President of India, who also visited Oman in his capacity. His father is an alumnus of Ajmer's Mayo College and his grandfather once ruled Oman from India. The Omani Royal family have a special connect with India which is clearly reflected in their relations with the country.
Sultan Qaboos's deft diplomacy gave depth to the strategic Indo-Omani partnership. Without assuming a high-power role, Sultan Qaboos acted with a diligence which India considered a stabilizing factor.  During the 1971 Bangladesh crisis, Oman was the only Arab and Muslim country that did not completely side with Pakistan. They held neutrality and maintained their policy of abstaining on issues related to Kashmir on international forums. Sultan Qaboos had a vision of what Oman could do in bilateral ties with India. He was also very supportive of India's permanent seat in the United Nations Security Council.
In the past decade or so, with India's Act West Policy, many milestones have been achieved between India and Oman. Cooperation between the two includes the issues of food security, fertilizers, tourism, infrastructure, skill development and innovation which led to an increase in the bilateral trade. During 2018-19, bilateral trade was US$ 5 billion.
The two countries have been extensively working in the field of defence and military. In 2005, Oman became the first country in the Gulf Cooperation Council to institute a robust defence and security cooperation mechanism with India which was renewed in 2016. Oman and India have been conducting joint military exercises to foster defence cooperation.
The defence exchanges are annually revised by the Joint Military Cooperation Committee. Oman is India's oldest defence partner in West Asia and a reliable ally who supports Indian Navy's anti-piracy campaigns. Defence cooperation is a key-facet in the bilateral cooperation between India and Oman and in 2018, four agreements were signed on defence cooperation, marine crime prevention, maritime issues and flight safety information. Oman has also given berthing rights to Indian Navy to access the Duqm Port which is extremely crucial for India to enhance its naval activities in the Indian Ocean. This access is also seen as a challenge to China's growing footprints in the region.
The two countries have also been trying to find new ventures for joint production of defence equipment under 'Make in India.'
India plays an important role as an external stakeholder in the region and requires Oman's support to counter the growth of Beijing in the region. A strong presence is required not only to lookout at China but to also get access to West Asia and Africa.
There is also a deep connection between the Indian diaspora and the Omanis. The Indian community have contributed significantly to the development and growth in the sectors of economy, service and healthcare and are considered of high stature. Sultan Qaboos was a liberal who was sympathetic towards Indian sentiments and personally took care of several Hindu temples.

The recent visit of Foreign Minister of India S. Jaishankar to Oman led to an agreement being signed to stimulate growth in maritime navigation and Oman views India through the prism to ensure energy security which is extremely crucial for both countries. This unique agreement is first with any country on maritime cooperation. Oman is poorest in GCC in production but played a crucial role to facilitate India's growing energy demands. South Asia Gas Enterprise (SAGE) is a gas-pipeline initiative is taken by Oman and India which will connect the Gas-Rich Gulf & Middle East regions to India.
Oman is a stepping foot for India into the Arabian Peninsula. It has always played a softer role in issues concerning India and having a strong connection with the country due to traditional ties which binds both countries together. Death of Sultan Qaboos could lead to a shift in India-Oman relations with India's growing closeness with Saudi Arabia and the United Arab Emirates and the old ally of India have sensed that India may have taken Oman for granted as an enduring ally. India needs to give the due respect which Oman deserves and the recent visit of S. Jaishankar is a step in the right direction. There is still a scope of betterment between India and Oman which prevails and India will have to actively look forward to the legacy of the policies carried by the successor of Sultan Qaboos, Haitham bin Tariq Al Said who is said to continue the policies of the late Sultan.
"While other Gulf Arabs prefer to get on a camel and go west into the Arab desert, Omanis prefer to be on a boat and drift towards India," Sultan Qaboos had once observed. India should now look at challenges which may prevail under the new Sultan to ensure strong relations between the two countries which are tied together since millennia.
The Reformer to the throne, Sultan Qaboos bin said Al Said was an architect of the 'New Oman' who had a very personal inclination towards Indo-Omani relations. His death truly marks an end of an era.
The views and opinions expressed in this article are those of the author and do not necessarily reflect the views of The Kootneeti Team