Reimagining India-Brazil Bilateral Relations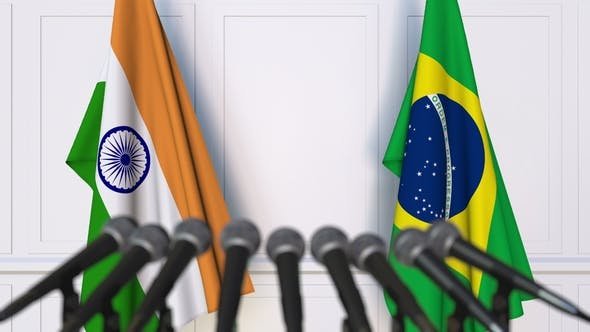 On 13-14 November 2019 Brazil is set to host the 11th Summit of the BRICS[1] (Brazil, Russia, India, China, and South Africa). This will be the third time that Brazil will be hosting the BRICS Summit, the most by any member country till now. BRICS is important as a multilateral organization. But it also has significance for India-Brazil relations.
The engagements between India and Brazil present certain interesting characteristics. Evolution of India's foreign policy in the past few years to protect and forward own interests could be considered from two points of view: promoting multilateralism and strategic cooperation. While India has been building upon bilateral relations to expand those at the multilateral level, India-Brazil relations offer a different perspective.
India's relations with Brazil as also with Latin America could be still defined as relations with potential. Despite India's association with the region, it is important to restructure the ties in concurrence with the emerging global scenario. In the changing global order, India's stand has been to establish a multipolar order where interests of all the stakeholders are protected and competition between countries need not escalate to conflicts and tensions.
Three factors would be important in taking forward India-Brazil ties. Those factors are – strengthening bilateral ties on the basis of multilateral engagements, rethinking on India's approach to the Latin American Countries and focusing more on strategic cooperation.
Multilateral engagements as a basis to strengthen bilateral ties
India and Brazil have been interacting regularly on a number of international and multilateral forums. It implies both the countries have common views as regards to the world order along with protecting individual interests. BRICS, G-20, IBSA (India, Brazil, South Africa), BASIC countries (Brazil, South Africa, India, China) and G-4 (Brazil, Germany, India, Japan) are some of the multilateral forums through which India and Brazil interact. All these organizations have been formed for cooperation in different sectors such as economy, environment, climate change, technology and reform of the United Nations Security Council (UNSC). The purpose of G-4 is to support the bid of each member for a permanent seat in the UNSC.
BRICS, along with G-20, has been an important platform for India-Brazil relations. India and Brazil have been conducting a series of bilateral meetings on the sidelines of these multilateral summits. Multilateral engagements have been a common factor for both countries. During the recent G-20 Summit held at Osaka, Japan, there was even an informal summit of the leaders of BRICS countries that are members of the G-20. Similarly, in October 2016 India hosted a joint summit of BRICS and BIMSTEC (Bay of Bengal Initiative for Multi-Sectoral Economic and Technical Cooperation).
Some of the recent interactions between India and Brazil include Prime Minister Narendra Modi's visit to Brazil in 2014[2] (for BRICS Summit), meeting between Prime Minister Modi and Brazil's President Dilma Rousseff in 2015[3] on the sidelines of UN General Assembly, Brazil's President Michel Temer's visit to India in 2016[4] for BRICS-BIMSTEC Summit and the bilateral meeting between Modi and Temer in 2017[5] on the sidelines of the ninth BRICS Summit.
While India and Brazil are both making progress at the multilateral level, their bilateral relations have a lot of potentials that is yet to be explored. Both India and Brazil are among the top 10 economies[6] in the world today. India is currently the sixth-largest economy in the world and is expected to be the fifth largest by 2020. On the other hand, Brazil is the ninth-largest economy in the world. Limited visits by Heads of State and Heads of Government from both sides is one of the reasons of limited interaction between India and Brazil at the bilateral level. Both countries need to push for more engagements exclusively between India and Brazil. Increased bilateral engagements would provide an opportunity to both the countries to explore more avenues for cooperation which would further lay the foundation for closer relations.
Rethinking India's approach to Latin American Countries
Latin America remains an economically and strategically important region for India. But it also remains a region that is yet to receive the attention that is received by other regions. Any steps taken by India and Brazil towards deepening their ties would result in India's increased interactions with the region. It would give India a better insight into the region which would further enable policy formulation. While rethinking of engagements with the Latin American Countries, it is important to look beyond just boosting of economic relations. Trade is an important component in foreign policy, but it should not become a limiting factor. Both India, as well as Latin America, must work together towards diversifying their relations. India has formulated the Look East Policy and Act East Policy for engaging with Southeast Asia and East Asia. A similar policy could be formulated for focusing on Latin America. India's relations with Brazil could prove to be an important step towards India restructuring its ties with Latin America.
Focus on Strategic Cooperation
The full potential of bilateral relations between any countries could only be realized when the relations are diversified. In the case of India-Brazil relations, both countries have steady relations in economic and cultural spheres. But it is necessary to focus more on strategic cooperation in order to initiate the diversification of ties. India's focus has been primarily on the Indian Ocean and the Indo-Pacific Region. Expansion of strategic ties with Brazil would be advantageous for India from two perspectives. One is India would have an opportunity to expand its strategic outreach beyond Indo-Pacific since Brazil lies at the side of the South Atlantic Ocean. Secondly, more strategic interaction with Brazil would lead to diversification of India's strategic cooperation. Presently India's has strategic cooperation with mostly United States, Russia Israel, Japan, European countries and Southeast Asian countries. With Brazil (along with South Africa) India participates in naval exercise named IBSAMAR[7].
This exercise was started in 2006 and till now five editions of this exercise have been conducted. The latest edition of this exercise was held in February 2016. But India and Brazil should look forward to starting bilateral naval exercises in both India and Brazil. This could be the first step towards strengthening strategic cooperation between both countries.
The engagements between India and Brazil are still primarily at the institutional and formal level. Both countries need closer and frequent bilateral interactions so as to reach the full potential their relations can offer.
[1]. Roy Chaudhury, D. (2019, April 20). Brazil outlines slew of sectors for 2019 BRICS Summit under its presidency. The Economic Times. Accessed 20 August 2019.
[2]. Chandrasekar, V.S. (2014, July 16). Narendra Modi meets Brazilian President, both call for UNSC reforms. Live Mint. Accessed 20 August 2019.
[3]. Mahajan, A.S. (2015, September 24). What's on the agenda for PM Narendra Modi on his seven-day US-Ireland tour. Business Today. Accessed 20 August 2019.
[4]. Indo-Asian News Service. (2016, October 17). PM Narendra Modi Meets Brazilian President Michel Temer. NDTV.  Accessed August 21 2019.
[5].  PTI. (2017, September 04). Modi, Temer discuss partnership based on common global vision. The Hindu. Accessed August 21 2019.
[6]. BI India Bureau. (2019, August 06). Top 10 largest economies in the world 2019. Business Insider India. Accessed August 23 2019.
[7]. Indian Navy. (2016). Exercise IBSAMAR-V between India, Brazil and South Africa. Indian Navy. Accessed August 25 2019.
The views and opinions expressed in this article are those of the author and do not necessarily reflect the views of The Kootneeti Team