Dragon on Doorstep: Chinese Assistance in Bangladeshi Submarine Base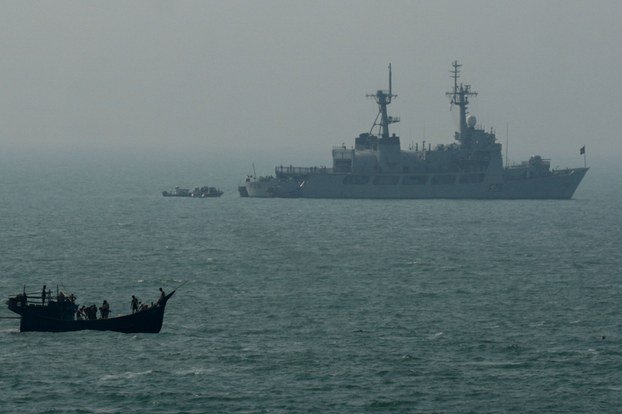 China will help Bangladesh construct its first submarine base, but Chinese subs will not use the facility, a leading member of parliamentary committees on foreign policy and defence told BenarNews on Thursday.
The future base will house two Chinese-made submarines purchased by Dhaka from Beijing in 2016, retired Col. Faruk Khan said, adding that Bangladesh was not taking sides in a regional rivalry between India and China. The facility will be built in a southeastern district on the Bay of Bengal and financed by Bangladesh, he said.
"We are going to construct a submarine base in Cox's Bazar with Chinese assistance. We have procured two submarines from China, so we need a submarine base. Unless we build a base, where will the submarines be stationed," said Khan, a senior official of the ruling Awami League and chairman of the parliamentary committee on foreign affairs.
"The Chinese will help us build the base and impart training to our personnel to operate the submarines and base. The Chinese submarines will not come here. The base is for our submarines," he told BenarNews, an RFA-affiliated online news service, in confirming the first Chinese involvement in the building of a naval facility in the country.
The two submarines that Dhaka purchased for $205 million are berthed at a Bangladeshi naval base in Chittagong, navy officials said.
Dhaka has not signed an agreement with Beijing for the submarine facility's construction, Khan added.
He declined to give more detailed information including the project's estimated cost and specific location. In December 2017, Prime Minister Sheikh Hasina said the country planned to build a submarine base with a jetty next to a future naval base in Kutubdia, a sub-district of Cox's Bazar, according to state news agency BSS.
BenarNews requested information about the submarine base from Bangladesh's military and Ministry of Defense but did not get any replies.
In May, website NewAge Bangladesh quoted officials as saying it would cost an estimated 103 billion taka ($1.2 billion) to build the submarine base.
Asked to respond to Indian media reports suggesting that Bangladesh, India's longtime ally, was now siding with China against its next-door neighbour, Faruk Khan replied that his country "is not tilted toward India or China."
"We have friendly relations with both India and China. So, this is not true that Bangladesh is aligned with China against India, and vice versa," he said, adding, "Our policy is friendship to all, malice to none."
"There will always be a fight between big powers for dominance. But I think no big power could influence us for their interests," he added.
Bangladesh's move to procure submarines from China and build a submarine base was "not aimed at India," according to Ishfaq Ilahi Choudhury, a security analyst.
"The submarines Bangladesh procured from China are conventional in nature. So, I do not think that India should be worried about it," he told BenarNews.
The views and opinions expressed in this article are those of the author and do not necessarily reflect the views of The Kootneeti Team