Indo-Brazil Science & Technology Co-operation: A 21st Century Partnership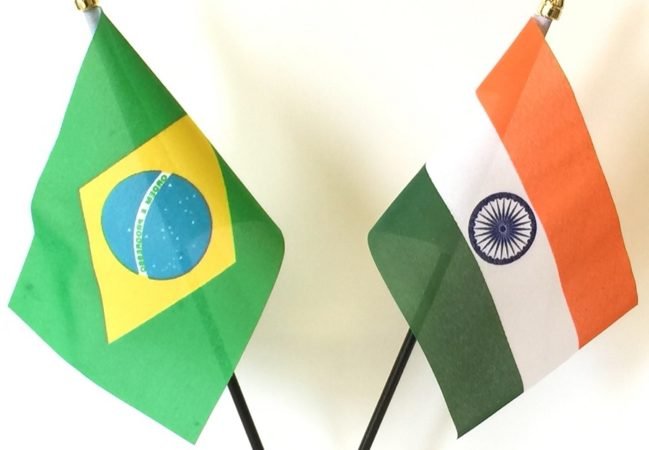 India and Brazil are two similar middle powers, in terms of size, diversity, challenges, role in international arena etc. They are regional powers within their hemispheres separated by vast distances, however, share mutually overlapping global ambitions. Both the countries have over the years stitched together a partnership whose scope is vast & has witnessed a significant hike in the recent past in terms of trade; however, the full potential of their bilateral relationship has not been exploited. Both the countries are members of multilateral forums like the BRICS (Brazil, Russia, India, China & South Africa), the G4 (Brazil, Germany, Japan & India), the IBSA (India, Brazil, South Africa) and most recently the International Solar Alliance (ISA). While G4 seeks to bring in reform in the United Nations security architecture vouching for expansion of the United Nations Security Council (UNSC), IBSA is seen in the context of enhanced "South-South co-operation". The BRICS framework provides a platform for the heads of states (HOS) of both countries to meet annually & has helped in strengthening the partnership. With the upcoming BRICS 2019 summit in November being held in Brazil, the host nation in preparation for the summit prioritized deliberations in the sectors of "scientific-technical & innovative cooperation, digital economy, fight against organized crime & money laundering". Hence, it would be appropriate to initially briefly recall the past areas of science & technology (S&T) co-operation between India & Brazil & thereafter explore new areas for the future.
According to the joint briefs of the summit level bilateral meetings between the HOS, the co-operation in terms of S&T in the past focused primarily in the select areas of biotechnology, information & communication technology, pharmaceuticals, medicine (HIV/AIDS, malaria etc), alternate sources of energy, agro-tech, mining, outer space and oil exploration. India's Department of Science and Technology & the Brazilian Ministry of Science and Technology jointly launched the "India-Brazil Science Council" in the year 2007, in an effort to create a space for the interaction of the scientific communities in both the countries as well as carry out joint research & development projects by facilitating exchange of senior & junior scientists. Some of the areas of a possible future co-operation appropriate for the 21st century are discussed below:
Aerospace Industry
Brazil is one of the few countries that manufacture commercial jets with the Embraer conglomerate being the world's 3rd largest manufacturer with an estimated net income of $660 million in 2017 and is a pioneer in the aerospace industry in the global south. With India predicted to become the world's third-largest aviation market by the year 2024, both the countries have a tremendous opportunity to address the ever-increasing demand of the Indian aviation market. The Embraer E-Jet family are among the topmost successful commercial jets in the world & are ideally suited for the Indian market for short-haul point-to-point. Foreign direct investment (FDI) in commercial airline manufacturing as a part of the "Make in India" & "Skill India" initiatives will pave way for India becoming an indigenous manufacturer.
Rare Earth Metals (REM)
Brazil holds the second largest deposits of REM on the planet, which find use right from touch screen technologies to nuclear fuel extraction to lasers, industrial magnets as well as precision-guided missiles which makes them strategically significant. While both Brazil & India are among the top 10 in terms of deposits and mining they, however, fall short in terms of extraction and valorisation. The rare-earth market is currently worth more than $8 billion and is predicted to increase to $14 billion by 2025. It is dominated by currently by China and a potential co-operation between India & Brazil can provide an alternative to customers the world over, cater to domestic requirements as well as guarantee a global market share.
Emerging technologies
Emerging technologies including Artificial Intelligence, Blockchain, Cryptocurrency, Cyberspace etc are areas of common interest for both Indian & Brazilian start-ups. Sharing of valuable knowledge & experience in these emerging technologies can lead to better coordination of efforts and identifying solutions for common areas of concern of mutual benefit to both societies. The Indo-Brazil Fintech Conference under the aegis of NITI-Aayog & the Embassy of Brazil, New Delhi was held in Mumbai on the 23 April 2019, indicating that the vast scope for engagement in this sector. Extending co-operation in defence manufacturing in realizing autonomous AI-enabled weapon systems will take the strategic partnership to the next level which can be carried out under the banner of the India-Brazil Defence Co-operation Agreement of 2003.
Energy
Being emerging economies both India & Brazil are focused on energy security to maintain the growth rates of their respective economies & co-operation in AI-based energy start-ups, oil exploration, alternate fuels and solar energy offers several advantages. Oil exploration through joint venture partnerships between the state-owned companies Indian ONGC Videsh & Brazilian Petrobras has benefitted both the nations. Similarly, research & development of bio-fuels taken up as a partnership is yielding results with a Memorandum of Understanding on Ethanol likely to be signed between the nations on Prime Minister Modi's scheduled visit to Brazil later this year in November. In terms of Solar energy partnership, India & Brazil are both members of the International Solar Alliance which came into force in 2015 following the climate change conference in Paris. While India is proving to be a world leader in adopting solar power in a very short period of time by adding several gigawatts of installed capacity, Brazil's reliance on solar power is relatively less as their electricity demands are primarily met by hydroelectricity. Both India & Brazil, therefore, have tremendous scope for expansion of their solar energy capacities, however, are heavily dependent on photovoltaic imports. Investing in research as a joint effort in building photovoltaic cells indigenously will open up market opportunities as well as in realizing self-sufficiency. Such efforts in the direction of renewable sources of energy have a net positive impact on the environment and reiterate the fact that both these nations are firmly committed to the climate agreements of 2015.
Space
India & Brazil have set up their ground stations in each other's space facilities for data processing. The ground facility in Brazil processes data and information gathered from India's RESOURCESAT-2 which is a remote sensing satellite. Active collaboration between the Agência Espacial Brasileira (AEB) and Indian Space Research Organization (ISRO) in building rockets and satellites has the potential for a long term partnership. Last year AEB & ISRO inked a pact of launching the Amazonia-1 satellite onboard ISRO's PSLV. Brazil hosts the Alacantra Space Station, which is the closest rocket launching facility to the equator making it ideally suited for geosynchronous satellite & space tourism launches. Hence, India can utilize such facilities to expand its footprint into the Latin American space market, which lacks a cheap yet reliable space agency for launching satellites. In addition to this, exploring the possibility of launch vehicle development & construction through G2G agreements & private player involvement can be mutually beneficial in terms of technology transfer into Brazil and as financial returns for India.
Agriculture Technology
With innovative practices coupled with the technological application, Brazil in a relatively short period of time transitioned from a net importer of food to be the 2nd largest agro exporters in the world overtaking Canada & Australia in the process and has led to a boom in the number of agriculture technology start-ups in the country. Agriculture research institutions like EMBRAPA had a major role to play in helping the average Brazilian farmer in increasing productivity. Moreover, the transformation of semi-arid land into agricultural pasture has had a significant impact on agricultural productivity. In the age when climate change is a reality and has the potential of reducing agricultural productivity in India, making food security as a priority is crucial. With large tracts of arid & semi-arid land & increasing uncertainty of the monsoon, India can adopt Brazil's practices and innovative policies in its own agricultural sector by encouraging increased co-operation among the agro start-up ecosystems of both the countries.
In conclusion, India & Brazil have several common areas where Science & Technology cooperation are relevant to a 21st-century partnership. The similarity in the challenges of both countries provides an opportunity for co-operation in finding new-age solutions and tackling with them in the long run effectively. Evaluating each other's strengths & weaknesses helps in identifying priority areas for a partnership of which aerospace, rare earth metals, emerging technologies, energy, outer space & agriculture technology promise the maximum potential. A co-operation in these key areas can truly strengthen the friendship and boost the strategic partnership providing an example to emulate for the global south carried out in the spirit of the Brazilian national motto "Ordem e Progresso".
The views and opinions expressed in this article are those of the author and do not necessarily reflect the views of The Kootneeti Team