The Future of Indian Diplomacy in Modi 2.0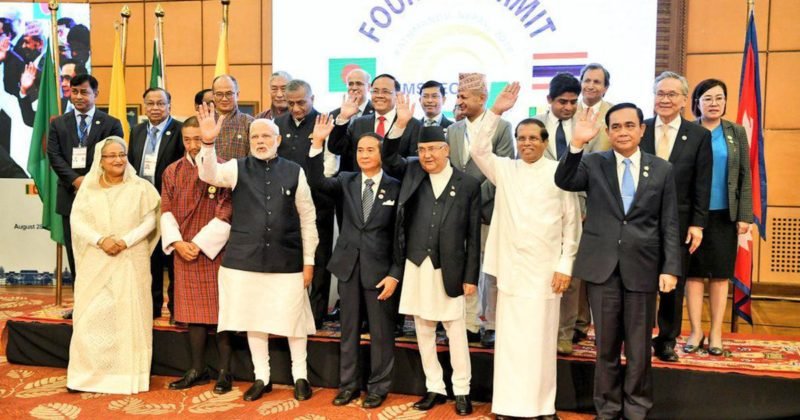 As the results of 2019 general elections were announced and with the victory of Narendra Modi led National Democratic Alliance (NDA) again to power, the global Indian community overwhelmed, the fact was Modi 2.0. This was much speculated too. The trust which Modi government showed in Indian Diaspora around the globe in its previous term is quite remarkable. Indian Diaspora has always been in the support of Modi and this can be seen every time whenever he is on a foreign visit.
Narendra Modi is back to power and the first step which he took was to invite BIMSTEC leaders at his ought taking ceremony. In his last ceremony, Modi invited the SAARC leaders. This may be said the invitation to BIMSTEC was to avoid Pakistan. But this gesture again showed his priorities, his priority for the Indian diplomacy. Another interesting event unfolded was the appointment of Former Foreign Secretary Dr S Jaishankar as the External Affairs Minister of India. Jaishankar has played a key role in carrying Indian Foreign Policy Vis-a-vis China. He has also served as India's Ambassador to Beijing prior to his role as the Indian Foreign Secretary.
The previous term of Modi government can be said as a mix of successes and some disappointments too with respect to diplomacy. But this time the challenges are even more dynamic. One side there is the United States which has recently taken the Generalized System of Preferences (GSP) status from India. India will be in a direct loss of $5.6 billion. The issue regarding Iran is also a major challenge. The US has warned for imposing sections if any country would trade with Iran. India wants to trade with Iran as it would be a huge economic loss for India if it stopped buying crude oil with Iran. India has invested a lot at Chabahar port and by this created tussle New Delhi will not be able to get the full benefit of this huge investment.
Prime Minister Modi on his first visit to the US in 2014, addressed the Indian diaspora in New York's Madison Square Garden and also held talks with Former US President Barack Obama. Modi's "Diplomatic Showmanship" made headlines in India as well as in the US. Modi developed a close working relationship with Obama. After Donald Trump becoming the president of the United States, India-US ties continued to flourish, and this continued in the various field from trade to defence as well. His diplomacy equally charmed the European Union. Modi visited Berlin and Paris in 2015 and held talks with German Chancellor Angela Merkel and Former French President Francois Hollande. In France, he managed to break the deadlock over the sale of 36 Rafale fighter jets. India under PM Modi, however, has appeared to drift away from its long-time ally Russia. Although New Delhi and Moscow have cordial relations, India is now closer to Washington than ever.
There has been a debate about his foreign policy in the second term. Many questions have been raised about the future of Indian diplomacy. Some argue that the Modi government is fundamentally changing the pathway of India's foreign policy. Other, however, keep faith in his leadership in carrying a dynamic agenda in favour of the nation. Some believe that the Modi government's shift is only about the style and not substance. As some of the policies of Modi government may be new and added with shift turns, but he has only tinkered with the long-held foreign and national security assumptions of India.
This second term will be a test of the government regarding its previous experience. It will be an era where India has to balance two major powers of the world, the United States and China. While on Pakistan after the "Balakot Strike" there can be some sense of relief. Modi government has made it clear that despite it being criticized, it has managed to change the fundamentals of Indian foreign and security policy. The use of air power to target terror camps deep inside Pakistani territory gave a strong message to the world. This step made one thing very clear that India is not going to tolerate any terror on its land and will not allow any neighbour to do so. India was invited to the inaugural address the Organization of Islamic Cooperation (OIC) held at Abu Dhabi for the first time in its 50 years of existence. Pakistan kept itself away from the summit. This worked as one arrow on two targets, with this India has asserted itself in the Middle East too.
One could recall the situations from 1969 when India was barred from attending the OIC summit due to an adamant protest by Pakistani President. Tables seem to have turned now.
Modi government in its second term has to maintain that echo. India has to create and maintain a difference between a "responsible" India and a "rogue" Pakistan. India also needs to take it further and work towards the way to find a permanent solution for the issue of terrorism. "Counter-Terrorism" should be a major agenda while formulating India's new foreign policy. India also has to counter emerging China's role in Pakistan. China has always tried to use Pakistan as a tool against India and that is why India needs to understand that it's not only the Pakistan who is working but it's the China which is behind the back of it.
India may have changed the nomenclature from "Look East" to "Act East," but in practical India's engagement with East and Southeast Asia remains a continuation of the past. India needs to work much harder in engaging with ASIAN if it wants to prove itself as a global leader. India and ASEAN celebrated their 25 years of relationship in 2018. Still, it feels that there is something missing in the relations. India and ASEAN have a lot of new avenues which are needed to be explored.
Upcoming period is very important with respect to almost all the fronts. Modi government has to deal with major powers if the world together. This can happen by the pro-active approach of India's foreign policy. Future can be secured by taking some bold steps.
In the rules-based new order, India would have a stronger position in multilateral institutions. This is as much an assertion of India's desire to play a larger global role as it is about India changing its approach to global engagement.
Prime Minister Modi has opted for the Maldives as his first official visit in the second term. In his speech to the Parliament of Maldives, he focused his approach on the "Neighbourhood First" policy of India. Small neighbouring nations are as much important as the bigger one also. Somehow these smaller nations play a significant role in maintaining the balance with the bigger ones. Sri Lanka is a very important island neighbour. China is playing a big game by engaging itself with the Hambantota. India needs to counter this by giving the significance of shared cultural values as well as economically too. As in this new era somehow soft power is behind when it comes to the economy.
Nepal is a major concern. We have to deal with it with care. We need to avoid any tags as the "Big Brother" vis-a-vis Kathmandu. Panchsheel policy must prevail. PM Modi has now laid out his own five principles or the new Panchsheel that will define the relationship between the two countries. His five "positives" are Soch (thought) Sampark (contact) Sahyog (cooperation) Sankalp (determination).
Sapne (dreams). Smaller nations also do believe that they should be given importance and it becomes the responsibility of the other to make themselves feel safe. Hope India will move forward with this approach.
The defence sector is required with a lot of investment in the coming five years. US have warned with "CAASTA" sanctions if India would buy S 400 air defence system from Russia. But this high time when New Delhi needs to take a major step as it a must for the country. India cannot kneel down in front of Washington's demands. Though Modi government has got the bilateral Logistics Exchange Memorandum of Agreement (LEMOA) signed with the United States in 2016 for facilitating logistical support, supplies and services between the United States and Indian militaries on a reimbursable basis and providing a framework to govern such exchanges. And followed it up with the signing of Communications Compatibility and Security Agreement (COMCASA) in 2018 to facilitate access to advanced defence systems and enable India to optimally utilize its existing U.S.-origin platforms.
It is under Modi government that India agreed to be part of the resurrected quadrilateral involving the United States, Japan, and Australia. India needs to take this further by using it as a strategic tool against China. Economic integration with China may downward the tussle for some time but some hard steps must be taken. These two nations are going to decide the future of Asia. It would be interesting to see how PM Modi will grab it.
The present age is much dependent on technology and everything today is in the clutches of artificial intelligence. Globalization is not a new term now. Here the resources are shorter and everyone is prepared for the "war of need". India also needs to focus on this. Maintaining the balance of power is somewhere the responsibility of a country like India. Governments are in the position to take decisions which can be beneficial for the citizens and ever closing societies must decide what could be the solutions of the major problems of the world. Diplomacy should be so flexible that it can be twisted and turned for the betterment of the larger population
The views and opinions expressed in this article are those of the author and do not necessarily reflect the views of The Kootneeti Team