What Happened Between Honduras – Taiwan – China?
In a major blow to Taipei, the Latin American country of Honduras has ended its decades-long diplomatic relations with Taiwan dating back to the 1940s. As soon as Honduras de-recognized Taiwan, it announced the establishment of formal diplomatic relations with the People's Republic of China (PRC). This move has irked Taipei, which has accused Beijing of using coercion and intimidation to lure away some of its allies.
According to Enrique Reina, Foreign Minister of Honduras, the decision to cease diplomatic relations was made as per the instructions from President Xiomara Castro, following the Foreign Minister's visit to Beijing to discuss bilateral ties with China.
In a statement released by the Ministry of Foreign Affairs, Honduras, the government recognizes the existence of one China in the world, with the government of the People's Republic of China representing China as a whole. The government has also communicated to Taiwan that it will not maintain any kind of relationship with Taipei.
The government of Honduras has stated that it follows the One-China Policy, and the government of the PRC is the only sole legal government representing the whole of the mainland. It also states that Taiwan is an inalienable part of China's territory.
While this move may seem sudden, experts based out of Beijing and Honduras disagree with this opinion, as they believe this switch of the alliance was imminent from the time the Honduran President was elected in 2021.
President Xiomara Castro had announced that the Latin American country would be looking forward to establishing formal diplomatic ties with Beijing if she was elected.
Taiwan's Reaction:
As soon as Honduras announced its relations with the People's Republic of China, it sparked a strong response from Taipei. Taiwan's Foreign Minister, Joseph Wu, confirmed with the media that it had ended its diplomatic allegiance with Honduras to safeguard the national sovereignty and dignity of Taiwan and the Taiwanese people.
Taiwan's President Tsai Ing-wen said Honduras' decision was regrettable while addressing the media via online conferencing.
Taiwan has accused Honduras of being misled about financial aid and assistance by the Chinese, stating that China has tried numerous times to lure Honduras with financial assistance.
Honduras had earlier requested billions of dollars in the form of financial aid from Taiwan and had also compared this with the proposals from China. It also asked for $2.45 billion to construct a hospital and a dam and to forgive its pending debts. Just before any decision could be taken, Honduras denounced its relations with Taipei. After establishing its relations with China, Honduran companies were invited to China to discuss trade and investment, and vice versa.
Losing Recognition?
Taiwan's diplomatic allies have been on a downward spiral since 1971. When Tsai took over as the President of Taiwan, the number of countries recognizing Taiwan as a separate country was just 22 and has been falling since.
After Honduras, only 13 countries as of now officially recognize Taiwan as a separate country instead of China, and most of these nations are small countries located in South America and the Pacific. This is a significant shock for Taipei, as the majority of the powerful nations across the world have switched their allegiance to China while still maintaining unofficial relations with Taipei.
According to experts, Beijing has been aggressively using dollar diplomacy, which is the same type of diplomacy that helped Beijing establish its relations with Paraguay, Solomon Islands, and Paraguay. In 2019, when the Solomon Islands decided to switch to Beijing, it was offered $8.5 million in development funds by China. On the other hand, one of Taiwan's biggest diplomatic allies, Paraguay, has been under fire for establishing its ties with Taipei. It has faced restrictions in exporting soy and beef to China. Paraguay's President, Mario Abdo Benítez, have openly called on Taiwan to invest $1 billion in his country last year and help it resist the challenge of switching alliances that is facing from China.
Significance of Taiwan Losing its Allies
There has been a mixed view among experts worldwide regarding Taiwan's loss of allies, with the latest being Honduras. While some argue that official diplomatic relationships are valuable as they provide a platform for Taiwan to voice its concerns in the international forum, including the United Nations, others contend that this importance only goes so far. This is in reference to the unofficial diplomatic ties that Taipei has with over 100 nations, including the United States and Germany.
Having official allies enables Taiwan to have a voice in the international community. For example, in October 2022, ten of Taiwan's allies signed a letter to the UN Secretary-General criticizing the UN's exclusion of Taiwan. Despite this, some argue that due to the increase in recognition of Taiwan, the loss of allies is viewed as a minimal event. Taiwan's unofficial relationship with the United States, which withdrew diplomatic recognition from Taipei in 1979, has become stronger than ever before in history.
Several high-profile US politicians, including then-House Speaker Nancy Pelosi and US House Speaker Kevin McCarthy, have visited Taiwan in recent years, prompting strong and angry responses from China. Experts believe that the United States remains the single biggest guarantor of the island's safety in the face of a possible invasion by China and that the US supplies weapons to Taiwan every year, both of which it does without an official diplomatic relationship.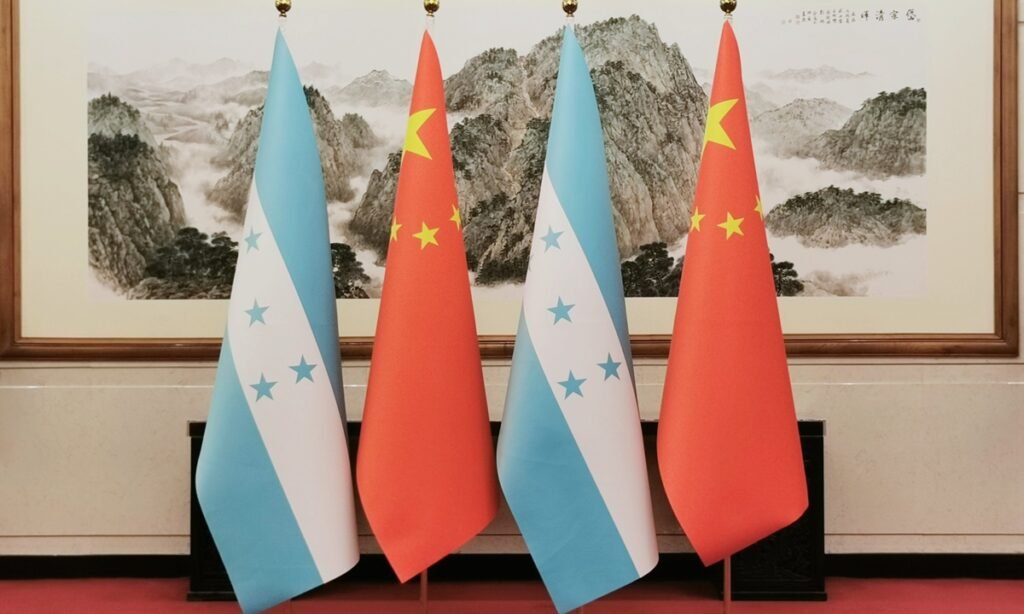 China's Investment in South America
Over several decades, Beijing has invested billions of dollars in infrastructure and other projects throughout Latin America, leading to increased influence and support for China in the region. In Honduras, Chinese investment has taken the form of the construction of a hydroelectric dam project in the central region of the country. This project was carried out by the Chinese company SINOHYDRO, which received approximately $300 million in financing from the Chinese government. According to some experts, previous decisions by Latin American and Caribbean (LAC) countries to cut ties with Taiwan have resulted in different outcomes, with some countries, like Panama, striking numerous and substantial deals, while others have had the opposite experience.
Remaining Official Allies
After Honduras switched its allegiance to China, only 13 countries formally recognize Taiwan as a separate country. Taiwan currently maintains diplomatic relations with Belize, Paraguay, Haiti, Saint Kitts & Nevis, Saint Lucia, Saint Vincent & the Grenadines, and Guatemala in Latin America; the Pacific Island nations of Nauru, Marshall Islands, Palau, and Tuvalu; as well as with Vatican City in Europe. Most of these nations are located in the Caribbean and Pacific regions, along with Eswatini in southern Africa.
While the US State Department has said that Honduras' decision was independent, it has warned nations that China often makes promises for diplomatic relations in exchange for aid that ultimately remains unfulfilled. Though China has been involved in an aggressive campaign to isolate Taiwan, it has been unable to do so due to the strong relations between the United States and Taipei.
However, Taiwan's official allies are becoming fewer by the day, and there is a fear that its voice will not be taken seriously or even heard in the event of a Chinese invasion. This is because all of Taiwan's allies are relatively small in terms of global influence, making it vulnerable to China's "dollar diplomacy," which has caused over 20 countries to switch sides over the years. Nonetheless, the United States, along with countries in the European Union and Asia, has maintained strong unofficial relations with Taiwan, which have grown since China has become more aggressive on the Taiwan issue. It will be interesting to see how the world reacts if a conflict occurs, as it will not only involve two countries but also several world powers around the world.
The views and opinions expressed in this article are those of the author and do not necessarily reflect the views of The Kootneeti Team