Ohio Train Derailment: A Wake-Up Call for US Rail Safety Standards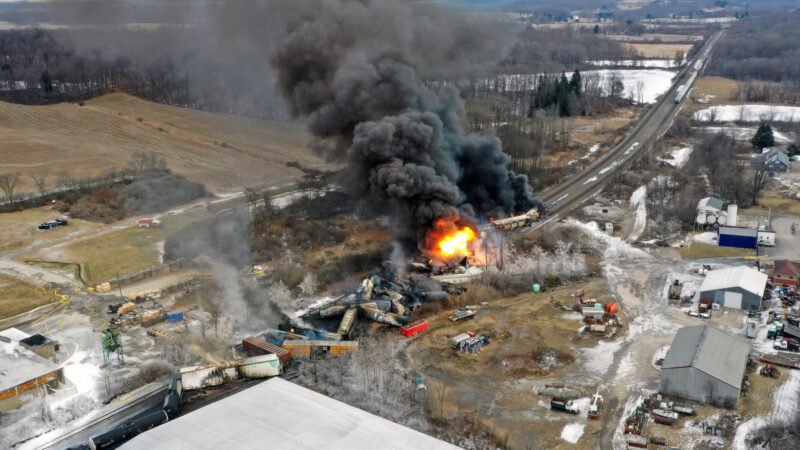 The village of East Palestine in Ohio State of United States had to be evacuated when a freight train carrying dangerous chemicals derailed on February 3. Following the incident, Norfolk Southern, the train operator, made the decision to burn and vent the cancer-causing substances from the wrecked cars, sending a cloud of poisonous smoke into the air.
According to Newsweek, the incident was not the first derailment to happen in Ohio this year; another one happened on January 19 between Trinway and Adam's Mill. A 97-car, 1.2-mile-long train operated by the Ohio Central Railroad slid off the tracks in that incident, but no one was wounded because the train was empty and no freight was spilt.
More than a dozen rail catastrophes have reportedly occurred in the US so far in 2023, including the derailment of the Ohio train on February 3 in which carriages from a 150-car freight liner carrying dangerous chemicals smashed off the tracks in the town of East Palestine.
Immediately after the February 3 cars derailment, a massive fire spread over them, although no immediate injuries or fatalities were reported. But, the governor of Ohio, Mike DeWine, stated in a press conference following the incident that several of the derailed tankers contained poisonous compounds that might be dangerous to locals. Vinyl chloride, a colourless, dangerous gas used in the production of PVC plastic and vinyl items, posed a particular threat.
As several of the buses carrying poisonous chemicals had caught fire, there was not only the risk of exposure to toxic chemicals but also the risk of a massive explosion. As the potential of an explosion increased, authorities ordered a mandatory evacuation on February 6. Those who refused to leave risked being arrested. According to Governor Mike DeWine, leaving was "a matter of life and death" for the locals. Luckily, nobody was hurt, but more than 2,000 of the about 4,800 East Palestine residents had to leave the area temporarily owing to health worries brought on by the chemical spill.
Residents have reported experiencing a range of symptoms, from nausea to headaches, according to Reuters. Officials have reassured people that the disaster's effects have been limited because air and water screening has revealed just small amounts of toxins. It is still unknown how extensive the damage is.
Many locals said that despite the government' assurances, they remained fearful of the possible negative effects, which they claim had already affected both people and wildlife. Local residents have complained about having coughing and rashes on their faces and other body parts. Thousands of dead fish have been discovered in the town's waterways, and residents have reported to the local media that their chickens and other pets have taken ill. Many people have reported having trouble getting their water tested, which fuels their suspicion of what they perceive to be an insufficient and inefficient crisis response. Residents have expressed concerns as they believe the government is hiding information from public.
Federal legislation has gradually loosened safety standards and restrictions, but the derailment has revived attention on the issue of deregulation in the American railway industry. According to railroad union representatives, safety precautions were affected by railroad cost-cutting, which is why they have been warning about the possibility of such an event. Political parties are blaming each other instead of acting effectively to address the situation properly, irresponsible behaviour of government has been exposed.  
"Documents show that when current transportation safety rules were first created, a federal agency sided with industry lobbyists and limited regulations governing the transport of hazardous compounds," claims The Lever, an independent news organisation that has been at the forefront of reporting on the Ohio disaster. The judgement effectively freed a number of trains hauling hazardous chemicals, including the train in Ohio, from the "high-hazard" classification and its stricter safety requirements.
Yet, according to train experts, the East Palestine tragedy was a foregone conclusion due to lax safety protocols and a workforce reduction made in an effort to increase rail company revenues. Former Federal Railroad Administration (FRA) executive Steven Ditmeyer told the investigative news organisation The Lever that the absence of Electronically Controlled Pneumatic (ECP) brakes may have made the collision more severe.
Barack Obama, the former US president, signed legislation requiring ECP brakes on trains hauling dangerous or flammable cargo, but the Trump administration's war on so-called "red tape" led to its revocation in 2017. Feb 3rd train accident has raised a serious question on the United States rail safety standards as well as States control on firms' operating railways.
The views and opinions expressed in this article are those of the author and do not necessarily reflect the views of The Kootneeti Team