AUKUS Partnership: US, UK, and Australia Collaborate to Develop New Submarine Technology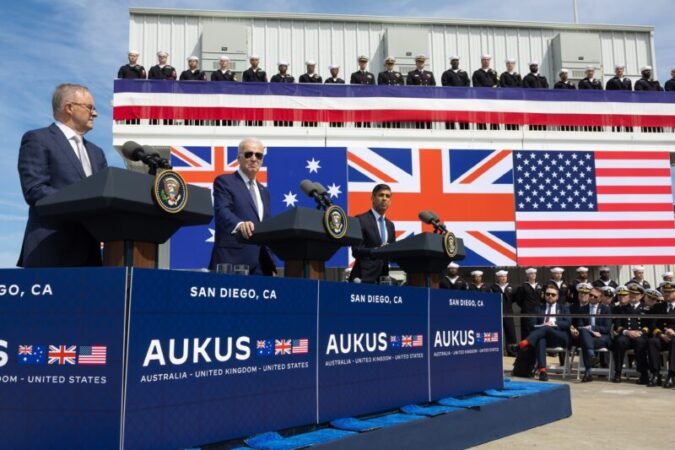 On Monday, US President Joe Biden, Australian Prime Minister Anthony Albanese, and the United Kingdom Prime Minister Rishi Sunak announced that Australia will purchase nuclear-powered attack submarines from the US to modernize its fleet, aimed at countering China's influence in the Indo-Pacific region. This agreement is the first project under the 18-month-old trilateral security partnership, called AUKUS, between the US, the UK, and Australia. The submarines are nuclear-powered and not nuclear-armed.
According to the agreement, the US will sell three submarines to Australia with the potential to sell two more if needed. The partnership will lay out a multi-phase process that begins over the next few years and begins immediately with the training of Australian sailors, engineers, technicians, and other personnel to be able to take on the responsibility and stewardship of nuclear propulsion. By the early 2030s, the US will deliver three conventionally armed nuclear-powered Virginia-class submarines to Australia over the course of the 2030s, with the possibility of going up to five if needed.
The Prime Minister of Australia, Anthony Albanese, underlined the important features of the AUKUS agreement, such as building a future in Australia while investing in skills, jobs, and infrastructure. He mentioned that it was the first time in 65 years, and only the second time in history, that the United States has shared its nuclear propulsion technology.
The Prime Minister of the United Kingdom, Rishi Sunak, cited growing challenges such as "Russia's illegal invasion of Ukraine, China's growing assertiveness, and the destabilizing behaviour of Iran and North Korea, all threaten to create a world defined by danger, disorder, and division." He said that under the partnership, the UK will provide the world-leading design and build the first of these new boats, creating thousands of good, well-paid jobs and will share its knowledge and experience with Australian engineers so they can build their own fleet.
Through AUKUS, the three countries aim to raise the standards of nuclear non-proliferation. The submarine crews of the three countries will train together, patrol together, and maintain their boats together and will communicate using the same terminology and the same equipment. This will mean three fleets of submarines working together across both the Atlantic and Pacific, keeping the oceans free, open, and prosperous for decades to come. The AUKUS agreement represents the biggest single investment in Australia's defence capability in all of its history, strengthening Australia's national security and stability.
The views and opinions expressed in this article are those of the author and do not necessarily reflect the views of The Kootneeti Team