India and Egypt's Joint Efforts in Multilateral Cooperation: President Sisi's Visit Summarised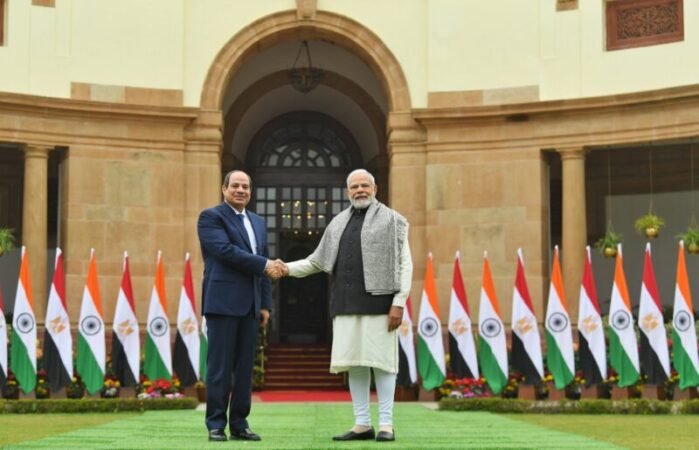 Egypt President Abdel Fattah El-Sisi concluded his state visit to India on January 27, 2023. He was invited as the Chief Guest at India's Republic Day on January 26, 2023, reflecting the importance of the relationship between the two countries. President Sisi and Prime Minister Modi held talks on bilateral, regional and international issues of mutual interest and decided to upgrade their relationship to the level of 'Strategic Partnership' covering political, security, defence, energy and economic areas. Both leaders also agreed to work closely together during India's presidency of the G20 forum and to ensure that the interests and priorities of the Global South are given attention in global forums.
The two countries reaffirmed their commitment to multilateralism and respect for the sovereignty and territorial integrity of all states. They expressed satisfaction at the current level of bilateral trade and committed to working towards a trade target of $12 billion within the next five years by diversifying the trade basket and focusing on value addition. They also welcomed the expansion of Indian investments in Egypt and agreed to encourage businesses from their respective countries to explore emerging economic and investment opportunities. Both sides also agreed to enhance bilateral cooperation in the fields of capacity building and sharing of experience in developmental fields, as well as to cooperate in the trade of commodities of strategic nature and those required for food security. They also welcomed the convening of the first Joint Working Group meeting on Trade and Investment and noted the progress made by the 5th bilateral Joint Trade Committee meeting.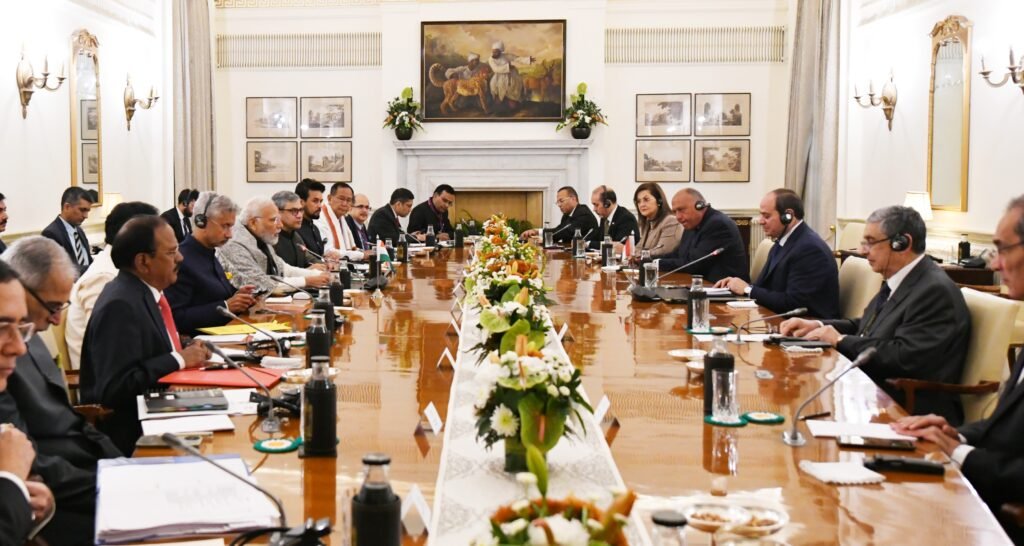 Both leaders discussed deepening cooperation in the field of agriculture, strengthening the supply chain of food articles, and enhancing defence cooperation, including the exploration of new initiatives for military-to-military engagements and cooperation in defence industries. They also expressed concern over the spread of terrorism and agreed on the need for concerted and coordinated action by the international community to eradicate terrorism in all forms, including cross-border terrorism and the use of religion to justify and sponsor terrorism. They emphasized the need for a holistic approach to counter-terrorism, including disrupting the use of the internet and social media and preventing the use of religious centres to radicalize youth. They also agreed to hold regular Joint Working Group on Counter-Terrorism meetings and to enhance interaction between their respective National Security Councils.
Both countries agreed to expand cooperation in the field of space by utilizing India's expertise in building and launching satellites and space technology applications. They also discussed strengthening cooperation in space research in areas such as remote sensing, satellite communication, space science, and practical applications of space technology. Additionally, they emphasized the importance of an open, free, stable, accessible, safe, trusted and accountable cyberspace, as an enabler for economic growth and innovation.
They also reaffirmed a multi-stakeholder approach to internet governance and their wish to deepen deliberations on the applicability of international law to cyberspace and set norms of responsible behaviour of States. They also welcomed the signing of an MoU on Cooperation in the area of Cyber Security. Both countries emphasized cooperation in the field of healthcare, drugs and pharmaceuticals, including mass COVID vaccination programs, a joint production of pharmaceuticals and transfer of technology to ensure access to these products for developing countries.
The leaders of India and Egypt expressed their commitment to prioritize issues related to climate change, environment, and sustainable development and to continue joint efforts in these areas through the exchange of experiences and models for adapting and building resilience to the negative impacts of climate change. They also recognized the significance of the clean energy transition and agreed to strengthen cooperation in the clean energy sector between the two countries. They also discussed cooperation in areas of emerging technologies through sharing best practices and undertaking joint research in areas of mutual interest such as nano-technology, bio-technology and renewable energy. They also agreed to enhance bilateral partnership in the domain of education by exploring the possibility of further collaboration between Universities in Egypt and the Public Higher Education Institutions of India.
Art, culture and heritage were important topics discussed during the meeting between the leaders of India and Egypt. They appreciated the growing cultural exchanges between their countries and welcomed the signing of a Memorandum of Understanding (MoU) to promote further bilateral exchanges in music, dance, theatre, literature, libraries, archives and festivals. Both leaders recognized the historical monuments and archaeological sites in India and Egypt as invaluable treasures of cultural heritage for humanity and expressed hope that joint efforts in the preservation and protection of ancient sites would broaden the understanding of the human past and culture. They also agreed to explore possibilities for organizing joint festivals, encouraging exchanges of visits among artists, and developing the film industry in both countries. They also discussed enhancing tourism cooperation by encouraging tourism and promotional events and working on operating flights between New Delhi and Cairo.
MOUs exchanged
MoU between the Indian Computer Emergency Response Team and the Egyptian Computer Emergency Readiness Team in the area of Cyber Security
Memorandum of Cooperation in the fields of Information Technology between India and Egypt
MoU in the field of Culture between India and Egypt
MoU on Cooperation in Youth Matters between India and Egypt
MoU for Cooperation on Broadcasting between Prasar Bharati, India and National Media Authority, Egypt
The views and opinions expressed in this article are those of the author and do not necessarily reflect the views of The Kootneeti Team