President of Egypt to visit India as Chief Guest on Republic Day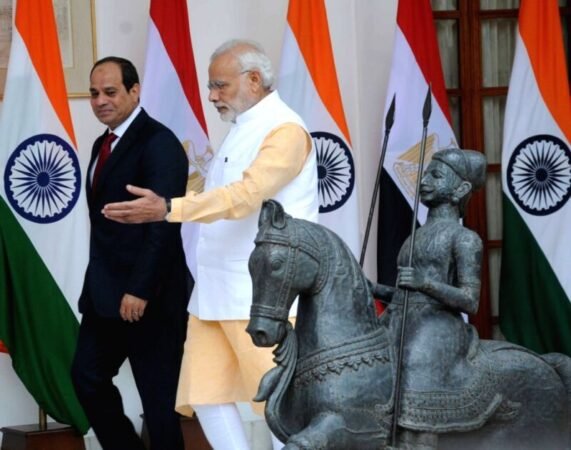 Egyptian President Abdel Fattah El-Sisi will make a state visit to India from January 24th to 26th, 2023, at the invitation of Prime Minister Narendra Modi. This will be President Sisi's second state visit to India and he will also serve as the chief guest for India's 74th Republic Day. He will be accompanied by a high-level delegation including five ministers and senior officials. He will arrive in New Delhi on January 24th, 2023.
This year marks the 75th anniversary of the establishment of diplomatic relations between India and Egypt. Egypt has also been invited as a guest country during India's presidency of the G-20 in 2022-2023. President Sisi will receive a ceremonial welcome at the Rashtrapati Bhavan on January 25th, 2023, and President Droupadi Murmu will host a state banquet in his honor that evening. He will have bilateral meetings and delegation-level talks with Prime Minister Modi on a variety of issues of mutual interest, and will also interact with the Indian business community at a business event.
India and Egypt have warm and friendly relations, marked by cultural and economic ties and deep-rooted connections between their people. They have a multifaceted relationship based on shared cultural values, a commitment to fostering economic growth, collaboration in defence and security, and agreement on regional and global issues. India and Egypt work closely together on multilateral and international platforms.
In the fiscal year 2021-2022, bilateral trade between India and Egypt reached a record high of $7.26 billion. The trade was fairly balanced, with $3.74 billion in Indian exports to Egypt and $3.52 billion in imports from Egypt to India. Over 50 Indian companies have invested around $3.15 billion in various sectors of the Egyptian economy, including chemicals, energy, textiles, garments, agri-business, and retail.
The upcoming visit of President Sisi is expected to further strengthen the longstanding partnership between India and Egypt.
The views and opinions expressed in this article are those of the author and do not necessarily reflect the views of The Kootneeti Team