India and Cuba Deepen Ties in Culture, Health, and Trade During Minister Lekhi's Visit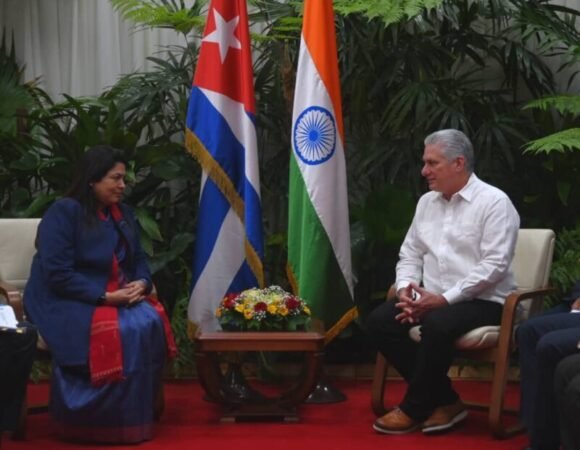 Minister of State for External Affairs and Culture of India, Meenakashi Lekhi paid an official visit to the Republic of Cuba from January 12th to 14th, 2023. This was her first visit to Cuba and aimed at strengthening the bilateral relations between the two countries.
During her visit, on January 13th, MOS began her visit by paying tribute to José Martí at his monument at 3 Marzo Park in Havana. Later, accompanied by the Minister of Culture of the Republic of Cuba Mr. Alpidio Alonso Grau, MOS paid floral tribute to the bust of Mahatma Gandhi in a Park in Havana. This visit was to pay homage to the leaders of both countries who have played a significant role in shaping the history of their respective countries.
On the same day, MOS called on Mr. Miguel Díaz-Canel, President of Cuba and discussed matters of bilateral importance, political & economic cooperation, and other important issues. She also held bilateral discussions with Mr. Gerardo Peñalver Portal, Acting Minister of External Relations of Cuba, both sides discussed issues of common interest and expressed willingness to enhance cooperation in development assistance programs, trade and investment, energy, disaster management, culture, health, and pharma, AYUSH, and biotechnology. The discussions also included the India-Cuba Friendship, LiFE project, CDRI, International Year of Millets 2023, sustainability & climate change.
On January 14th, MOS was received by Mr. Esteban Lazo Hernández, Speaker of the Cuban Parliament at El Capitolio (National Assembly of People's Power) where her interaction included the development of indigenous vaccines against Covid and woman empowerment. MOS apprised Mr. Esteban Lazo Hernández about the policies of the Government of India and emphasized the need to strengthen cooperation between the two parliaments further.
Mr. Esteban Lazo Hernández appreciated India's support for Cuba at the United Nations, Indian-assisted projects and Line of Credit (LOC) and in training Cuban nationals under ITEC, among other subjects.
During the meeting with Mr. Alpidio Alonso Grau, Minister of Culture of Cuba, both sides agreed on further strengthening relations in the field of culture with increased exchanges and cooperation including Cinema. This aims to promote cultural exchange and cooperation between the two countries.
During the visit, India announced a donation of 12,500 doses of pentavalent vaccines to Cuba. This gesture reflects India's support and solidarity with Cuba in the fight against COVID-19.
MOS also visited Fidel Castro Centre in Havana and 'Panchakarma Centre' in the premises of the International Health Centre (La Pradera) that was set up in association with the AYUSH Ministry where she held interactions with the Director of La Pradera and practitioners of Ayurveda. This visit was to explore the potential of traditional medicine in the fight against COVID-19 and to promote cooperation in the field of health between the two countries.
The visit was successful in further strengthening the bilateral relations between India and Cuba and exploring new areas of cooperation.
The views and opinions expressed in this article are those of the author and do not necessarily reflect the views of The Kootneeti Team