Finance Minister's Address at Voice of Global South Summit: Priorities for India's G20 Presidency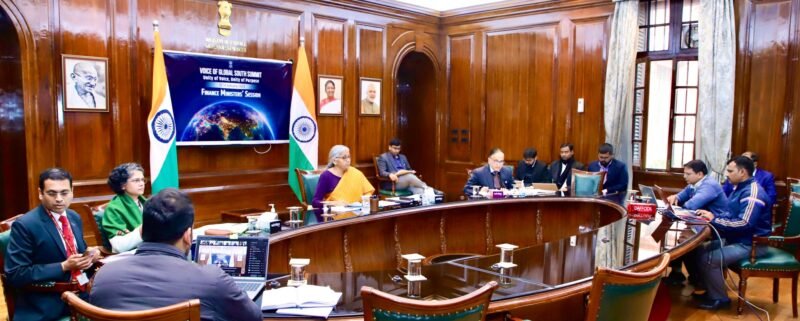 As the world rebuilds itself from the pandemic, the global south should continue to exhibit strong solidarity

– Nirmala Sitharaman, Indian Finance Minister at Finance Minister's session of Voive of Global South Summit
Union Finance Minister (FM) Nirmala Sitharaman addressed the Finance Ministers' Session of the Voice of the Global South Summit on January 12, 2023.
In her opening remarks, she said, "The world is confronted with numerous challenges and is bracing itself for other unforeseen ones as we speak today." "We continue to face an economic slowdown, rising inflation, the threat of a resurgence of pandemics, and risks emerging from geopolitical conflicts."
The Finance Minister said, "As the world rebuilds itself from the pandemic, the global south should continue to exhibit strong solidarity." Stressing the significance of the G20, she said that in recent years, the G20 has helped the world navigate through multiple shocks and continues to provide guidance on economic coordination. In this light, "India intends to take the legacy forward and further build on it to make it even more relevant, especially for the Global South." "India's G20 Presidency is an opportunity as well as a responsibility to encourage collective solutions and rebuild trust in multilateralism," she said.
Further, she said, "While maintaining close relations with developed countries, India is keen to put forward the point of view of the global south—our co-passengers on the path of development for decades." She also stressed that there should be no first or third worlds, but only one world with a shared vision for the future.
She also praised India's approach to development, saying that it is inclusive, people-centric, and marked by respect for diversity, care for the future, and sustainable development. She continued by saying that the pandemic's hardships have shown vulnerabilities at all levels and demonstrated the necessity for a significant scaling-up of response mechanisms so that the assistance offered by the institutions is responsive to country-specific needs. In order to address the global challenges of the twenty-first century, she added, "We feel that strengthening multilateral development banks is a key."
Additionally, she stated that growing global debt vulnerabilities raise the possibility of a systemic global debt crisis. She also said that debt distress is substantially more severe in countries trapped between servicing external debt and meeting basic domestic requirements such as food and fuel. A situation like this, according to her, would hamper the climate transition efforts of many countries. She continued, "If left unaddressed, these growing debt vulnerabilities can trigger a global recession and push millions into poverty."
She further said that "financing the social dimension of social development is an important priority." She argued that while the majority of global efforts are currently focused on addressing climate issues, it is critical that world leaders also focus on the social dimension of development in order to address pressing issues such as increasing social inequalities.
She continued by saying that boosting socioeconomic development through responsive, innovative, and cost-effective digital public goods is also a priority for India. In this context, she discussed India Stack, a digital architecture built on identification, payment systems, data empowerment, and policy. She stated that IndiaStack.global, which was introduced by Prime Minister Modi in July 2022, is a single repository of all digital public goods that can be used in any country.
While concluding her address, she remarked, "India aspires to contribute to socio-economic reforms globally through the G20 platform during its presidency." India stands ready to share its experiences in critical areas such as the use of digital tools and financial inclusion initiatives to augment global efforts in the financial sector.
The views and opinions expressed in this article are those of the author and do not necessarily reflect the views of The Kootneeti Team