India's G20 Presidency and the Environment: Minister of Environment addresses Voice of Global South summit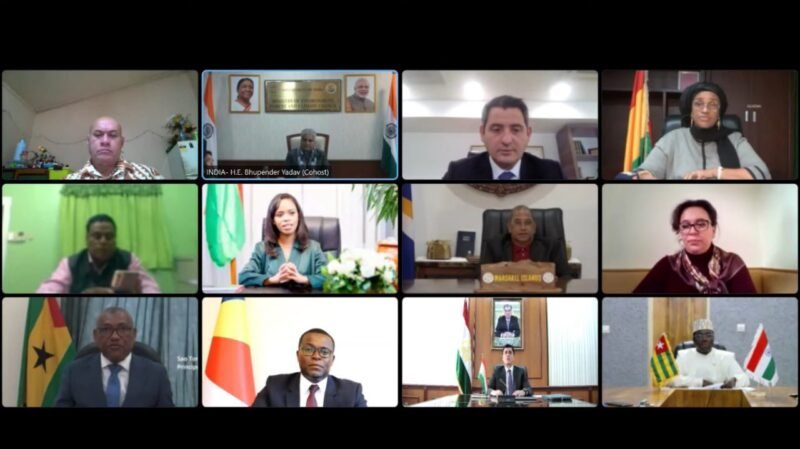 Indian Minister of Environment, Forests, and Climate Change, Bhupender Yadav addressed a two-day special virtual summit titled "Voice of the Global South Summit" on January 12, 2023, which was attended by dignitaries from over 120 developing countries.
In his statement, he recalled Prime Minister Narendra Modi's participation in the two-day summit, the pressing concerns of the developing world that were discussed including those concerned with balancing growth with an environmentally friendly way of life. He welcomed world leaders by stating that the world is currently facing a new type of challenge in the form of climate change and environmental degradation and that the only way to address such issues is to work together toward a common goal.
India has always supported global initiatives that prioritize the interests and concerns of developing countries. The template of India's G20 presidential campaigns has been Vasudeva Kutumbakam, or one Earth, one family, one future, and it is in the whole spirit that we are meeting during this session.
In the G20 presidency of India, the themes under the environment and climate sustainability track include themes on the circular economy, blue economy and restoration of degraded land.
He said he's confident, G20 deliberations will conclude with positive outcomes for the developing world. The development of a country and the conservation of its biodiversity and ecosystem are two important aspects which cannot be left behind. While development is essential to ensure that the population lives a dignified life, preserving and conserving biodiversity is also essential to maintain the ecological balance. There is a need for development policies to be inclusive and sustainable to reduce inequality and contribute to empowerment and Improvement of the quality of people's life.
He also emphasized India's commitment in combating the effects of climate change and assisting developing countries in achieving their developmental goals through development and technical assistance. "While economic growth is important because the industrial revolution has provided countries with greater prosperity," he said, "it has come at a huge cost to the environment."
Furthermore, the path of development followed by most developed nations throughout history has been ruthless, resulting in excessive consumption of resources both at home and in subjugated colonies. Our resource utilization must be based on mindful and deliberate consumption rather than mindless and destructive consumption in order to achieve our goal of sustainable development.
India has also taken initiatives such as the International Solar Alliance, the Coalition for Disaster Resistant Infrastructure, and One Sun, One World, One Grid to ensure global solidarity for climate in developing countries, as well as Beyond.

Minister Yadav promoted the concept of LiFE by emphasizing environmentally conscious and deliberate consumption over mindless and wasteful consumption in order to protect and preserve the environment. LiFE is a democratic concept that places individual and collective responsibility on everyone to live a life that takes care of Mother Earth and does not harm it by adopting simple but effective friendly behaviours in our daily lives such as turning off air conditioners, heaters, and lights when not in use, which can conserve electricity, avoiding food waste, and reducing an individual's carbon footprint.
It can conserve water and India strongly believes that such Econo environment-friendly actions on a mass scale across the globe can be a significant positive contributor to saving our common.
The views and opinions expressed in this article are those of the author and do not necessarily reflect the views of The Kootneeti Team