Convergences of Interests at the G-20 Foreign Ministers' Meeting between Argentina, Brazil, Mexico and India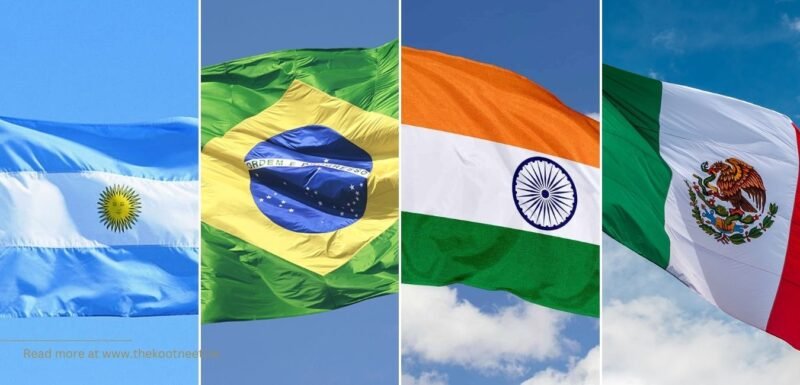 Argentina, Brazil, and Mexico are the three Latin American countries that are important members of the G-20. For them, the G-20 offers opportunities to interact on a multilateral platform which is important for their global aspirations. As India holds the Presidency in 2023, it offers a unique opportunity for interaction between three prominent Latin American members of the G-20 and India on this multilateral platform. The Foreign Ministers' Meeting provided a platform for engaging in discussions and was held on the 1st and 2nd of March 2023, which witnessed participation from these countries. Argentina's Foreign Minister Santiago Cafiero and Brazilian Foreign Minister Mauro Vieira represented their respective countries, while Dr. S. Jaishankar, India's External Affairs Minister represented India and made the opening remarks. It is important to note that certain themes of concurrence appeared during the discussions in the meeting which are common to the Global South. This paper will discuss the key points of the discussions that took place in the context of Argentina, Brazil, and Mexico, highlighting convergences with India, which may lead to probable areas of cooperation on the lines of the G-20
India's Views at the Foreign Ministers' Meeting
India's External Affairs Minister, D. S. Jaishankar pertinently pointed out the myriad of systemic and pressing crises in the present global scenario. He delineated the pandemic and its impact, numerous conflicts and its knock-on effects, food, fertilizer, and energy security, fragile supply chains, debt crises, and disruption of climate events. He stated that such issues should not be relegated to the periphery of international discourse, which is otherwise crucial to the global economy. Acknowledging the presence of sharp differences in opinions and views, he persuaded that it was necessary to find common ground and provide direction.[i]
While highlighting the challenges, he stressed the need to invigorate multilateral approaches to find larger solutions.
Concerning reforming the structure of the United Nations, Dr. S. Jaishankar called upon the attendees to focus on democratising global decision-making and relayed that the United Nations must reflect the current political, economic, and demographic aspirations. He commented on the need to take a collective approach to contribute to international growth and prosperity through sustainable partnerships and goodwill initiatives. Speaking at the meeting, he highlighted India's contribution to global solutions during the pandemic, its various development projects, and capacity-building initiatives which it has undertaken in different countries on the lines of developmental partnership. It is at this juncture that the G-20 takes into account the economic concerns of all the partners and ensures cooperation at multiple levels.[ii]
Issues raised by Argentina, Brazil, and Mexico at the Foreign Ministers' Meeting
From the Latin American side, the focus was on issues of food and energy security, climate change, reforming the United Nations, and global financing. They proposed greater engagement on multilateral levels and the lines of South-South cooperation as a remedy. Santiago Cafiero, Argentina's Foreign Minister stressed on food security, rising costs of commodities, global inflation leading to indebtedness, and distortions in international trade. He also criticised lack of financing for developing countries which hampers their growth. As a remedy, he stated that it was necessary to create initiatives that accelerated financing for developing countries which would be a fairer, transparent, and equitable international trade system. He quoted, "the politics of escalation prevailed over the desire for universal peace," [iii] in the context of raging global conflicts.
The Brazilian Foreign Minister Mauro Viera focussed on collective actions on the part of the G-20 to overcome the myriad of crises in the world. He specifically focussed on food security, global hunger, and climate change as some of the biggest challenges. Discussing the pandemic and the crisis in Ukraine he pointed out that these factors have led to greater structural inequalities. He stated that President Lula termed food insecurity as a "civilizational challenge for the entire planet"[iv] that requires political will and strengthened multilateralism. He also proposed closer coordination between the G-20 and other international agencies such as the World Food Programme.
Mexico's Foreign Minister, Marcelo Ebrard pointed out that development has been hampered due to rising costs of living and energy. He urged the G-20 to rise to the challenge and find proactive solutions. [v] He commented, "Mexico reiterates its willingness and commitment to participate in all initiatives aimed at eradicating hunger and improving the good situation in the world as a whole." [vi]
Latin American delegates in unison discussed the lack of global financing for developing nations. They criticised the current trading patterns which is a challenge for the Global South. Regarding financing, the delegates said that an orderly transition towards renewable energy is possible provided financing and investments are available. The issue of climate change, reforming the United Nations, and multilateral approaches turned out to be points of commonality. The thrust point was that importance should be given to the developing world, which should also unite to discuss pressing matters.
Convergences in views between India and the Latin American countries at the G-20
It is interesting to note that over various issues there are convergences between India and the Latin American countries of the G-20. In this regard, the G-20 may cooperate on such common agendas. As India's External Affairs Minister pointed out, despite differences it is important to find a common ground. Similarly, Argentina's Foreign Minister called for the creation of a new paradigm of international cooperation that vouches for South-South cooperation. Multilateral approaches were pointed out by the dignitaries as crucial in achieving desired results. Discussions also took place in the context of reforming the United Nations, which was agreed upon by all. They agreed that the said organization should reflect the current political, economic, and demographic aspirations which would reflect the position of the Global South. Stress was laid on the solidarity of the Global South while calling for greater South-South cooperation.
Discussions took place on the worldwide impact of the pandemic, international financial crises, and further impact on various other sectors ranging from health to nutrition. There is an agreement that distortions in international trade, food shortages, energy security, and climate change need to be addressed collectively. The Latin American countries focussed more on energy and food security and upgrading their health infrastructure, while India pointed out that on the lines of its developmental partnership, it has already executed various projects and also cooperated with other countries during the critical phase of the pandemic. India also expressed its willingness to cooperate on these lines.
Conclusion
Although individual countries at the G-20 have their views and pressing concerns, certain common issues have far-reaching effects, that require consensus in addressing. As highlighted, issues related to multiple crises, the expansion of the United Nations to make it more representative, ensuring food and energy security, and impact of the climate change witnessed convergence in views. At this juncture, India's G-20 Presidency is prime to ensure cooperation with other countries to find possible solutions. For the Latin American nations, it will enable voicing their concerns on a global multilateral platform leading to acceptability and consensus. The convergence in views shows that the problems faced by the Global South are similar, requiring concerted and cooperative actions to address them. Thus, there is greater scope for cooperation which may be envisaged on these convergent themes along the lines of the G-20.
---
[i] G20 (2nd March 2023). Opening remarks by External Affairs Minister at the G20 Foreign Ministers' Meeting. https://www.g20.org/en/media-resources/speeches/march-23/eam/.
[ii] Ibid.
[iii] Ministerio de Relaciones Exteriores, Comercio Internacional y Culto, Argentina (3rd March 2023). G-20: Cafiero alerto sobre la escalada nuclear de la guerra. https://cancilleria.gob.ar/es/ctualidad/noticias/g20-cafiero-alerto-sobre-la-escalada-nuclear-de-la-guerra.
[iv]. Ministério das Relações Exteriores (2nd March 2023). Participação do Ministro Mauro Vieira na reunião de Ministros de Relações Exteriores do G20 – Nova Délhi, Índia, 2/3/2023. https://www.gov.br/mre/pt-br/canais_atendimento/imprensa/notas-a-imprensa/participacao-do-ministro-mauro-vieira-na-reuniao-de-ministros-de-relacoes-exteriores-do-g20-nova-delhi-india-2-3-2023.
[v] Gobierno de México. (1st March 2023). El canciller Marcelo Ebrard arriba a Nueva Delhi para participar en reunión del G20. https://www.gob.mx/sre/articulos/el-canciller-marcelo-ebrard-arriba-a-nueva-delhi-para-participar-en-reunion-del-g20.
[vi] Gobierno de México. (2nd March 2023). El canciller Marcelo Ebrard llama al G20 a combatir el tráfico internacional de armas y fentanilo. https://www.gob.mx/sre/prensa/el-canciller-marcelo-ebrard-llama-al-g20-a-combatir-el-trafico-internacional-de-armas-y-fentanilo?state=published.
The views and opinions expressed in this article are those of the author and do not necessarily reflect the views of The Kootneeti Team