China and Morocco relations
Introduction China-Morocco relations and the French legacy
Morocco is an emerging geopolitical strategic player in world trade dynamics, the growing relations between China and Morocco in short can be referred to as 'pragmatic'. Morocco's improving geopolitical position and the rising global influence and economic prosperity create a novel impact on the Global South Cooperation Framework. Morocco is seen as a strategic partner by China, the seminal reason for it include the strategic location of Morocco, ties with Gulf monarchies and the country being a member of the African Union, making Morocco a tactical partner for China in expanding its global domain. The relationship between the two countries have been steady and high-level officials have exchanged visits to both countries. China has openly supported Morocco's political stability and in turn, Morocco has supported china's stance and actions in Hong Kong. King Mohammed has sought investments and has signed 15 agreements during his visit to Beijing in 2016, under the pretext of developing the economy. The advancing economic relations between Morocco and China, from the vantage point of the former, is to attract investments, the partnership is an attempt to diversify the economy and reduce the Western influence in Morocco in the context of multicentric globalisation. France always had a prominent presence in Morocco through its automotive industry and Morocco is the largest recipient of French Foreign aid France along with the UAE hold three-quarters of the FDI stocks in Morocco. French companies – Renault and PSA group multinational automobile manufacturer company started a plant in Kenitra with the capacity to produce 2,00,000 cars per year. The French industrial presence in Morocco is robust, making it challenging for Chinese enterprises to integrate into the established European, specifically the French industrial chain.
Belt and Road initiative in Morocco
Morocco signed the Memorandum of Understanding for the Belt and Road Initiative with China in November 2017 and later on 5th January 2022 for the joint implementation of the BRI, and is the first North African country to be part of the initiative. The method of implementation of the BRI in Morocco is unlike China's traditional approach in Africa, the action plan is to integrate existing infrastructure, rather than launching new projects, the agreement focuses on forming partnerships between economic players to develop business opportunities, with the ultimate motive to generate a tangible economic impact. Through BRI both countries intend to promote cooperation in trade, investment, infrastructure, agriculture, energy, finance, science, education, technology, security, research and development, health and industry, BRI will be instrumental in expansion and investment in Morocco emphasis on the fields of e-commerce, high tech automotive, aeronautics and textiles. Aftermath the BRI Direct investment from China to Morocco has nearly risen to $380M, diversified into infrastructure, mobile parts, telecommunication and fishery. The bilateral trade reached up to $4.76 billion in 2020, a nearly 2% increase from 2019. China has implemented 80 major projects in Morocco via the BRI. Chinese enterprises built a 952m long King Mohammed VI Bridge which is the longest cable-stayed bridge in Africa and the construction of a multi-million, high-speed rail connection from Marrakech to Agadir worth $32.5 million. China Railway Major Bridge Engineering Group completed the construction of a 950m bridge between Rabat and Sale which is the longest in Africa. China's Chint group built 172 MegaWatt of photovoltaic solar power generation capacity worth Saudi Arabia's ACWA power plant. As part of the BRI China established three branches of Confucius institutions which serves the purpose of fostering strong friendships between the countries. Morocco can be considered an influential cooperation partner within the framework of the BRI.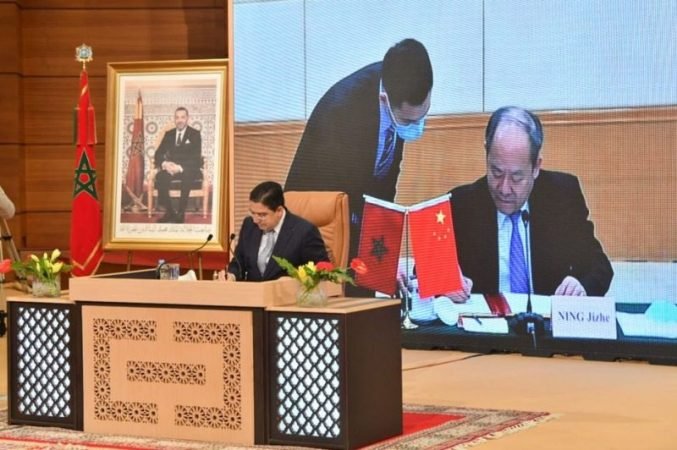 Current Chinese investments in Morocco
Morocco has pursued a labour-intensive market since 2005. Chinese companies view Morocco more or less like a production base, especially for the automotive industry, Chinese automobile manufacturer BYD leading electric vehicle producer has decided to set up a new car plant in Morocco. The initial agreement was signed in December 2017, but negligible progress has been observed further. As per the deal of 2016, Chinese developer Haite was entrusted to build Mohammed VI Tangier Tech City a $10 billion project, 7.7 square miles industrial and technology site intended to house 3,00,000 people and to create 1,00,000 jobs aimed at capitalising on Tangier's proximity to Europe. However, Haiti withdrew from the project due to the dispute over the ownership of the city, upon its completion. Haiti haș been replaced by the Chinese construction company, China Communications Construction Company (CCCC) and its subsidiary China Road and Bridge Corporation, the infrastructure project will also have the support of the Modern port of Tanger Med, a motorway network, a high-speed train Line, industrial and logical areas. Industry feeder markets are being set up by China, Nanjing Xiezhong announced it would open a plant in Kenitra worth $15 Million to supply air conditioners to Renault vehicles. China's CITIC Dicastal is a global leader in aluminium car automotive components, issued a statement stating the opening of a plant in Kenitra with the capacity to supply 6 million pieces to Renault in Morocco. Chinese enterprises also intend in developing African operations integrated into French-led value chains facilitated by Group PSA's joint venture relationship with Chinese automaker Dongfeng Motor Corporation. Development projects such as Noor 2 and Noor 3 Morocco's Quartzite solar complex financed by China is the world's largest solar power facility exemplify a constructive commercial synergy amongst partners from China, Arab gulf states Europe and Morocco, which increased the Chinese FDI by 195%.
In Morocco, China possesses 3% of the FDI, though Morocco hasn't completely cut ties with the European Union and the United States, the country is becoming more dependent on Chinese investments. Emphasising transportation, energy and real estate sectors, Chinese investments in Morocco is nearly US$1.26 billion. Morocco is an active participant in China's Belt and Road Initiative which has had a favourable impact on Morocco's economy, it paved way for an ambitious industrialisation strategy, growth of infrastructure and focus on attracting foreign investments. Tourism is also a department where Chinese investments are helping Morocco in building a robust economy, Chinese companies investing in hotels, resorts, spas and amusement parks due to a 3500% increase in visa applications from China to Morocco, ie six-fold increase in Chinese arrivals. Compared to other North-African Sino-Morocco trade relations is only catching pace, Morocco is slowly being entrapped in the Chinese debt book policy since it already has a debt of $1030.55 million, making the country more obliged and inclined toward China.
Future projections
Morocco has grown to the position where the country is the geopolitical gatekeeper in the global competition for manufacturing value chains. Morocco has surpassed Spain and is to become the dominant maritime hub in the western Mediterranean. According to the Economist from the Chinese Academy of Social Sciences Dong Liu, " Morocco possesses a promising environment for the expansion of labour-intensive industrial manufacturing, which gives a comparative advantage for the potential relocation of manufacturing from China to Morocco." The relationship between the two countries is more strategic than bilateral and the major challenge that will be faced by the Chinese enterprises is integrating with French industrial chains, since the Chinese interactions with the French are less, and the increasing tensions between the two countries will hold risks for China, a big impact on smaller Chinese firms. China is highly invested in North African countries, the alliance is more strategic for China than a bilateral relation, The BRI has targeted key ports in Mediterranean countries, along the coast of Africa and Europe, which can be a confrontational position that could escalate and pose a threat to the Western countries. Morocco is a critical geopolitical location where the west has deeply vested interests, continued Chinese interferences can jeopardise the western power projection across the African continent. North Africa is a piece of China's global strategy, BRI is an expansion of political power subterfuge in the form of business dealings, eventually resulting in heightened Chinese political influence on land, sea, air and cyberspace. Possibilities of a military installation in the Maghreb region could give the Chinese the upper hand in maritime strength over a region of strategic importance. The accrued power of china over Morocco a North African country of strategic importance, can tamper the relations with Americans and Europeans, which will suffer from developing Sino-Moroccan relations and turn out to be a battleground for Sino-American 5G competition. Considering the circumstances, the relationship between Morocco and China is anticipated to go steady and strong in the years to come, as it is beneficial for both the parties, as it is for China, highly instrumental in threatening the security of Western countries and an opportunity for the Moroccans to be out of the clutches of America and European hegemony; alongside catering to the economic development of Morocco.
REFERENCES
2) http://www.china.org.cn/english/features/focac/183433.htm
3) https://www.scmp.com/news/china/diplomacy/article/3162587/morocco-belt-and-road-deal-could-give-china-gateway
4) https://www.chathamhouse.org/2020/02/expanding-sino-maghreb-relations/3-morocco-and-china-pragmatic-relationship
5) https://www.maroc.ma/en/news/belt-and-road-initiative-opens-new-era-cooperation-between-morocco-and-china-chinese-official-0
6) https://www.nortonrosefulbright.com/en-mo/knowledge/publications/21794480/belt-and-road-initiative
7) https://www.mapnews.ma/en/actualites/politics/belt-and-road-initiative-opens-new-era-cooperation-between-morocco-and-china
The views and opinions expressed in this article are those of the author and do not necessarily reflect the views of The Kootneeti Team